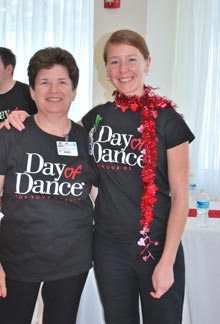 Put on your boogie shoes and shake it on down to Beaufort Memorial Hospital's Second Annual Day of Dance, a free community wellness event focusing on the health benefits of dancing.
"Dancing is exercise," said cardiologist Dr. Stuart Smalheiser, one of several Beaufort Memorial physicians attending the event. "Anything that gets you up and moving is good for your heart and your overall health."
The Feb. 25 program takes place from 9 a.m. to noon at Sun City's Pinckney Hall.
Held during American Heart Month, Day of Dance will include professional dance exhibitions and mini classes on salsa, shag, swing and the fat-burning Zumba, a low-impact workout performed to pulsating Latin rhythms. BMH staff also will be on hand offering a variety of health screenings and advice on how to improve your cardio vascular and bone and joint health.
Four instructors from the Fred Astaire Studio in Bluffton will be teaching participants basic dance steps in 15-20 minute sessions throughout the morning.
"Dancing moves so many parts of your body," said Fred Astaire Studio co-owner Sandro Virag. "It's a fantastic workout."
Because dance movements are multidirectional, they benefit joint mobility, balance and posture. They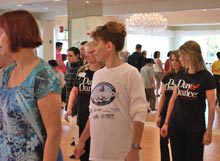 also help improve bone density. Add to that, the aerobic exercise you get moving your body around to the rhythm of fast-paced music and you have one all-around fitness phenomenon.
"Anytime you move, you're engaging your cardiovascular system and putting into motion a process that is both physically and mentally beneficial," said BMH cardiologist Dr. David Harshman. "Dancing is a perfect cardiovascular exercise because it doesn't feel like exercise, so people are more likely to stick with it over time."
Along with the dance classes and demos, Beaufort Memorial clinical specialists will be offering blood pressure, blood sugar, ankle brachial index (ABI) screenings and cholesterol screenings. Rehabilitation specialists will also offer free balance screenings. The cholesterol test is $10; all of the other screenings are free.
Cardiologists participating in the event include Drs. Smalheiser, Harshman and Shannon Shook. Also scheduled to attend are orthopedic surgeon Dr. Ned Blocker and Physician Assistant Kristine Germann, along with vascular surgeon Dr. Chad Tober and Physician Assistant Brandy Price.
In addition, attendees will have the chance to try out Beaufort Memorial's new robotic surgical system, the da Vinci Si. OB/GYN Drs. Randy Royal, Ardra Davis-Tolbert and Allahna Coggins will demonstrate how they use the state-of-the-art computer-controlled OR technology to perform minimally invasive laparoscopic surgeries.
The event is free and open to the public, but registration is required. To sign up, visit, www.bmhsc.org/spiritofwomen or call (843) 522-5585 or Toll-free (888) 522-5585.