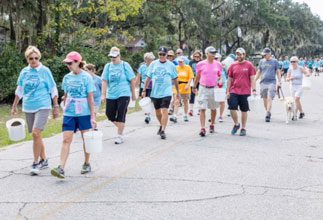 Join the second annual Beaufort Walk for Water at 9 am on Saturday, September 22nd at Live Oaks Park in Port Royal. The Walk for Water promotes awareness of the global water crisis while raising funds to provide sustainable safe water around the world.
The fundraising goal for this year's event is $45,000. All donations benefit Water Mission, a nonprofit Christian engineering organization that builds safe water solutions in developing countries and disaster areas. To sign up for the walk or to make a donation, visit events.watermissions.org/beaufort18 or call 843-769-7395. The event is open to people of all ages and is dog-friendly.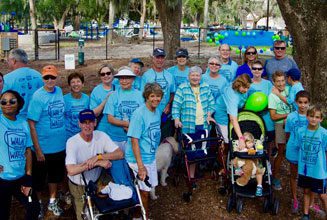 On-site registrations open at 8 am, opening ceremonies take place at 8.30 am, and the walk starts at 9 am. After the opening ceremonies, every participant will be provided an empty bucket and begin to walk the approximately three-mile route. Halfway through the route, walkers fill their bucket with raw water and carry it the rest of the way back to the park to symbolize the walk that millions of women and children make every single day to collect what is often unsafe drinking water.
         "At our inaugural walk last year, we were blown away by Beaufort rising to the challenge and fundraising over $26,000 to benefit Water Mission," said Jeneane Ryan, chair of the Beaufort Walk for Water committee. "This year we are asking people to rally friends, neighborhood groups, clubs, churches and sports teams to challenge each other to raise $45,000 to help people less fortunate in our world to get access to safe water; something we easily take for granted."
         For more information about Beaufort Walk for Water, visit events.watermissions.org/beaufort18, follow us on Facebook and Instagram @BeaufortWalkForWater, or call 843-769-7395. Sponsorship enquiries
(only) may be directed to Robert Lasher at 843-906-8118.
About Water Mission
Water Mission is a nonprofit Christian engineering organization that designs, builds, and implements safe water, sanitation, and hygiene (WASH) solutions for people in developing countries and disaster areas. Since 2001, Water Mission has used innovative technology and engineering expertise to provide access to safe water for more than 3 million people in 52 countries. Water Mission has over 200 staff members working around the world in permanent country programs. Notably, Charity Navigator has awarded
Water Mission its top rating ten years in a row, a distinction shared by only one percent of the charities rated by the organization. To learn more, visit watermission.org.