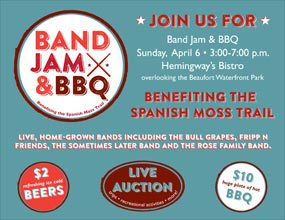 Spend Sunday, April 6th, from 3 -7 pm enjoying live music and great food at the Band Jam & BBQ benefiting the Friends of the Spanish Moss Trail and hosted by Hemingway's Bistro (920 Bay Street) facing Beaufort's downtown Henry C. Chambers Waterfront Park.
  Come enjoy mouth-watering BBQ for $10 a plate and thirst-quenching $2 beers – while listening to live, home-grown bands including The Bull Grapes, Fripp N Friends, The Sometimes Later Band and The Rose Family Band.
  "These bands have generously offered to perform as a gift to our community and to support the important efforts of the Friends of the Spanish Moss Trail," says Event Creator Charlie Williams. "These bands individually have their own special sound and style, perfect for a casual outdoor event with a mix of country, folk, southern rock, blues and blue grass."
  Williams' year-long vision for a music-filled, outdoor event in support of the Spanish Moss Trail became a reality after partnering with the Event's Director and Hemingway's Bistro Day Manager, Zoe Perpall. Perpall has brought together dozens of community-minded businesses and individuals to collaborate in support of this public event.
  Williams says he first heard of the concept of 'rails-to-trail' more than 30 years ago. A few years later, he used such a trail on Cape Cod.
 "When I heard our own community would have a paved Trail to enjoy, I knew I was going to commit my support – thus the Band Jam and BBQ," says Williams.
  In addition to music and food, come ready to bid on items ranging from outdoor recreational activities to overnight stays at local accommodations. These items will be auctioned off throughout the event – all proceeds benefiting the Friends of the Spanish Moss Trail, the paved rails-to-trail greenway project located in the heart of Northern Beaufort County.
  The Spanish Moss Trail has a 10-Phase Master Plan, which when complete, will be a 14-mile long, 12-foot wide, paved trail – dedicated to pedestrians and bicyclists. The first two phases (3.3 miles) are complete and open for public use connecting the heart of Beaufort to the Town of Port Royal (with parking at Depot Road, Broome Lane and Westvine Drive). Two more phases are underway with construction starting this spring, connecting 7 scenic miles between the Town of Port Royal and the Marine Corps Air Station.
  The Friends of the Spanish Moss Trail is dedicated to improving the quality of life in Northern Beaufort County by developing, enhancing and maintaining the Spanish Moss Trail – through community partnerships; local government participation; and private support. Tax-deductible contributions are accepted year round by the Friends of the Spanish Moss Trail (a 501(c)3 nonprofit). To donate, make checks payable to: Friends of the Spanish Moss Trail (P.O. Box 401, Beaufort, SC 29901) or donate online at www.spanishmosstrail.com. For more information, email them at info@spanishmosstrail.com.