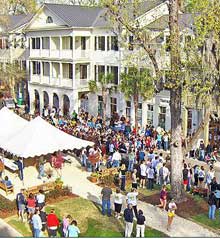 The picturesque Habersham Marketplace in Beaufort will be the site of the premier event Artisans & Antiques at Habersham on Saturday, April 13, 2013 from 10 am – 4 pm. Admission and parking is free to this one day event.
Dealers and artisans from South Carolina, Georgia, and Pennsylvania will fill the marketplace with antiques, new & vintage clothing, accessories, home décor, pottery, fine and folk art, furniture, quilts, dolls, linens, carvings, jewelry, shoes, children's clothing, sea grass baskets, coastal and nautical art, Lowcountry handmade furniture, soaps, and more. Specialty chocolates, fine breads, cupcakes, and desserts, as well as light luncheon fare will be available in the marketplace. Two of Habersham's restaurants, Piace Pizzeria and Berto's TexMex, will be open all day as well.
Heidi Brueggeman, co-promoter and owner of The Boxwood Cottage, is thrilled with the venue and participants. "Habersham is a gorgeous and inviting place; we are pleased to be able to utilize the Marketplace for a wonderful gathering of exceptional vendors," she says. Brueggeman is also the Co-Promoter of a 32-year-old annual arts and crafts event in Northeastern Ohio.
The Habersham Marketplace is the heart and soul of the "Best Neighborhood Design in America." The award-winning town of Habersham is located just minutes from Downtown Historic Beaufort. The Marketplace is a walkable village with three distinct eateries, patios, and shops.
Enjoy the colorful spring ambiance of this special neighborhood and shopping district on Saturday, April 13th, and be transported to a simpler time. The Habersham Marketplace is located at 13 Market, just off of Joe Frazier Road in Beaufort, South Carolina. For more information visit www.ArtisansAndAntiquesSC.com or call 843-644-1864.

Edible Art at Habersham
A wide variety of artisans will descend upon the Habersham Marketplace on Saturday, April 13th, and the "sweetest" by far is Adam Turoni. A chocolatier from Savannah, Adam will be set up with a mini store – a "pop-up shop" – in the Savannah Corner of Artisans and Antiques.
Adam Turoni is a graduate of the CIA (Culinary Institute of America) in New York. He interned for 6 months at Alice Water's restaurant Chez Panisse in Berkeley, California and assisted Chef Greweling with research and recipes as he worked on his third book: "Chocolates and Confections: Formula, Theory, and Technique for the Artisan Confectioner Second Edition(2013)." Since opening a wholesale space in 2010, Chocolat by Adam Turoni, Adam has been featured on Paula Deen's show (Food Network), on the premiere episode of "Eat it and Like It!" hosted by Jesse Blanco, as well as in many magazine & newspaper articles. Chocolat by Adam Turoni opened its first retail shop at 323 West Broughton St, Savannah, in October 2012.
Some lucky Beaufort residents are already familiar with Adam's delicious work; he is currently selling selections from his chocolate collection at SILO in Habersham and at Lowcountry Produce, downtown.
Artisans and Antiques organizer Heidi Bruegmann says, "We are very excited to have Adam as a participant in the event. He is truly a chocolate artist!"
For more information about chocolatier Adam Turoni, visit www.chocolatat.com
Artisans & Antiques at Habersham is pleased to have the support of Habersham, Hargray, and Lowcountry Weekly as sponsors for this year's event.