The Beaufort Garden Club invites you to explore a "Garden A Day"…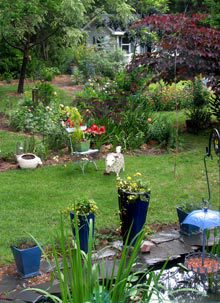 It's spring, and that means that The Beaufort Garden Club will be hosting their annual week-long Garden A Day event. It begins Monday, June 4th, through Friday, June 8th, from 9:30 until 12:30.
This year's theme is the Club's recognition of the community volunteer work done by Master Gardeners.  All of the gardens are "Master Gardener Gardens"; designed, planted and maintained by the Master Gardener homeowners.
Each garden is a unique representation of the homeowner's vision for their private space.  They have generously agreed to open their gardens to the public for this much anticipated event.
Garden A Day began 18 years ago as a way for the Club to celebrate National Garden Week; always the first full week in June.  It has become one of the area's must successful annual events.   Last year's Garden a Day hosted over 2,000 guests.  Admission is free; the club's gift to the people of Beaufort.
These are not botanical gardens.  You won't see many plant labels, but there will be Master Gardeners on hand to answer questions.  Bring a friend.  You'll be glad you did.
"GARDEN A DAY" SCHEDULE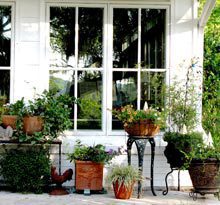 Monday, June 4th – Master Gardener Linda Peters
1 Blythewood, Lady's Island
Five magical acres. An enchanted garden sure to make you smile. A surprise around every corner.
Tuesday, June 5th – Master Gardener Sandra Educate
100 Green Winged Teal North (Walling Grove), Lady's Island
Tropicals and aquatics mingle with English roses and
unusual specimens in this eclectic collector's garden.
Wednesday, June 6th – Master Gardener Kathi McKinley
9 Sandy Ridge Road, Beaufort
Dappled sunlight, shades of green and varying textures bring tranquility to this serene and peaceful, deep water property.   The Old South at it's best.
Thursday, June 7th – Master Gardener Tei Tober
50 St. Phillips  (Habersham), Beaufort
The sound of trickling water invites you to explore this exquisite courtyard  garden.  Shrubs, trees, annuals and perennials.  This has it all.
Friday, June 8th – Master Gardener Susan Harden
121 Sunset Blvd., Lady's Island
A sea of waving ornamental grasses is the intermezzo between a beautiful home and the waterfront.  Colorful flowers and shrubs add grace notes.
The gardens will be open from 9:30 AM until 12:30.  Master Gardeners from the Lowcountry Master Gardener Association will be on hand to answer your questions.  For information, email gardenaday@embarqmail.com