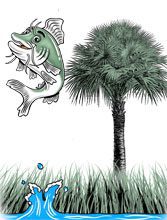 Hardeville's 42
nd
Annual Catfish Festival begins Friday, Sept. 16
th
 and continues through Saturday, Sept. 17
th
  with a splendid assortment of amusement rides, parades, contests, food, crafts and family musical entertainment.
     Festivities kick-off at 6 pm on Friday with the high-powered, South Carolina bred, HiFi Station band, playing Beach, Soul and Rock-and-Roll music. In between their two sets (which last until 10 pm), there will be a delightful children's parade. Games and amusement rides will continue throughout the evening as well as all day and all evening on Saturday.
     The "Grand Parade," featuring winners from the Miss Hardeeville Beauty Pageant, gets Saturday's activities underway at 10 am. Opening ceremonies for the festival follow at 12 noon and will set the tone for a full day of family fun.
     Entertainers such as, Going to the Dogs, a 100% charity band that raises money for animal groups and other deserving causes, will be performing on Saturday, from 4-6pm. Their music is described as hybrid-bluegrass, playing everything from traditional bluegrass songs to contemporary top 40 songs, 60s and 70s pop, with a bluegrass twist. Following, from 7-10pm is the foot stomping, energy-packed band called High Velocity. They are a spirited Southern group playing a music genre of Southern Rock, New Country and Classic Rock. They perform cover material and original music.
     A cook-off featuring catfish stew and a delicious bake-off including cakes, pies and cookies will take place at the Town Football Field Concession Stand and conclude with an awards ceremony.  The ever popular corn hole tournament for all ages will again take place. The Marilyn Youmans School of Dance performance will highlight the afternoon activities. Plenty of food will be available and a variety of craft vendors will showcase their handmade items. The one-of-a-kind Catfish Festival T-shirt, which is a must-have, will be for sale online and during the two-day event.  The evening will sign off with a spectacular fireworks display at 10 p.m.
     Deanne Spikes, event chairperson stated, "I am looking forward to showcasing the City of Hardeeville and the festival on a broader scale than ever before in this fun-filled family atmosphere."  She also noted that the community always looks forward to this local event. It gives them a reason to catch up with friends and acquaintances they haven't seen in a while and enjoy all the activities provided.

Sponsors for this year's festival include:
Platinum – City of Hardeeville, Jasper County Chamber of Commerce and Jasper County
Silver ­– Hargray, Palmetto Heating & Air, Blue Site Solutions, Falcon Fireworks, Palmetto Electric, Bath Fitters- Pooler, Phoenix Feather Photography- Megan Sells and
Joker Joes
Bronze – Butler's Plumbing, South State Bank, Hardeeville Chamber of Commerce, Old South Exterminators, Karma Salon, Hilton Head Lakes and Vaigneur Funeral Home
     The festival is held primarily behind City Hall on Main Street in Hardeeville, SC . For details contact chairperson Deanne Spikes at 843-368-1706 or visit the Catfish Festival website: www.hardeevillecatfishfestival.com.