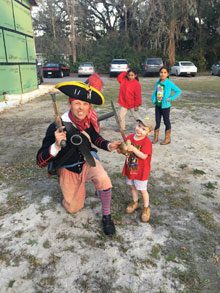 Morris Center for Lowcountry Heritage presents 'A Night in History,' a family-friendly event featuring war games, pirate treasure hunts, light refreshments and face to face encounters with costumed soldiers, on Saturday, July 23 from 5:30 pm to 7:30 pm. The event kicks off the opening of 'The American Revolutionary War in South Carolina,' an exhibit provided by the South Carolina State Museum's Traveling Exhibits Program which examines the major role South Carolina played in the Revolutionary War.
"We are excited to offer such a fun way to introduce the community to this wonderful traveling exhibit. This region is rich with the history of the Revolutionary War.  Many people don't realize that there were more than 200 battles and skirmishes in South Carolina, more than any other colony," says Director of Programs, Annmarie Reiley-Kay. "With this event, we're aiming to bring these stories to life through educational games, family fun activities, and historical reenactments."
The exhibit explores the great turmoil that broke out leading up to the war between the colonies and Great Britain and highlights major battles that took place in the Palmetto State, including the Battle of Sullivan's Island, the Cherokee Attack and the Battle of Cowpens. The exhibit also highlights the important role African Americans and women played in the war. The exhibit will be on display at Morris Center for Lowcountry Heritage until January 21, 2017.
The event is free for children, and the suggested donation for adults is six dollars, which helps the nonprofit sustain and expand its educational programs. Those interested in attending are encouraged to RSVP by calling 843-284-9227 ext. 0 or emailing to info@morrisheritagecenter.org.
The Morris Center for Lowcountry Heritage is open 10 am – 5 pm, Tuesday through Saturday.     
About The Daniel O. Morris Center for Lowcountry Heritage
Located in the heart of downtown Ridgeland on US 17, the Daniel O. Morris Center for Lowcountry Heritage is a learning and exhibition center dedicated to preserving and nurturing the history, culture and spirit of Ridgeland and its surrounding counties. Housed in a collection of vintage buildings, with the architecturally distinctive Sinclair Service Station as its focal point, the center features ever changing exhibitions, interactive and dynamic learning opportunities, cultural offerings, storytelling and other forms of art. For more information call 843-284-9227 or visit us at:  Morrisheritagecenter.org and Like us on facebook.com/MorrisHeritageCenter