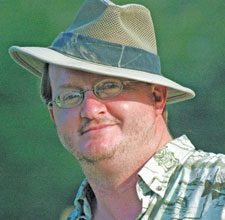 Hampton County Guardian Editor/Publisher and South Carolina Wildlife magazine humor columnist and feature writer, Michael M. DeWitt, Jr., has recently released his second book, which marks the first humor collection for the award-winning humorist.
         Saying Grace Over Edible Underwear & Other Southern Dilemmas (103 pages, $12.99 retail) contains some of DeWitt's most memorable humor articles along with several new and previously unpublished stories and essays. The collection has a definite down-home, life-in-the-country flavor that embraces the Southern storytelling tradition while examining the dilemmas Southern people find themselves facing.
         Some of these "Southern Dilemmas" DeWitt touches on include living on "Southern
Time," losing "Southern Weight," mannerisms and habits such as saying grace before every meal, teaching your children to say "ma'am" and "sir" to everyone, the dangers of skipping church to go hunting on the Sabbath and the scandalous embarrassment of the Southern, small-town liquor store transaction.
         "I want to thank each and every reader who has ever said they enjoyed my work and encouraged me to write a book," DeWitt says. "I enjoyed crafting each and every one of these stories, and I hope the readers will relate to them and enjoy them as much as I do."
         A Hampton County native, DeWitt has dreamed of becoming a writer since earning a runner-up spot for the Lt. Governor's Award for Excellence in Composition in the eighth grade.
         A graduate of the University of South Carolina—Salkehatchie in Allendale, DeWitt joined the Hampton County Guardian staff as a reporter in 2004 before working his way up to editor and publisher. Active in several Hampton County community service organizations, and the vice president of the Hampton County Chamber of Commerce, DeWitt was awarded the 2014 Person of the Year Award from the H.C. Chamber for his volunteer work.
         During his 12-plus-year writing career, DeWitt has become a multiple-award-winning journalist, humorist, columnist and newspaper editor who has been published in several newspapers and magazines in South Carolina and Georgia, from the Augusta Chronicle newspaper to Sandlapper magazine.
         DeWitt is also the author of Images of America—Hampton County, a photo history book published by Arcadia Publishing in May 2015. Since May 2012, he has also worked as the humor columnist and a contributing feature writer for South Carolina Wildlife magazine.
         A family man, lackluster farmer and highly amateur outdoorsman, in his spare time DeWitt volunteers with local arts councils and for several years has been a co-playwright for Salkehatchie Stew, a five-county oral history, storytelling and community theater project driven by the University of South Carolina Salkehatchie in Allendale.
         "Next to sharing my brand of humor, the Salkehatchie Stew project has been one of the most rewarding writing projects I've ever had the honor to participate in," DeWitt says.
         Saying Grace Over Edible Underwear is currently available for sale at the following locations: in Hampton County at the Hampton County Guardian, ACE Hardware, Piggly Wiggly, The Frock Shop and Lester's BBQ; in Walterboro at the Colleton Museum and Farmers' Market, in Allendale at the Salkehatchie Arts Center, and online at Amazon.com and Amazon.europe.com.
         Michael DeWitt will sign copies of his new collection on Saturday, July 23 from 11 am – 2 pm at McIntosh Book Shoppe in downtown Beaufort.