Beaufort writer Cassandra King will celebrate the launch of the essay and photograph collection Carolina Writers at Home with a holiday signing event at McIntosh's Book Shoppe, 917 Bay Street, on Saturday, Dec. 12 from 2-3 p.m.
            In the book, King writes about her courtship with Pat Conroy, to whom she's now married, and his insistence that she have a writing room in the house they share together.
            "He'd been appalled to hear I'd never had one," she writes. "The truth was, I'd never been brave enough to demand a writing room of my own. Like most instructors of freshman composition, I'd taught Virginia Woolf's landmark essay on the subject, then followed up by assigning a paper on the importance of nurturing one's creativity, valuing it enough to demand time and a place for it. I'd read hundreds of student responses, and scribbled encouraging comments in the margins: 'Good for you, Susie – I hope you'll continue to nourish your artistic side!' If I'd been reacting to my own essay, the comment would have been more succinct: 'You hypocrite!'"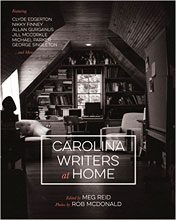 King's essay is the lead-off piece in the book, and features great black and white photographs of the Conroys at home in Beaufort. On December 12th at McIntosh, King will be available to sign her other books as well.
            Carolina Writers at Home is a unique new collection of essays with photographs of popular North and South Carolina authors in their homes. From Beaufort to Boone and a dozen places in between, Carolina Writers at Home is a rich collection of true stories showcasing the houses where some of the most notable Southern authors, including Bret Lott, Nikky Finney, Allan Gurganus, Clyde Edgerton, and Roger Pinckney, have forged their writing lives.
            The homes in these twenty-five essays range from the classic bungalow and mid-century modern ranch house to wilder locales: a church, a trailer, and a sparsely-inhabited barrier island. Alongside the essays, Rob McDonald's evocative photographs capture the writers in their habitat, preserving their distinct personalities as well as the particular character of the house and place they inhabit.
The book, edited by Meg Reid of Spartanburg, is available in hardback for $34.95 or in a high-quality paperback with flaps for $24.95. Other authors featured include: Dan Albergotti, Joseph Bathanti, Kathryn Byer, David Gessner, Josephine Humphreys, Holly Goddard Jones, Michael Parker, George Singleton, and many more. Hub City Press will be on tour with numerous authors from the collection, in independent bookstores across North and South Carolina. Please visit www.carolinawritersathome.com for more information on those events. Celebrating its 20th year in 2015, Hub City Press is an award-winning Southern publisher committed to well-crafted and high-quality works by new and established regional authors.