Spartina 449 combines strength, quality and style.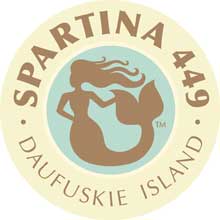 The salt marsh that bounds our habitat, this place we call the Lowcountry, is an unparalleled resource. And the vast expanse here in Beaufort County spoils us daily. The natural green hues that radiate from the blue horizons, border the coffee-colored pluff mud and reflect on the still gray water change from season to season. Every now and again, we witness a magical yellow sunrise or an orange and magenta sunset that accents the grass divinely. But the salt marsh, Spartina alterniflora, is so much more than beautiful, just like the company I write about today, Spartina 449.
When I was the naturalist at Hunting Island State Park, my favorite lesson to teach was Barrier Island Ecology that encompasses four ecosystems: The beach, the sand dunes, the maritime forest and the salt marsh. I always described the salt marsh as the heartbeat of our ecological system. When seen from the air, our creeks look like the arteries they are, pumping life into our precious islands.
The marsh grass feeds the bottom of the food chain. It protects our islands from storms. It gets washed into sea and forms habitats for ocean life. Then it gets recycled back on the beach, creating natural accretions for healthy sand dunes, which consequently, protect the larger maritime forest, its animals, and us. So yes, the physical evolution of Spartina is very much like a steady pulse. And, it surrounds us, giving us life every day.
Pardon the sermon on the significance of this treasured resource. Given the fact that the salt marsh is the inspiration for Spartina 449, I found it necessary to pronounce its glory.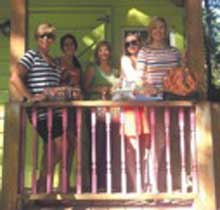 Spartina 449, founded on Daufuskie Island by Kay Stanley and her husband Curt Seymour, is a handbag and accessory company dedicated to the preservation of natural beauty. The luxurious and durable linen is a feature that sets Spartina 449 apart from others. The complex texture and unique weave of the linen fabric creates a strong foundation for a lasting design, representative of Spartina grass itself. Inundated by tides twice daily, Spartina has to be tough. And given the daily duties of a busy woman, her handbag needs to be tough too.
And Kay Stanley knows that true beauty is the healthy combination of strength, quality and style. Her handbags capture the spirit of every season with intricate patterns, rich colors and creative collections. Like the perennial Spartina grass that blooms seasonally, Stanley's handbags and accessories change bi-annually with new collections, offering an array of choices guaranteed to ignite the imagination.
Her Fall Collection of stunning handbags and splendid scarves also includes playful jewelry and cheerful iPad sleeves. What is so unique about her 2012 Fall Collectionsis the fact that each is named for one of five extraordinary women whose creative endeavors were fueled by a common denominator, Daufuskie Island. The collections, Callahan, Christina, Lesesne, Ms. Billie and Sallie Ann, were named in honor of these creative women and in tribute to the creative spirit that lives in every woman.
The Callahan is named for Patti Callahan Henry, a southern novelist and New York Times bestselling author who has been coming to Daufuskie for the past 25 years. The landscape and ancient stories of the island have been a continuous source of inspiration for Patti's novels, many of which describe or are partially set on Daufuskie. A burst of red on a traditional black and cream pattern creates sophisticated style with the perfect amount of "kick."
Christina Bates is a celebrated artist on Daufuskie Island
who is mostly known for her hand-painted etchings of landmarks and representations of the native Gullah lifestyle. She also paints in oils to include her love of horses and hounds. The Christina is a dramatic design painted with autumn hues of orange, brown, mustard yellow, navy blue and cream and highlighted with shocks of turquoise for confident, colorful style.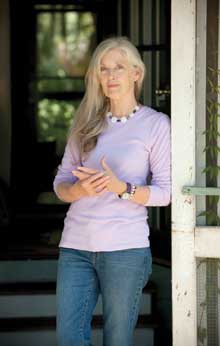 Sally Lesesne loves anything botanical in nature, and when she moved to Daufuskie twenty years ago, she painted mostly flora and fauna. An adored artist on Daufuskie, Sally now prefers island inhabitants, especially children, as her subjects. The Lesesne combines fall florals dusted with gold, blue-gray, dark blue and cream and punctuated with vibrant magenta blossoms to create an eye-catching combination of graceful style.
A legend on Daufuskie Island was Ms. Billie Burn. There was nothing she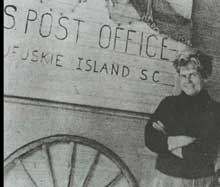 couldn't do. She was the church pianist, the Community Club secretary, the postmaster, the school bus driver, the registrar and a restaurant owner. Her book, An Island Named Daufuskie, chronicles twenty years of stories and research and sits on a prominent shelf in most Islanders' homes. The Ms. Billie boasts intriguing motifs in luscious shades of gray and cream and luxurious tan-colored leather accents to create a design that is as fetching as it is fashionable.
Sallie Ann Robinson is a sixth generation Daufuskie Islander. Growing up on an island without any stores meant that if Sallie's family wanted to eat it, they would have to grow it, raise it or hunt it. Sallie Ann wrote her first cookbook, Gullah Home Cooking the Daufuskie Way, when she was encouraged to preserve the authentic Gullah recipes that were handed down from family and friends. Orange, the color of creativity, becomes the Sallie Ann's picture of style when combined with cream colored patterns inspired by Spartina's signature logo.
I'm lucky enough to know three of these women, who were all in attendance recently at the 2nd Annual Literary Throwdown at the Freeport Marina compound on Daufuskie, hosted by Roger Pinckney and Wick Scurry. Regional authors Callahan, Mary Alice Monroe, Dorthea Benton Frank and Ben Moise joined our local writers, Janet Garrity, Randy Bazemore, Sallie Ann Robinson, Pinckney and more for a day of cheer and fellowship.
I met Kay and her creative team, Katie Guthrie, Alexis Frankel, Ingrid Osborne and Catherine Tillman that picture perfect Sunday in early October. We sat at the picnic table, enjoyed music by Wendell Matthews, ate delicious food from the Old Daufuskie Crab Company and engaged in honest to goodness girl talk that evoked a sense of empowerment in all of us. In addition to talking about the company, we talked about our careers, our roles as moms, even a little talk about romance and old boyfriends.
As excited as I was to meet Kay and her team, I was blown away with inspiration when we parted. There we were, in the midst of paradise with other successful women, humbled by our experiences and our struggles yet eager to learn more. It was a "Girl Power" day like no other that I remember in recent years.
And it was then that I really understood Kay's creative genius. She wants the women who purchase Spartina 449 products to appreciate a little bit of Daufuskie, a little bit of feminine strength and a little bit of their own unique flair. The company is truly dedicated to preservation, whether it is historic, traditional or dignified in nature.
And that's why they've succeeded. They are now in over 1000 retail stores throughout the country and in the Bahamas. Locally, Spartina 449 is sold at What's In Store and Rossignols in Northern Beaufort and Letters, Gigi's, Currents, Fresh Produce and Island Girl in Southern Beaufort and at The Sanctuary on Kiawah Island.
Robbie DeLoach, owner of What's in Store explains, "Spartina 449 is the #1 bestseller in our Point of Sale System. That speaks for itself. Our customers love it, our employees love it. I love it!"
Connie Hallett, sales associate at Currents agrees. "We sell a ton of it! Our customers like the price points, the patterns, everything."
Describing Kay's personality as modest is an understatement. This story explained by Hallett says it all.
"We had a customer in here once who wanted a $30 item that was out of stock. Kay, who happened to be in the store, approached her and explained that she worked for Spartina and would be happy to go the warehouse and get the item for her. And she did. When Kay left, I told the customer… she wasn't just an employee. She was the owner," explained Hallett.
Kay Stanley is as sweet as she is successful, as devoted as she is determined. And boy, does she love her team.
"We only hire very talented people," says Kay. "This company was built on a true team effort."
Not only does Spartina 449 employ locally, it generates a conversation about the Lowcountry, specifically Daufuskie Island, almost immediately. And that's what Kay is particularly proud of.
"To know our brand is to know Daufuskie. This island continues to be our inspiration," explains Kay. "The women who buy Spartina 449 are buying a little bit of Daufuskie, and they'll always be connected to paradise."
In fact, on that beautiful Sunday, Kay and her creative team were working, scoping out locations for their upcoming photo shoot for their new Spring line.
If it's anything like the Fall collection, I'm sure the Spring arrivals will wow and identify with the Spartina 449 brand, its mission and especially its artistry. Spartina is a name that is now recognized internationally, and thanks to Kay Stanley, her faithfully crafted line of handbags and accessories and Spartina's signature logo will forever represent strength and personify grace on an island we all consider to be… paradise.
For more information about Spartina 449 or to find a participating retailer, please visit www.spartina449.com. A portion of the proceeds from Spartina 449 is donated to the Daufuskie Island Historic Foundation.