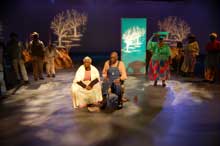 The full-stage, original musical
Gullah Kinfolk Christmas Wish
is for people of all ages and races who want to catch the holiday spirit.
It will be presented Friday, December 7 at 7 p.m. at the University of South Carolina-Beaufort's Performing Arts Center. The production stars Aunt Pearlie Sue, nationally acclaimed storyteller, and her Gullah Kinfolk, a professional singing cast of 20 members, who bring history alive on stage. This musical performance depicts the last Christmas before the Civil War. It's an historical account of December of 1860 and South Carolina has just seceded from the Union. The War or Freedom is the talk by both servant and master. The audience will get a glimpse into the "Quarters" and "Big House."
The performance lifts off the holidays in historic downtown Beaufort in conjunction with other annual events, including the popular Night on the Town from 6 to 9 p.m. December 7, Light up the Night from 5:30 to 8:30 p.m. December 8 and Beaufort's annual Christmas parade at 3 p.m. on Sunday, December 9. For more information on these events, contact www.downtownbeaufort.com.
The show's finale has become a holiday favorite with travelers near and far who wish to experience the spirit of the season. Through soul-stirring, foot-stopping singing and dancing, the audience is drawn into the excitement of the Yuletide season on a South Carolina Sea Island plantation. Tickets are $30 in advance and $35 at the door. Admission is $10 for those aged 7 to 17. Ticket prices include a Taste of Gullah Soul Food Buffet and the Da' Market Place Artists Showcase; an exhibit of paintings by acclaimed Lowcountry artists. For reservations and information on hotel and meal packages, contact the Beaufort County Black Chamber of Commerce at (843) 986-1102 or www.bcbcc.org.
A portion of the proceeds will benefit the Community Circle of Hope Coalition's Youth Program.