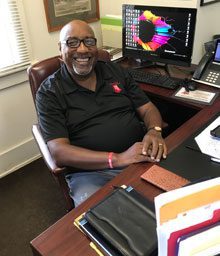 Meet Penn Center'€™s Executive Director Rodell Lawrence
By David Campbell
With apologies to Charles Schultz, creator of "Peanuts," Lucy was reading a short bedtime story that went like this: "€œHe was born, he lived and he died." To be sure, this is not the story of Rodell Lawrence, recently appointed Executive Director of historic Penn Center on St. Helena Island.
Had Lucy been reading about Rodell, the story would have unfolded like this: He was a teenage migrant worker, graduated from high school two years early, earned an electrical engineering scholarship to South Carolina State, became a political radical, was suspended from State, went to Vietnam as an Army infantry officer, applied to be a conscientious objector, fought and received 3 medals, taught school in Vietnam, trained the Vietnamese soldiers, learned to speak Vietnamese, entered corporate America for 30 years, became an entrepreneur, philanthropist, honorary degree recipient, and fund raiser. He dedicated himself to helping young children, has been married for 47 years with 5 children, is an avid golfer, and was completely unaware his daughter had submitted his resume to Penn Center until he received a call from the Board requesting an interview. Lucy, he is still alive, kicking, and running in the fast lane.
Life was not easy for the Lawrence family. During his teenage years, Rodell would hit the road each June, with his parents and three sisters, to work the fields. They'€™d go from Florida to South Carolina to pick peaches, to Virginia for potatoes, and to Hilton, New York for cherries, tomatoes and apples, before returning home to Florida. Their objective was to return home before Thanksgiving. Schooling was available, and Rodell was an avid reader, and particularly strong in math and science, which prepared him for higher education.
In 1963 he graduated from Phyllis Wheatley High School, outside Orlando, and earned an Electrical Engineering scholarship to South Carolina State located in Orangeburg, SC. Academic life at State was fine, but socially things were very difficult. Students were not permitted to "€œgo downtown,"€ to the bowling alley, or even to the lunch counters. Rodell became a radical protestor, advocating for basic human rights. While living off campus, where he felt his voice would be heard effectively, an incident changed his life.
Running late to class one day, he stopped by the cafeteria to grab a snack, but he forgot to pay. This unfortunate oversight was noted by the dean. Rodell was kicked out of school for the infraction. His draft status changed as the war in Vietnam was raging. It was 1968, and the next thing he knew, he was on his way to the hellhole.
There were two major disturbances that impacted Rodell's role as a protestor. Before he left South Carolina State, 43 students were wounded and 3 killed on campus by state troopers who said they had "heard a shot." There had never been any shot, but the troopers had fired openly anyway. The incident is detailed in a book called the "€œThe Orangeburg Massacre."
The second incident? Heading to Vietnam, he learned Martin Luther King had been assassinated.
Rodell thought, "€œThey'€™ve hurt the kids at State, assassinated Dr. King and now the country wants me to kill Vietnamese. Why should I do that?"€
Visiting the Chaplain, he applied to be a Conscientious Objector, only to be told, "We'€™ll send your ass out there tomorrow and you decide whether you want to kill or be killed."€
Ironically, as an Army staff sergeant, Rodell was awarded several medals. In his spare time he taught English in a Vietnamese elementary school and was an integral part of the Military Advisory Command teaching fighting techniques to the Vietnamese army so they could assume control of their own destiny. His Army career ended in 1969 and he returned to graduate from State in 1970.
To this day, he speaks Vietnamese.
For the next 30 years, Rodell was an integral part of Corporate America, joining Rockwell as a Research Engineer, then moving to Xerox, and ultimately to Owens Corning. He spent 22 years at Xerox, had 16 promotions and became a member of their Think Tank, which reengineered the entire company. One of its responsibilities was allocating charitable monies to deserving educational institutions. Rodell made certain that black colleges were treated fairly and received monies to "enhance their engineering programs." $50,000 was given to Penn Center. He personally has been a significant donor to South Carolina State, and was awarded an Honorary Doctor of Law degree for his involvement with the school.
While at Owens Corning, Rodell realized he had taken one vacation week in four years. He was missing his family, so that was it – he retired, took a year off, played golf and tried to figure out where the good Lord was directing him.
His calling was as it always had been -€" to give back to the community. He wanted to help young children advance. He raised $15,000,000 at Stillman College (AL), fund raised at Meharry Medical Center (TN), was Director of Development at Georgia Southern, Fort Valley State (GA) and eventually came back to South Carolina.
Retired, his routine was simple -€" get up in the morning, play golf with cronies, have lunch and go home. That was it – certainly not the active lifestyle he had been used to. His "€œbaby"€ daughter recognized his boredom, noticed an ad for Penn Center'€™s Executive Director, and submitted his resume without telling him. When Rodell received a call to interview, he was shocked, but he went. And here he stands tall today.
His first venture for Penn was to attend a symposium in Jackson, MS, where a speaker stated there are 22 million children in the US going without food every day. Dr. Lawrence wondered how many were without food in Beaufort.
This past summer, under the "€œSummer Feed Program," Penn Center orchestrated the feeding of two meals a day to 1,837 kids from Hardeville to Hampton County – 324,000 meals in total. A summer camp at Penn was established, serving 170 kids.
A 5-acre vineyard on the property is expected to produce three wines, three ciders, jellies and BBQ sauce, and will brand the Penn Center name. Two acres have been allocated to local children to raise their own crops. The theme is education.
Beaufort has been designated as a national monument to the Reconstruction Era. Dr. Lawrence wants Penn Center, which truly is sacred property, to be the focal point of that monument and envisions a six step experience: Step 1 -€" a bus load of tourists will arrive and be directed to the Darrell Hall for a reconstruction interpretation. Step 2 – Managed by local children, tourists will pass an aquaponics green house where there will be colorful fish as well as herbs and spices for sale. Step 3 -€" A Gullah presentation will follow, along with basket weaving exhibitions. Step 4 -€" The museum and book store will be open. Step 5 -€" Tourists will go across the street to view the Gantt Cottage, soon to be remained the MLK Museum, where Dr. Martin Luther King, Jr. stayed while at Penn. Step 6 -€" A visit to the Brick Baptist Church which housed Penn'€™s 1st school. $10 per adult and $5 for children (above a certain age) will be charged.
Dr. Lawrence has also been appointed as Chairman of the Community Relations Council of Beaufort County whose objective is to "€œbring us together,"€ by focusing on economic unbalance, social issues, and veteran'€™s outreach. It'€™s another opportunity to "€œgive back."€
Lawrence admits, "€œI've had a lot of '€˜stuff'€™ -€" big houses, fancy cars, trips you name it, but I realize now that was all it was -€" 'stuff.'€™ The past 21 years have been the most gratifying years of my life as they have been completely devoted to giving back to the community. Nothing could be better than that and I have been blessed to have been able to do so."
Dr. Lawrence sets a high moral bar for us all. We should follow his lead in giving back. He has led a fascinating life and we are all so fortunate to have him as an integral part of the Beaufort County community.