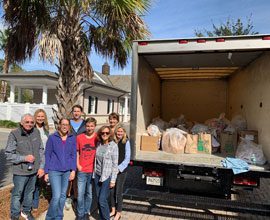 Collins Group Realty held their 16th Annual Food Drive to benefit The Deep Well Project on Hilton Head Island last month, before Thanksgiving.
Three north-end communities participated in this year's drive, including Windmill Harbour, Jarvis Creek Club and Carolina Isles. One hundred eighty bags of food and pantry items were donated to help stock the shelves in time for Deep Well's Thanksgiving food deliveries.
"Our Thanksgiving Food Drive for Deep Well is a great way for our CGR team to start off the holiday season. Every year Deep Well takes care of more and more Lowcountry families – stocking and delivering food to them for the holidays. We are thrilled that we can, with the assistance of great Island neighborhoods, help out. Windmill Harbour, Jarvis Creek Club and Carolina Isles were so generous in their giving this year. We wish to share a big Thank You to all who participated!" Annette Rothwell, Administrative Manager, Collins Group Realty
Year after year, the Group has conducted the food drive with the use of their Community Vehicle (a box truck they loan, free of charge, to community organizations, non-profits, schools, and clients) and volunteers from within the Group including Realtors®, staff and family members.
The Palmetto Hall Women's Club also utilized the Collins Group Realty Community for their own Annual Community Food Drive in November. Those donations were also contributed to Deep Well's pantry.
The Deep Well Project provides year-round groceries and pantry items, including special meals at holidays to Lowcountry families. This year they have more families than ever before signed up to receive food for Thanksgiving. If you would like to donate, non-perishable food items can be brought directly to their location between 9 am – 5 pm, Monday through Friday. If you're unable to get your food donation to them, you can call 843-785-2849 to arrange a pick-up. For more information, or to make a monetary donation, visit their website at www.deepwellproject.org/