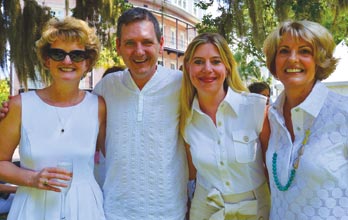 Habersham's inaugural Bottles and Barrels weekend rolled out to enthusiastic crowds of Lowcountry foodies June 14 and 15th. This Southern Living Inspired Event showcased fine wines, craft brews and farm-to-table cuisine prepared by top-tier local chefs.
Saturday's highlights included wine and craft beer tastings from 20 wineries and 20 breweries and a Cast Iron Chef competition featuring some of the area's finest chefs cooking with the Southern Living ingredient of the year, bacon. The event was judged by Southern Living Test Kitchen Director Robby Melvin. Sunday wrapped things up with a Southern Jazz Brunch hosted by winemakers Rob and Lydia Mondavi with live music by the Blue Mudd Funky Jazz Sextet. There was, of course, more wine, and Bloody Marys, and excellent food from Southern Graces all under the live oak canopy.
Lowcountry Weekly is a proud sponsor of this unique culinary festival and we look forward to the 2015 edition. Congratulations to all who participated and a special hats off to Plum Productions for making it all possible.
Mark Shaffer captured the spirit of the weekend with the following pictures…
(Above, our food columnist Debbi Covington, Chef Richard Wilson of Maggie's Pub, Lydia Mondavi of Mondavi Winery, & Peggy Wilson of Maggie's)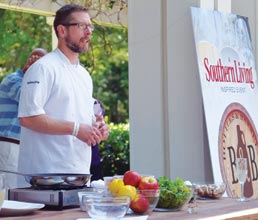 Chef Robby Melvin of Southern Living magazine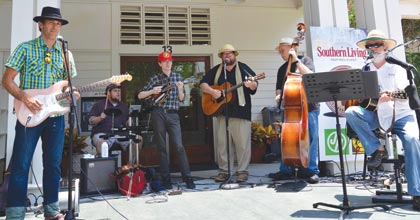 The Blue Mudd Funky Jazz Sextet
The Cast Iron Chefs – Richard Wilson (Maggie's Pub), Brian Waters (Saltus River Grill), Beth Shaw (Breakwater), Christopher Hewitt (Southern Graces), and Paul Hinsley (The Spaghetti Club)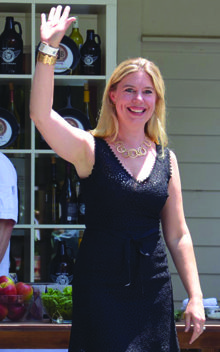 Lydia Mondavi of Mondavi Winery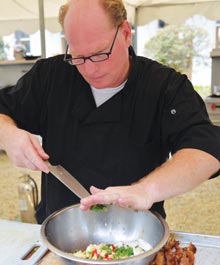 Chef Christopher Hewitt of Southern Graces
Chef Brian Waters of Breakwater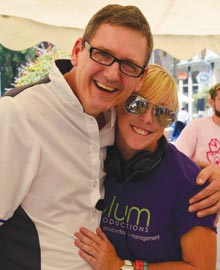 Chef Richard Wilson of Maggie's Pub with event coordinator Jodie Miller of Plum Productions