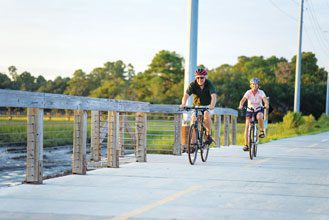 The last link in the Spanish Moss Trail will be a game changer for Beaufort and Port Royal, planners say
By Mindy Lucas
Four years after the Spanish Moss Trail opened in 2012, planners for the popular walking and bicycling path hit a snag.
A new section, just over half a mile, was to extend the trail past the Marine Corps Air Station Beaufort in northern Beaufort County. There was just one problem. The section wasn't paved.
Completing that section, which ran from Poppy Hill Road to Clarendon Road, was just the latest in a series of challenges trail planners had faced over the years.
There were construction snags, lawsuits over right of ways, multiple jurisdictions, agencies and groups to work with, not to mention the public's initial suspicion of a trail that would cut through neighborhoods and run behind backyards.
But this latest snag was particularly challenging.
"That was the final drama," said Dean Moss, former general manager of the Beaufort-Jasper Water & Sewer Authority. 
Over the years, the water authority had purchased and accumulated the rights of way for the one-time railroad property, where the trail now runs, for use as a utility corridor. Moss was instrumental in bringing the idea of a recreation trail on the same land to the forefront.
As both he and Port Royal Mayor Joe DeVito, who also worked for the water authority before retiring, explained, a long-since forgotten conservation easement on part of the trail owned by the United States Navy could potentially hold the project up from moving forward. 
Two words in particular in the original agreement gave them pause.
"No public and no paving," said Moss, chuckling.
It took two years of discussions between the Navy and the Kennedy family, who funded and donated significant portions of land to the project through their James M. Cox Foundation, before an agreement was finally reached. 
Last fall, the extension was finally paved giving riders and walkers a blissfully smooth, uninterrupted 10-mile stretch.

A LOWCOUNTRY FAVORITE
Today the 12-foot-wide trail, with its double lanes of traffic, enjoys even greater popularity than ever before. 
Visitors come from all over to explore it, while locals have their favorite point of entry. In fact, an estimated 40,000 people enjoy the trail each year, said Moss.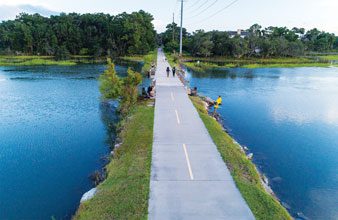 Residents, who were once skeptical or wary that the path could encourage crime, now see it as an asset. 
Real estate listings for homes in the West End, Depot Road and Mossy Oaks neighborhoods often note their distance from the trail, while newly installed gates or landscaped paths connecting backyards to the trail have become increasingly noticeable, said DeVito.
"People are realizing now the ultimate benefit the trail is having to their health, to the environment, to what's happening around there," he said.
It's that sort of connectivity that has been satisfying for both Moss, who founded the Friends of the Spanish Moss Trail in 2012, and DeVito, who served as its most recent president. They've also dedicated a large part of their careers and free time, along with volunteers from the Friends group, county and community leaders to seeing the trail project to fruition.
"We always said the trail is more than just a bike trail," DeVito said. "It's a way for people to connect.  . . . It's a thoroughfare to connect neighborhoods."
Shortly after the trail opened, DeVito recalls seeing people from Mossy Oaks meeting up on the trail and talking with those from Hundred Pines. The two neighborhoods were previously separated by a sliver of marsh.
"That's what the trail is about," he said. "It's the interaction of the people that has absolutely made it so rewarding."
Now, one of the greatest challenges facing planners yet – crossing Ribaut Road – is finally within reach.

AN ADVANCED SOLUTION
Crossing Ribaut would mean even greater connectivity, not only connecting Beaufort to Port Royal, but connecting one half of Port Royal to the other. 
It would also connect visitors and residents to stores and retail shopping, restaurants, art galleries, the farmers' market and many other points of interest throughout the area – without their ever having to get in a car.
"It will be one of the biggest economic drivers to the downtown Port Royal area," said DeVito, who ran for office on extending the trail into Port Royal, slowing down traffic on Ribaut Road and encouraging economic development. "The Port is going to be an economic driver, but you bring this trail in, and it will enhance that so much more."
But crossing the four-lane busy thoroughfare is no easy undertaking, admit both DeVito and Moss.
For one thing, it will require more than a marked crossing with a push-button signal to stop traffic, like the one used on Robert Smalls Boulevard, they say. While the boulevard is also a busy thoroughfare, its straight and flat approach gives drivers an unobstructed view of the crossing. 
Ribaut Road, or S.C. Highway 21, with its curves and fast-moving traffic, is another thing altogether. That's why a crossing there requires a more advanced solution, they say.
And one of the most logical places for crossing is near where the trail currently ends at the "Spine Road," or Smilax Avenue, about a half mile from where Ribaut Road crosses Battery Creek.
A current plan calls for extending Battery Creek Road so that it connects directly, in one straight shot, to Ribaut Road, while providing some traffic relief to neighborhoods on both sides of the road.
The new road extension would run parallel to the trail following its current right-of-away, about 100-feet wide in this area, and would bring both the road and the trail across Ribaut Road by way of a new intersection, Moss said.
"It's all one project," he said. "And it has to be designed and conceived as one project."
A traffic signal at the new intersection would also alleviate traffic flow in both directions, Moss and DeVito further explained.
Drivers heading south on Battery Creek Road would no longer need to turn right on Westvine Drive and snake through tight neighborhood lanes to access Ribaut Road. Drivers heading North out of Port Royal would no longer need to jump on Parris Avenue.
Once across Ribaut, the new road extension would take traffic and trail users into a new residential neighborhood planned along the Western portion of Port Royal on Battery Creek. Currently being planned by Grey Ghost Properties – the same company working to develop the old port property – the neighborhood will feature about 75 homes, DeVito said.
The new road and trail extension will tie in to Port Royal's shops and restaurants and a 60-yard section that runs in front of Fish Camp on 11th Street. That section, completed in 2019, was built with the idea of connecting to the Ribaut cross piece.
The project, they believe, could be started as early as this year, they say. Funding, if approved by the county, this cycle, would come from Beaufort County's local accommodations-tax revenues.
"We've made pretty significant progress," said Moss. "I think everybody now understands why it's important.  . . . The trail is the most significant tourism asset that the county actually owns."
When completed, it will be the last link to some 12 miles of trail, stretching from Sands Beach, in Port Royal, to the fishing pier in Seabrook.
Spanish Moss Trail: A Timeline

November 2009: Beaufort-Jasper Water & Sewer Authority (BJWSA) acquires right-of-way for the historic Magnolia Rail Line to use as a utility corridor
January 2011: BJWSA grants a surface easement to Beaufort County to develop 16 miles of the corridor as a recreational trail – called the Spanish Moss Trail. 
November 2012: Grand opening of trail; First section from Robert Smalls Parkway to Allison Road opens
2013: Second section, Allison Road to Ribaut Road in Port Royal
2015: Third section, Robert Smalls Parkway to Roseida Road opens
2017: Fourth section, Roseida to Clarendon Road opens
2020 – 2022: Crossing Ribaut Road
Covid–19 Update: How You Can Help Keep The Trail Open
During this time of social distancing, the Spanish Moss Trail's 10-mile linear recreational space has never been more popular – for everyday homeschooling PE classes, a safe place to exercise, enjoy the spring flowers, and breathe in the salt air. Public health experts agree that outdoor exercise is essential and the trail needs to stay open – as long as everyone:
Maintains a distance of six feet from people who are not a part of your household 
Prevents crowding at trailheads and intersections
Avoids passing others too closely
Alerts others of your approach
Cleans up after their pet (pet-waste stations available throughout the trail)

Want to Go?

For maps and more information on the Trail download the Spanish Moss Trail Mobile Guide (free on Apple Store and Google Play) or visit www.spanishmosstrail.com.

Want to Support?

The Friends of the Spanish Moss Trail is the non-profit that works year round on long-term trail developments as well as advocates for its maintenance and enhancements. This week, the Friends are supporting the County and City's public safety messaging by installing short-term signage along the trail to communicate the Covid-19 guidelines. If you want to help – volunteer to pick up litter along the trail – a great activity for families or individuals. Simply bring work gloves and trash bags and pick up trash anywhere you enjoy the Spanish Moss Trail.