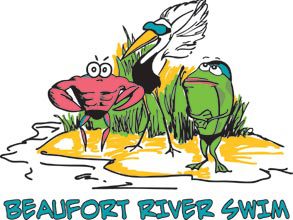 The Wardle Family YMCA of Beaufort County announces that the popular Beaufort River Swim (BRS), now in its 9th consecutive year, will return June 6, 2015.
Competitive swimmers, triathletes, high school, college and recreational fitness swimmers will have a chance to challenge themselves beyond the pool in the 3-Mile Competitive race. And new this year is the addition of a 1-Mile 'Fun Swim', which will allow those who are new to open water swimming the opportunity to see what it takes to swim a saltwater, tidal river but on a shorter course.
The BRS is also a fundraiser that benefits the YMCA Learn To Swim Program. Drowning is the leading cause of accidental death for children between the ages of 2 and 10. This program provides the financial assistance for children, families, and individuals in our community to take swimming lessons. In 2014, the Y taught over 1,400 swimming lessons with well over 600 of these being Learn to Swim program participants, who received financial assistance due in part to proceeds raised at the Beaufort River Swim.
Swimmers competing in the 3-Mile race who win their age category will go home with one of the coveted "Bobble Head' BRS trophies, although wearing a wet suit in the 3-Mile swim disqualifies a swimmer from placing and receiving a trophy. "Fun Swim' participants ARE allowed to wear a wet suit, use fins and snorkel if they like, but will not be eligible for a trophy. All swimmers in both races must be at least 13 years old and all will be swimming 'with the tide'.
Longtime BRS volunteer and participant Pete Palmer, states that over the years, the BRS has grown exponentially from a few dozen participants in 2006 to over 150 in 2014.
"And with the addition of the Fun Swim this year, we're expecting to have 200+ swimmers and hundreds of spectators cheering them on at the finish line… the downtown Beaufort Marina dock," Palmer said.
While most of the swimmers participate simply for the fun of it and to support the YMCA, Palmer added that there is no lack of good-natured competition.
"To look at the Bobble Head trophy is to want one; and if you have one, it gets lonely, so there is the urgency to go win another. While few decorators would opt to have the Bobble Head occupying center stage on your mantle, you gotta admit, they are cute." quipped Palmer.
Other competitive, local swimmers who will be participating in this year's event include former Olympic swimmer Carlton Bruner, his wife, Heather, who is also the YMCA Tigershark swim team coach, and Brittany Sutton, who is a nationally ranked (6th in1500 Freestyle SCM Women & 9thin the200 Butterfly SCM (Women 18-24) with U.S. Masters Swimming.
Both BRS events are also considered great training opportunities for upcoming open water races and for triathletes looking to get some experience in salt water/open water swimming.
The 3-Mile Competitive Swim starts at 8 am the Port Royal Marina Dock and the 1-Mile Fun Swim starts at the Beaufort Memorial Hospital dock, after all the 3-mile swimmers have passed by. Check-in (starting at 6:30 am) and event parking will be at the Downtown Beaufort Marina and all swimmers will be bused to the either the Port Royal Marina dock or Beaufort Memorial Hospital dock for the race start.
Since the swimmers wear colored swim caps that correspond to their ages, it can be great fun to stand out on the bluff along Bay Street around 9:30 and watch them struggle home.
More details, including a race map, waiver and event registration is online at beaufortriverswim.com or register at the YMCA of Beaufort County at 1801 Richmond Ave., Port Royal, SC 29935 or call 843.522.9622.