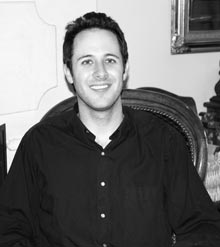 Beaufort-based literary house Short Story America has published its newest collection of short stories: Loss Angeles, a beautiful hardcover collection of fifteen stories by Los Angeles author Mathieu Cailler. Cailler, the winner of the first Short Story America Prize for Short Fiction in 2012, will make his third trip to Beaufort (he was a guest star at the first two Short Story America festivals) to give a reading and book signing at ARTworks in Beaufort Town Center.
  Set in the glamorous city of Los Angeles, the book skips the shine and celebrity the city is known for and instead dives deeply into the lives of ordinary Angelenos. In each of the fifteen stories in this collection, Cailler examines the private lives of a diverse mix of characters. The collection showcases the rawness of real life, the complexity of navigating personal challenges and internal conflicts, and the ever-present possibility of encountering unexpected compassion and empathy.
These stories uncover the reality that the interiors of people's lives often have huge holes in
them. In the collection, a quiet divorced man, who is still deeply in love with his ex-wife, finally speaks up when his son's soon-to-be stepfather becomes enraged over a broken birthday gift. A young man visiting his parents for the first time in nine years delays his arrival at his family's Thanksgiving dinner to see an old friend who was influential in his early life. Cailler also goes beyond loss and grief to reveal hidden human kindness in the stories of a widower who steps out of his melancholy to save the life of a stranger, and an aging bachelor who becomes a father figure for a wayward young woman.
Exposing emotions was Cailler's focus when writing the collection. "I want the reader to relate to the feelings and sentiments expressed in the book," he says. "I think loss is the greatest bond we possess as humans, and there isn't a single person around who hasn't experienced it. We've all lost something dear to us, something profound," the author says. "I think if a reader comes away from Loss Angeles feeling more connected to others and/or him or herself, I'll have done my job. Whenever I write, I think of Plato's words: 'Be kind, for everyone you meet is fighting a harder battle.' That's something that I hope will resonate with the reader."
Cailler's work has been widely published in national and international literary journals. Along with his Short Story America Prize, he's won a Shakespeare Award for Poetry, and his Chapbook Clotheslines was recently published by Red Bird Press. He says he can't wait to return to Beaufort to promote his first full-length book.
"When people ask me what my favorite story (of mine) is, I often answer 'Over the Bridge' – not because it won the 2012 Short Story America Prize for Short Fiction (though that was wonderful), but because I got to go to Beaufort and meet so many wonderful people who all rooted for me and wholeheartedly welcomed me. Tim Johnston and I became instant friends, and I had the opportunity to mingle with so many like-minded folks. We shared cocktails, laughs, and the love of the short form. I'm deeply indebted to Beaufort. The Spanish moss, the tormented live oaks, the grits, and sea air – all of it screams warmth to me. I'm lucky to call Beaufort a home away from home."
Cailler's friend and publisher Tim Johnston will introduce him for a short talk and reading, followed by a book signing. Cailler and Johnston hope some of their fellow book lovers will follow them downtown for some socializing afterwards. It all starts on Thursday, May 14 at 6 pm at ARTworks in Beaufort Town Center. For more information, visit www.shortstoryamerica.com