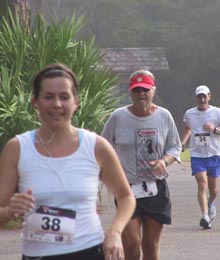 Friends of Hunting Island (FOH) and Hunting Island State Park will sponsor its 4th annual 5K Run/Walk along the park's beautiful refurbished trails. The Run/Walk will be held on October 13th, starting at 10:00 am. Runners, walkers, and supporters will gather at the park's Nature Center, the entrance is just short of the Fripp Island Bridge.
This event is for the serious runner and it's also a fun, family run or walk if you prefer. Chip timing is provided by Play Hard Event Timing and is entirely within the park. The event begins and ends at the Nature Center and follows the Nature Center Trail to the Lagoon Trail and then crosses over to the Maritime Forrest Trail back to the Nature Center. Volunteers will be stationed at each turn. Strollers are permitted but sorry, no pets.
New this year is the Team Competition. Teams will consist of 5 members each with two age categories:  under 18 or 18 and over. Registration is $25 for 5K runners, $100 for 5K Teams, and $15 for walkers.
Friends of Hunting Island especially encourages whole families to come out and "take a walk" and enjoy our most popular state park's lovely trails, some cool breezes, and unparalleled forest views. Funds from this event will be used to support Friends' work with the Discover Carolina Program, in which we bring 3rd, 5th, and 7th grade students to the park for a day of nature programs and hands-on learning.
Register online by credit card at http://www.active.com/running/hunting-island-sc/hunting-island-5k-runwalk-2012
For additional information and to download forms:  www.friendsofhuntingisland.org The online registration deadline is 5:00 pm, Friday, October 12th. Walk-up registration is welcome on the day of the event from 9:00 – 9:30 am, along with all participant packet pick-ups. Please note that park fees will still need to be paid to join this event. For more information, please contact the event Co-chairs, brandibyrum04@yahoo.com or cnminnich@gmail.com