This Halloween season, make plans to take a haunted tour through downtown Beaufort.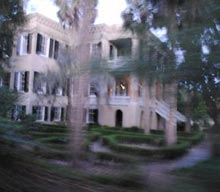 Ghostly spirits are expected to take over downtown Beaufort while the Exchange Club hosts its 20th Annual Ghost Tours beginning Friday, October 12, 2012. Sign up now to take a carriage ride or walking tour through Beaufort's Historic District while listening to haunting tales of the area.
Tours last about an hour and will run in the evenings of October 12-13, 19-21 and 26-28. All proceeds benefit the Child Abuse Prevention Association (CAPA) of Beaufort County. Reservations strongly suggested, so call 843-52-GHOST (843.524.4678) today!
Some of Beaufort's oldest residents have shared stories from their childhood and the Exchange Club of Beaufort brings these stories to life each October. Costumed storytellers spellbind tour participants with these ghostly tales while traveling the moss-lined streets of downtown. The oldest ghost in America is said to live in "the Castle," a 19th century renovated estate located on the river in downtown Beaufort. Beware, ghostly visions have been known to appear on past tours. Walking tour tickets are $12 for all ages and carriage tours are $10 for children ages 3-11 and $20 for adults. All children must be accompanied by an adult.
In celebration of the 20th year of Ghost Tours, come experience "An Evening of Raising the Spirits," a ghostly séance that will take place on Saturday evenings during Ghost Tours (Saturday, October 13, 20 and 27). Two showings will be offered each Saturday night, 8:00 p.m. and 9:00 p.m., in the Dolphin Room of the Sea Island Inn, downtown Beaufort. There are sure to be ghostly sightings… the spirits always come back. Tickets are $10. Receive $5 off your ticket price if you participated in a Ghost Tour this season.
Call 843-52-GHOST (843.524.4678) for information or to make a reservation. Credit cards and personal checks are accepted.