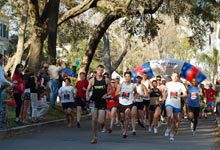 Ah, spring! The season brings increasing daylight, warming temperatures, and the rebirth of flora and fauna. And the urge to be outdoors increases with every turning page on the March calendar.
So I say to my friends in the Lowcountry, it's time to get outside and get in shape!
What better event to welcome Spring than the 4th Annual Beaufort Twilight Run (BTR) to benefit Riverview Charter School? The time of year is perfect, the setting spectacular, the audience dedicated and the cause… benevolent.
BTR will be held Saturday, March 24, with a variety of events starting at 4:30pm. The USATF sanctioned running festival will host a competitive 8K Run and 5K Run, a 5K Fun Walk and a 1/4 mile Kid's Fun Run throughout the village of Habersham at dusk. And, a traditional Lowcountry Oyster Roast, enjoyable for the entire family, will cap off the evening.
And that's just what organizers have aimed to do since BTR's inception in 2009. They've created a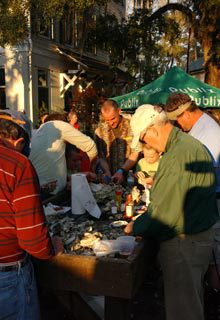 pleasurable event for every member of your clan: the competitor, the leisurely stroller, the naturalist, and the foodie. There's a little something for everyone. The BTR is unique, because it's held at night. But, it's open invitation for the entire family sets the running festival apart from others and welcomes the family unit as opposed to individual members. That's what makes it distinctive and intriguing, even to out-of-staters.
In fact, two families traveling from Indiana will be participating this year. They've planned their Spring Breaks around the seasonal run and have booked campsites at Hunting Island State Park. The Sewards and Colvins from Marion, Indiana are devout runners and chose Beaufort as their Spring Break destination, thanks to the Beaufort Twilight Run.
Eric Seward explains, "In my search of races, I came across the Twilight Run and Oyster Roast.  The run looked cool, and the Oyster roast just seemed like a perfect spring break thing to do."
The Seward's and Colvin's are families not unlike many in Beaufort. They are health-conscience, fun
loving and appreciative of the natural environment. So the BTR was a no-brainer for them.
Three years ago Seward started a summer training group called ENER-G (Eastbrook Neighborhood Exercise and Running Group). The group was organized to augment Josh Colvin's undertaking as Coach for a variety of area school teams.
The group often travels to runs around the country, in addition to hosting cookouts, bike rides, triathlons and mud runs of their own. In fact, they've taken a large group to Frankenmuth, Michigan to run the annual Fourth of July races the last three summers and have run races in Ohio, Tennessee, Georgia and Florida.
Seward explains, "A big part of our group is running with purpose.  We don't tell kids what that purpose should be.  For some, it's about winning.  For others, it's about team.  Others want to lose weight.  Others have the purpose to be a better person or to run for religious reasons.  Whatever the purpose, in helping them accomplish those goals, we are making better, stronger young people."
Eric Seward and Josh Colvin are the patriarchs of their athletic families. Seward, an obstetrician/gynecologist physician, is 42. He's the veteran of 10 marathons. Josh Colvin, 37, is a teacher and coach at Eastbrook Junior High School and holds the county record in the 5K. Both dads are steadily improving and training for the Bayshore Marathon in Michigan at the end of May.
Seward's wife Jaimie and Colvin's wife Leah will be running the BTR, as well as their combined five children. Jaimie ran her first Marathon in Cape Cod last year, and Leah is training for her first 1/2 Marathon in Bayshore this year. All the kids have a running background, and some are a bit more competitive than others.
Fifteen-year-old Sophie Seward, for example, won All-State in Cross Country, and her 5K times are mid-18's. She's actually someone to watch as a medal contender in the 8K at the BTR.
Hannah Seward, a 14-year-old Honor Society inductee, and Sierra Colvin, also 14 and the number one middle distance runner on the cross-country team, are classmates and friends. They've traded number one spots in long distances and are used to running 3Ks. They're both anxious to run the 8K at this year's BTR.
Eli Seward is not the typical runner. He's a football and baseball player, but also ran cross-country this year as a 5th grader, the only one to do so. He's currently training for a 1/2 Marathon in Indianapolis. He's eleven and also running the 8K!
And then there's Zoe Seward, only 7, with two full 5Ks under her belt. Never pressured to run, her parents sign her up when she wants to. She's "excited, but a little nervous" to run the BTR.
Don't worry Zoe…there will be plenty of 1st graders running with you. It's all about having fun at your age!
One of the Sewards will be present, but probably not able to participate this year. Abe Seward, born February 17th, may be a little young and too small (8lbs. 11oz.) for this race. But watch out, mama Jaimie is back! The BTR will be her first race since August 2011 and her first since delivery. Make sure to give this recent birthing mother a pat on the back when you see her!
The Sewards and Colvins have never traveled to the Lowcountry before, and they are thrilled to come for their inaugural visit. While camping at Hunting Island, they plan go biking, fishing and all things outdoors. They're even running another 5K on Tybee while they're here.
Additionally, Colvin, who teaches Social Studies, wants to learn more about the history of our area, specifically the Lowcountry's Native American and Colonial history. And, as we all know, there's an abundance of resources here to fulfill his quest.
Most of all, they're looking forward to spending some quality time with family and friends.
And they're also excited about the Oyster Roast.
"I had a mean bowl of clam chowder at the Cape Cod Marathon, but I have a feeling the roasted Oysters at the Twilight run might be even better," says Seward.
Colvin adds, " Indiana is not known for its seafood, so this will be a treat for me.  My wife and daughter are not so enthused, but they are willing to try them."
The Sewards and Colvins should be commended for taking charge of their health and training as families. The seed is planted in their children; and, for a lifetime, these kids will understand the benefits of exercise and core family values.
Colvin explains, "Running as a family promotes a healthy lifestyle for us.  I want to instill this belief in our children, so they will have the knowledge to live a healthy life."
When asked about the benefit of youth exercise, Seward replied, "Sports in general are a fun way for kids to learn to be fit, to socialize and work towards common goals.  Whether it's basketball, soccer, football, baseball, etc. or running. Individual sports take out the excuses.  You win or lose on your own legs."
"…And let's not forget, most healthy kids go on to be healthy adults!"
Colvin agrees. "I think (youth exercise) is important, because it keeps kids busy and focused.  I seem to accomplish more when I have lots going on."
They couldn't have chosen a better race to accentuate their commitment to family and the healthy child.
The Beaufort Twilight Run benefits Riverview Charter School, dedicated to nurturing the whole child and preparing each student for a global society by emphasizing "learning by doing," family and community involvement and engaged citizenship.
On the heels of overcoming political adversity, Riverview Charter School is proud to hold its head up high and continue in its stride toward quality education. The school didn't give up, and the kids benefited. By staying on track, the school taught by example, just as their mission says.
Even though Eric Seward is from Indiana and knows little about Riverview's recent history, his opinion about adversity can be identified by many, both attending Riverview and on the sidelines.
"I suppose in the case of adversity, it's important to remember that it's the 'long run' that counts.  Consistent effort and determination and belief in yourself will get you across the finish line. There's a point in every race where the going gets tough. Your brain and muscles crave oxygen, and you want to slow down and quit.  But if you find a way to fight through that, you have a great sense of accomplishment."
The Beaufort community welcomes our visitors, the Sewards and the Colvins and congratulates Riverview Charter School for building this annual race into a popular, fun event for the entire family.
Thank you for giving our community something to believe in and giving us an event that allows us to believe in ourselves.
Additional Information about The Beaufort Twilight Run:
Endurance Imaging will b
e taking race photos. They are located out of Jacksonville, FL and have taken photos at the Boston, London and Miami Marathons. Be sure to get your photos!
All races start and end in the Habersham Marketplace. For registration, race descriptions, the course map and more, please visit www.beauforttwilightrun.com.
Cash awards will be given for the 8K and 5K. Following the runs, participants will enjoy oysters from Sea Eagle Market and food from Habersham merchants, including Piace Pizza. The post race party will also feature live music from The Brewer Band, self-described as, " a little bit country, a little bit blues and a little bit rock 'n' roll.
• Funds raised from the Beaufort Twilight Run will go toward the purchase of iPads, Apple TV systems in the middle school classrooms, additional book titles for classroom libraries and our school-wide guided reading library, replacement science lab kits, replacement art supplies, and instruments, costumes and props for the Music and Creative Arts programs, in addition to Tidewatch (after school program) scholarships for students who need financial assistance, scholarships for students who need support in participating on field trips and ongoing professional development opportunities for faculty and staff.