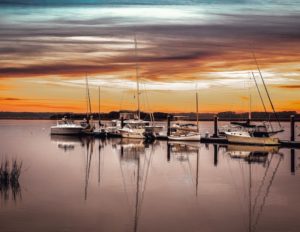 Marinas.com has announced that Dataw Island Marina is a recipient of the 2022 Boaters' Choice Award, an honor recognizing the marinas that consistently provided excellent service to the boating community in 2022.
For the sixth year in a row, Marinas.com has leveraged its thousands of user reviews to determine the 2022 award recipients. The 2022 recipients list includes a diverse range of marine businesses, from private yacht clubs to public service yards, and locations from the west coast to Marinas.com's hometown of Newport, Rhode Island.
The Dataw Island Marina is located 3 miles from the Intracoastal within the private gated community of Dataw Island, although the marina complex is open to the public, as is the onsite Morgan River Grill.
With fuel for the body and the boat, the Dataw Island Marina has again become a locals' favorite since its reopening in 2019, when the Dataw Island Owners Association purchased and rebuilt the facility. Marine Tech Services manages the operation and runs a full-service boat yard, offering in-water and on-land services, as well as haul-outs and launches.
"Since the Boaters' Choice Award is earned through positive reviews given by satisfied customers, it's quite an honor to receive one," says Marine Tech GM Kristy Carr. "It's truly a testament to the investment and commitment of the Dataw owners, and the talent of our staff, and we thank them all for their roles in making this an excellent marina."
The Dataw Island Marina is a full-service facility located where the Morgan River and the Jenkins Creek meet.