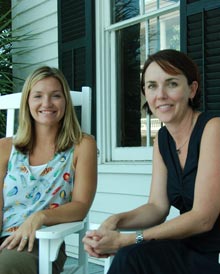 As the Beaufort County Open Land Trust begins its fifth decade and continues to expand its land preservation efforts, it also undergoes a change of leadership. Patricia R. Kennedy is the new Executive Director of the Trust as Ann Bluntzer steps down to relocate to Texas with her family. Kennedy leaves the same post at the Palmetto Bluff Conservancy after eight years, serving on the board of the Land Trust for most of that time. Both women see a seamless transition as the role of the Land Trust continues to widen and evolve, expanding its role beyond the boundaries of Beaufort County.
We sat down with Bluntzer and Kennedy at separate times to talk about the transition what lies ahead for the Trust, including a widening role in the farm-to-table movement.
Ann Bluntzer
Mark Shaffer: You're confident this is going to be one smooth transition.
Ann Bluntzer: Patty's been on our board for seven years. Her knowledge about all the projects going on is so in-depth that I don't think there will be any sort of gap.
MS: During your tenure there's been a noticeable shift in how the Trust has focused itself. Things have changed in the last three years.
AB: The biggest transition has probably been our contracts with our local governments – with County Council, Beaufort County and the City of Beaufort – which basically formalizes our relationships with them in regard to land planning and how things should look here. For Forty years the Land Trust has believed that our natural resources here are our number one asset, but we haven't always developed with regard to that or respect for it. So by putting ourselves out there in a contractual basis with the county and the city and their planning departments we now have a seat at that table and a voice in helping to shape what things look like, not only from the non-profit environmental world, but from the policy side of things. We can be a constant reminder that [the land] is our most valuable resource and we have to be sensitive to it.
MS: Once upon a time the Trust was known for preserving views. We see the signs all over the county. The new model operates on a larger, more far-reaching scale.
AM: Right. In the last two years we've taken nine easements outside of Beaufort County, which I think signals a regional awareness of how we're all affected by development. What they're doing in the northern part of the Edisto River has a direct affect on us right here. It's all connected. And there aren't land trusts actively working those areas, so we've had to step up our game to get out there and educate, meet and talk to land owners about land protection in order to protect our assets here.
MS: What's the one project that sticks out as you look back over the last three years?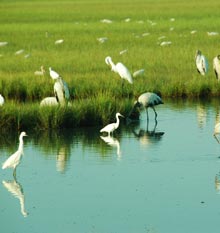 AB: Probably because it's done and finished I'd say the preservation of The Green [on The Point in Beaufort]. I came on board, we fundraised for it, we closed on it, it's protected. It's done. So in that sense, The Green. But in the coming year or two some projects that I've been part of will close that are much bigger and larger in scale than The Green. They're broader landscape initiatives – getting ten landowners together in one area. I'm extremely proud of being part of the farm preservation on St. Helena. We're going to move from protecting two hundred acres on the island to nearly five thousand within a two-year period.
MS: Not to mention adding a working farm to the Trust.
AB: That's been a fun part of this, too. We used to talk to single landowners. Now we talk to ten at a time. It's a much bigger picture landscape protection initiative than we've been used to in the past.
When I look back over my time here, I think maybe my open mindedness as to how we define "land conservation" was key. As a land trust I think we have a responsibility to do more than just put an easement on a piece of property or preserve a view. Once in a while we're required to step out of our comfort zone a bit and take a risk.
MS: Final thoughts on the transition?
AB: I feel pretty confident that with Patty's background and experience things are going to soar. The Trust is in excellent hands.
Patricia Kennedy
MS: This was kind of a tough decision for you.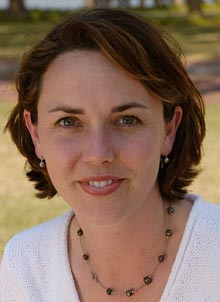 Patricia Kennedy: It was a very hard decision because I love the Palmetto Bluff Conservancy. I love what I created and what I was working for down there. The interesting thing from the Land Trust perspective is that [the transition] really can be seamless. I know the work and I know the players. And Ann has done a phenomenal job with this organization – and it's always been a phenomenal organization – but she's created something really dynamic in a short amount of time. It's going to be a fun challenge to continue that [momentum].
The evolution [of the Land Trust] as I've seen it is broadening into Hilton Head and Bluffton and partnering with the municipalities and the county. That kind of dynamic is exciting and very interesting for the organization. I think it has great potential to grow and continue in those paths. Seeing where this leads is going to be interesting. I hope to continue a lot of those collaborations while at the same time honoring the Trust's small town roots – the views and the vistas. I live next to one. I walk out every day and the first thing I see is "View preserved by the Open Land Trust." That has meaning every day for lots of people. Those signs are iconic.
MS: Education is a key aspect in altering the old perceptions and bringing a new awareness to an old issue.
PK: Absolutely. I think the issues with land preservation in the Lowcountry are still among the most important things we have to deal with. I think some of the things the Land Trust has gotten involved with – the Community Farm, SILO – are phenomenal initiatives. A lot of linkages are being explored. Obviously, the farm-to-table movement is certainly a very current issue, so being able to make that [locally] relevant to land conservation and preservation is so…awesome.
(Laughs)
See? I get so excited about what this organization does and can do.
MS: This is an exciting time for the Trust. Having said that, is there a particular project you want to
focus on as you come in?
PK: Right now just staying the course, really. There have been a lot of new initiatives over the last few years and all of them are exciting. My immediate goal is to take stock and jump in and continue to do the good work that's been started.
MS: Just sitting here it's apparent that you are extremely excited about this opportunity.
You're ready to hit the ground running.
PK: I am. There's still a lot for me to understand. I've been involved in the periphery essentially and there's a big step to running it and maintaining it. I'm excited to be back in Beaufort and I'm excited to be doing work for Beaufort County. I feel so strongly and so passionately about this work and this region, I just hope I can do justice to what [my predecessors] have accomplished. It's a really great organization and one I believe in very strongly.
Email comments and story ideas to Mark Shaffer at backyardtourist@gmail.com