… for the FUN of it!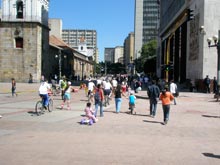 One aspect of good city design and planning is retrofitting – figuring out how to take what already exists and transform it into something better. Buildings are often retrofitted for different uses, but we needn't stop at the building level. The redesign of existing streets, alleys and paved spaces – better utilizing the excess pavement space that so many of our cities and towns have – is an important aspect of urban retrofitting as well.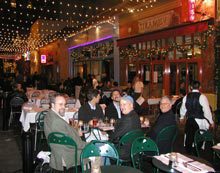 In some cases, that simply means we should reduce or remove travel lanes in favor of more on-street parking, wider sidewalks or better provisions for street trees. These are all simple things that can greatly increase our quality of life, and minimize the destruction that planning for high-speed, high-capacity traffic has done.
In other cases, it means getting creative, and using our spaces more efficiently for more hours of the day. When we talk of the 3-legged stool of community building that is design-policy-management, this is often the "management" portion that too often gets neglected.
How about some examples?
Belden Alley in San Francisco is a great model. By day, this is a typical service alley like so many in any downtown or urban area. By night, however, the alley transforms. Restaurants actually open onto the alley, and move tables and chairs out onto the pavement space. Bollards are placed at the alley entries so that vehicles cannot drive through. The space becomes alive with people relaxing and enjoying the evening.
The same condition exists in various ways in older cities throughout the United Sates. This approach incidentally helps with safety as well by providing more activity in otherwise dark areas.
Historic Bluffton has the Carson Cottages off of the main street. This cottage court, a new infill project, was designed to feel like a hidden Chareston alley that had been transformed into a livable space. It is the welcoming home to restaurants and shops, and plays host to the weekly farmers market.
We need not stop at just alleys. Our streets themselves deserve the same kind of thinking. Again, by thinking creatively about how to manage space, we can create more life, and more pleasure in our cities. A great example is the Cicolvia phenomenon. Begun in Bogota, Colombia, the idea was borne to shut down a large amount of the city's streets (or portions of streets) for most of the day on every Sunday. On the temporarily-closed streets, people ride bikes, jog, walk with their kids, play games and much more. This is one of those experiments that the people who live there truly enjoy. Just think of our own over-sized streets, and how easy it would be to close them down for a "slower" Sunday to get out and simply enjoy life in the neighborhood or the City.
Downtown Beaufort has a few opportunities for this as well. During the March design charrette lead by the city, it was proposed that Port Republic act this way – utilizing a special type of pavement surface, it could function as a street on a normal basis, but then be closed off for festivals and other activities. Bay Street also transforms into a pedestrian street a few times a year, such as the Halloween Parade and A Night on the Town around Christmas-time.
The possibilities are endless – the only hurdle we have to overcome is the assumption that all pavement space must be for vehicles all the time. Ray Bradbury eloquently wrote about this in the short story, The Girls Walk This Way:
"We drive… and drive… and drive and come home blind with exhaustion. We have seen nothing, nor have we been seen. Our total experience? Six waved hands, a thousand blurred faces, seventeen Volkswagon rears and some ripe curses from a Porsche and an MG behind." And later: "Now we must remember that drama and theater are not special and separate and private things in our lives. They are the true stuffs of living, the heart and soul of any true city. It follows we must begin to provide architectural stages upon which our vast populations can act out their lives."
This article was written for Lowcountry Weekly by the Congress for the New Urbanism – Carolinas Chapter. For more information visit www.cnu.org