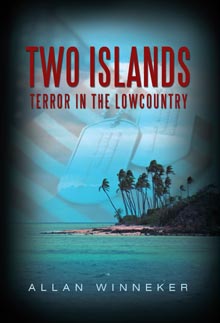 Local author's new novel hits close to home.
Allan Winneker, published by iUniverse, Inc., the leading provider of publishing technology solutions for authors, will be signing copies of his new book Two Islands: Terror in the Lowcountry, a novel set in the middle of today's terror-threatened global environment.
Jacob Lee is an attorney in quiet, idyllic Beaufort, SC where he lives with his wife and son. Life is good—until the Lee family is thrust into a terrorist plot to kidnap a high-ranking Marine Corps officer.
The abduction is a ruthless attempt to avenge a Hamas terrorist's imprisonment in Israel. No one would have expected such a thing to happen in Beaufort, which makes the small town such an ideal target for a surprise terrorist attack. Soon, the lives of two families are devastated by a horrific week of torture inflicted by the American-based terrorist who orchestrates the crimes.
Two Islands: Terror in the Lowcountry presents a rare picture of radical Islamic terrorism taking place in a small, residential southern community. Soon, the FBI and Department of Homeland Security are pulled into the plot. But will they be too late to save the Lee family? Or will Jacob Lee find a way to fight the war on terror in his own backyard and send the terrorists back to where they came from?
Two Islands: Terror in the Lowcountry, is Allan Winneker's third novel.
A native of Philadelphia, Winneker was educated at Drexel University, and enjoyed a 38-year career in marketing management before retiring from corporate life and starting a consulting business in 1999. He and his wife, Betty, now reside on Callawassie Island, near Hilton Head, South Carolina. They have two married sons, a granddaughter and two grandsons.
Allan Winneker will be signing books on these dates, at these locations:
Barnes & Noble Bookstore – Oglethorpe Mall in Savannah – Saturday, June 25, 1-4PM
Borders Bookstore – At Charleston Place Hotel – Saturday, July 9, 1-4PM
McIntosh Book Store on Bay Street in Beaufort – Friday, July 22, 1-4PM
For information about purchasing Two Islands: Terror in the Lowcountry, visit iuniverse.com.  The book is also available online through Amazon, B&N and Borders, in paperback, hardcover and ebook formats.