During the first week in June, The Beaufort Garden Club will again sponsor Garden a Day, a weeklong event celebrating National Garden week.  Each day for five days, beginning June 6th, a private garden will be opened to the people of Beaufort.
This has been a much anticipated event for the past 16 years, and this, the 17th Annual Garden a Day, will take visitors through some of the loveliest private gardens in Beaufort.  As always, there is no charge to stroll through these unique gardens, since the Beaufort Garden Club sponsors the entire event as their gift to the townspeople and visitors.
To visit Peggy and Jim Neighbor's garden on North Hermitage is to visit with tradition.  Except for the ancient live oaks, every tree, shrub and flower on this large estate was planted by a member of Jim's family.  This beautiful waterfront property and home were purchased by Jim's family when Jim was but a boy.  The 200 plus camellias gracing the grounds were inspired by the three bought by his mother from Magnolia Plantation when their gardens were re-done in the late 1930's.
There are many gardens hidden throughout this large property, and each is graced by the many pieces of sculpture collected by Jim and Peggy.  The most elegant is a life sized young woman, carved from beautifully veined Carrera marble. All of the others, save two concrete elephants atop pillars, are solid bronze.  Some are whimsical, some are poignant; all are charming.
The bricks used for the garden walls were rescued from the demolition of Jim's Alma Mater, the original Beaufort High School.  All in all, 25,000 bricks were used for the walkways, patios, and walls.
Barbara, the gardener in the Farrior family, is known throughout Beaufort for her inspired design at 1
Hermitage Point.  She is a generous gardener, as visitors to her home seldom leave without a cutting, some seeds or a blossom or two.  Her charming "potting shed" is a many windowed brick cottage facing the waterfront, surely a joy to work in.  This is a garden that is constantly changing since new and different trees, shrubs and flowers will always find room.   Many that simply "don't grow in Beaufort" are successfully displayed as Barbara knows instinctively where to find a micro-climate in her yard where they will!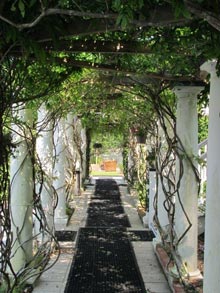 The Davenport gardens on Cat Island have been a challenge for Joanne and John as deer are frequent browsers, often munching on prized shrubs and flowers. The many columned pergola is heavy with wisteria vines; "Lovely, cool and restful, but a vigorous grower," says John.  Joanne's hand is evident in the many creative ways she has accessorized and laid out the gardens and deck.  Visitors are often greeted by the Davenport's parrot and cockatoo when they are brought outside to enjoy the fresh air.
The Sonoc garden is evolving with the help of designer, Ed Marchetti.  This historic district property on Port Republic is evocative of gracious southern living; splashing fountains, live oaks, and gentle curved walkways.  Looking at the front of this home, one can easily picture the gracious gardens that lie beyond.
The Webb garden on Hamilton Street has benefited from a very personal, hands on approach. An appreciation of plants is evident from the many varieties to be found in the curving beds and container gardens.  No valuable garden space is devoted to turf in this back yard.  The Webb's  philosophy is that every plant can be appropriate somewhere. Gardener's who share this enthusiasm will love this garden.
You can visit the gardens at these times and addresses.  Master Gardeners from the Lowcountry Master Gardener Association will be on hand to answer questions.  Hostesses from The Beaufort Garden Club will serve light refreshments.   Gardens will be open from 9:30 AM until 12:30.
Monday, June 6th Beaufort              500 Port Republic Street
Tuesday, June 7th Beaufort        137 North Hermitage Road
Wednesday, June 8th Cat Island           76 Dolphin Point Road
Thursday, June 9th Beaufort                   1 Hermitage Point
Friday, June 10th Beaufort                 608 Hamilton Street