OUR READERS RESPOND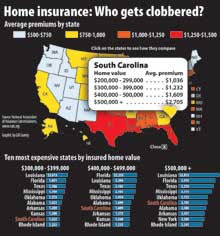 For the past four months, Lowcountry Weekly has been running a series of articles by Daryl Ferguson about the SC Homeowners Insurance crisis. The series isn't over yet – unfortunately, neither is the crisis – but in this issue, we're taking a break to publish some of your feedback. The response to the series has been overwhelming, and we regret that we don't have room to post every letter we've received. We've attempted to gather a broad cross-section of opinion here, and have only published those letters that included the writer's full name. We are thrilled with the great response to this series and look forward to bringing you the rest of it in upcoming issues. As always, thanks for reading Lowcountry Weekly!
The series of articles on The Billion Dollar Coastline was an outstanding documentation of a major problem about our insurance rates along the coast of SC. The worst part was the appointment of the Insurance Commissioner by Governor Haley, and her reluctance to get the facts from the committee which was formed. I was totally horrified at the remarks of Ray Farmer as reported in the Charleston paper, which pretty much indicated he would simply be a cheer leader for the insurance industry instead of a regulator.
Daryl Ferguson has performed a service of great value to those of us who live along the coast and pay the unregulated insurance premiums of today. State Senator Tom Davis should also be commended for taking a strong lead in the SC Senate hearings on Farmer's appointment to the position. Looks like the Senate might be awakening to a responsibility long ignored. I have been an activist in three other states. I consider Tom Davis to be the best Legislator I experienced in trying to do what is right for the citizens who elected him. And I consider Haley has let us down completely.
Thanks to the Lowcountry Weekly for bringing this problem to us.
Jim Bequette
I just got the homeowners' insurance bill and I was reminded that I meant to mention to you how interesting, important, timely, and engrossing I find your current pieces on the SC Insurance sca . . . uh, situation.
Not unlike the recent hacking of personal info, the insurance game will no doubt soon take it's place as an important part of the many colored quilt that makes up SC lore. Please don't mistake my light tone; it's only intended to smother my anger. I don't think I'll be payin' this bill until we get this figured out.
Thanks to Mr.Ferguson for the strength and perseverance in writing it, and to you for showing courage and conviction by printing it.
Leo Gannon
Thanks to Daryl Ferguson and Tony Bartelme we now know why we pay so much for homeowners insurance. None of our politicians were aware there was a problem. In July 2010 I wrote Shannon Erickson about the high cost of homeowners insurance and never got a reply. I also wrote David L. Thomas and Tom Davis both members of the Banking and Insurance Committee, and in the beginning of March this year I wrote Luke Rankin also a member of the Banking and Insurance Committee. I have yet to receive even an acknowledgement of receipt of my letters from any of them. Maybe if they read their mail they would know there was a problem. What exactly does the Banking and Insurance Committee do if they don't know what the insurance companies are doing?
The new insurance commissioner Ray Farmer (former insurance lobbyist) was not aware that the insurance companies were making a 22% profit in this state on homeowners insurance. He thought they were losing money so I'm sure he would have been very receptive to a rate increase.
The computer catastrophe models that insurers used have been based on over a hundred years of historical data. In 2007 they were changed to be based on only five years, leading to excessive rates. Our state insurance regulators fail to protect consumers from excessive property insurance rates based on discredited hurricane projections.
Insurance companies have found a way to circumvent the rate caps. It's called replacement cost homeowners insurance. We built our house in 2003 and in 2005 nationwide insurance informed us that their policy had changed and they were only insuring for replacement cost. They increased the construction cost 263% in 2 years. They circumvent the rate caps by inflating the replacement cost, which results in a higher premium. Does any of this sound familiar? Remember the real estate bubble when banks were inflating real estate appraisals? As a result so many people are under water in their mortgages. This is how the scheme works: Only insure for replacement cost, inflate appraisals, resulting in higher premiums, higher deductibles. If your home is totally destroyed they will pay you the actual replacement cost less the high deductible less any depreciation. So you're paying a premium based on the inflated replacement cost but you're only going to get the actual cost to reconstruct your home in case of a total loss.
Our legislators need to protect the residents of this state from predatory insurance practices. They are so confident in their re-election that they openly admit they haven't been doing their job. We need to hold them accountable.
Geraldine Luppino
Like everyone else, I have griped about South Carolina insurance rates for years but just 'went along with the flow' and paid them. Every part of his series has been totally eye-opening.
I am thrilled Mr. Ferguson pursued the commission and was actually responsible for three meetings to be scheduled. In the end, yes – Mr. Farmer was approved, but not before many questions were raised. Indeed, it was especially heartwarming to read his last paragraph about political parties working well together – AND Washington should take note. Thank goodness Senator Tom Davis and Senator Nikki Setzler got involved.
I served four years as a school board member (in Iowa) and totally understand "rubber-stamping." That's why I ran for school board, beat an incumbent of 20 years, and didn't rubber-stamp every issue our superintendent put before the board. Researching any issue at length is the responsibility of any individual serving the public.
Kudos to Mr. Ferguson!
Kathy Steele Adams
Congratulations to Lowcountry Weekly on one of the finest series of reporting I've read anywhere.
 And I've long wondered why my homeowner's insurance here was so high. Thank you.
David R Hertz
I have read the series with interest. We recently moved from the Philadelphia area to Beaufort and I was surprised (unpleasantly) by the homeowners premiums and high deductibles. Mr. Ferguson and his associates have done an admiral service to expose the broad framework and extent of the problem, and to stimulate legislative attention.
How can the broader citizenry help?
FJ Geer
Although I was not able to read every one of the series, I think it was truly excellent. To finally have someone lay out the true situation regarding the overcharging of insurance rates in this area! Both Daryl Ferguson and Lowcountry Weekly are to be congratulated. I hope LC Weekly will not let go of the issue until we get some real action. Was glad to see Vincent Sheheen was involved and so knowledgeable. If we can just get a governor, of whatever party, who has the interests of the citizens and not just big corporations, we will all be so much better off.
Mary Sullivan
Kudos to Daryl Ferguson for exposing the shocking state of the insurance practices in South Carolina and the weaknesses of the Insurance Commissioner's Office. The 2004 law allowing almost annual un-challenged 7 percent premium increases is crazy!
Let us hope that all of the work by Mr. Ferguson and his colleagues causes some positive changes in the law and our insurance premiums.
David Bowie
Excellent Job. I especially liked that it was clear and convincing. Look at the old clipper ships sailing charts. It is clear our coast for 50 miles north to 50 miles south was always an area that would not have had winds that encouraged hurricanes into Beaufort. It can happen but is really low risk.
Mel Volmert
I think this has been an excellent series, and I applaud Mr. Ferguson for all the work he has put into it and you for publishing it.
My naive assumption all along has been that while Beaufort has been spared any hurricanes recently, we are logically in a high risk area. The research reported in your paper debunks that theory.
Our insurance premiums are really high here. We own a home on Cape Cod, which is definitely in a high risk area, and our premiums there are roughly $1,600 versus $3,800 here, for comparably priced houses. So I think Mr. Ferguson is really on to something, and the state should take notice.
Richard White
I have been reading these articles with great interest. I have been in real estate here in Beaufort County for the last 35 years and insurance is definitely a huge problem for our industry. I am fascinated that Mr. Farmer did not have any of the required skills for the job he was appointed to by our Governor, but, when questioned by Tom Davis, all of Mr. Farmer's answers became positive, and he now feels like we have a problem. Does he really feel this way or is he just telling us what we want to hear? I guess time will tell.
Pat Harvey-Palmer
I want to congratulate you for The Billion Dollar Coastline. I know this was a stretch for your magazine, but it was a surprise and a pleasure to see investigative journalism return to these parts. I have watched newspapers retreat to wire service journalism; or give up the ghost and become platforms for advertising. It was a treat to see Lowcountry Weekly moving in the other direction. Thank you for running this provocative, well-researched, stimulating series by Daryl Ferguson. It will give your younger readers a taste of what we used to expect from newspapers.
Scott Graber