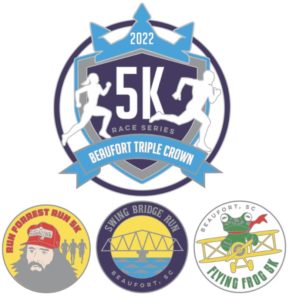 Grounded Running and three local organizations have partnered to create a family-friendly 5k race series. The "Beaufort Triple Crown" is a 5k sprint series spanning across three Saturdays in October.
All courses are USATF certified, timing is provided by Grounded Running and a unique finishers medal is sponsored by Stokes Toyota Hilton Head.
"We are thrilled to see three great organizations coming together to form the Triple Crown Race Series and we are excited to provide timing this year," Grounded Running owner Tim Waz said in a news release. "While every event we support is special in itself, having three amazing events in one month offers participants a unique new challenge to do all three. Beaufort continues to rank as one of the healthiest cities in America, and we love supporting a lifestyle focused on physical fitness as a component of overall health and well-being."
Grounded Running is partnering with Beaufort Digital Corridor, Holy Trinity Classical Christian School and Beaufort Executive Airport to put on the series.
Waz said Grounded Running was supporting "each and every participant by providing a top quality race experience and support for each individual to reach and exceed his or her fitness goals."
Participants who complete all three races will be eligible for special series awards for best combined time that will be awarded at the final race in the series. Individual registration and participation required for all three races to qualify.
Saturday, Oct. 8 – Run Forrest Run 5K: Beaufort Digital Corridor kicks off the series, and all proceeds support the mission of bridging the tech career gap between school and work.
Saturday, Oct. 15 – Swing Bridge Run: The run supports Holy Trinity Classical Christian School's mission to provide rigorous classical education to children regardless of financial means.
Saturday, Oct. 22 – Flying Frog 5K: This unique course is on the runway at beautiful Beaufort Executive Airport. This race supports the Altitude Academy, a Lowcountry program dedicated to educating youth on aviation.
Registration for the Beaufort Triple Crown series is only available until Wednesday, Oct. 5. To qualify, entrants must register for each of the individual races above and select "Yes" on the participation question above. Beaufort Triple Crown participants will receive different colored race bibs from other participants and will be timed for the singular races as well as the overall series and compete to win both series finisher and overall placer medals. The top first-, second- and third-place overall male and female winners will take home the prize
For more information, contact Celeste Pruit, Director of Advancement, Holy Trinity Classical Christian School, at 843-379-9670 or email her at cpruit@htccs.org.