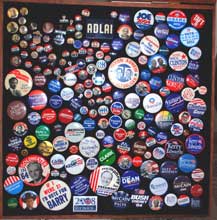 Is a collection of Water Festival memorabilia still a "collection" in Santee, San Diego, or San Salvadore?
I recently wrote an article where I credited Ebay with starting a collecting feeding frenzy in the site's early days. To quote myself, "Collectors seem to pay good money for just about everything deemed collectible [on the site]." I still think there is a collectors club for just about anything.
There are button collectors, car collectors, milk bottle cap collectors, Zippo collectors, political memorabilia collectors, Barbie collectors . . . you get my drift. Some people have very broad collections, but there seems to be a trend among buyers to be more specific, to have collections with narrow parameters. This may be fueled by the wider availability of items on the Internet; the challenge to collect something harder to find has become more attractive. I had a collector friend who went from collecting political campaign buttons to collecting only those buttons of the contenders who lost. He specializes in losers who had controversial campaigns. Each button represents a story that he relishes telling.
So, now I'm wondering if EVERYTHING is collectible. The Beaufort History Museum is doing an
exhibit on the Water Festival during the month of July (see their web site, www.beauforthistorymuseum.com, for details) and they have been asking people to loan them their vintage festival collections. I think the exhibit sounds like fun, but it made me think more about what constitutes a collectible or a collection. The Merriam-Webster Dictionary defines a collection as something collected; especially an accumulation of objects gathered for study, comparison, or exhibition, or as a hobby. Is something a collectible just because I want to collect it, or only if a certain percentage of the population also collects it? Is a collection in Beaufort (i.e. Water Festival memorabilia) still a collection in Santee, San Diego or San Salvadore?
That all leads to questions about the monetary value of collectibles. In my appraisal classes, I was taught the difference between sentimental value and market value. In black and white, there is no dollar amount attached to sentiment, but anyone who has shopped for vintage items knows that they are drawn to items that remind them of something good, or of a special time in their lives. Fond memories are like tractor beams between the collector and the collectible. No amount of common
sense – or mantras like "do I really need this?" – can sway the desire to own. If enough people are drawn to the same group of items, the price goes up. This is where sentiment and cold, black and white economics become intertwined. If you need proof of my thesis, just watch the faces of opposing collectors at auction who raise the price of an object higher and higher above its market value in the fight to be the winner.
When people ask me what I collect, I jokingly say "one of each." I am drawn to objects showing different examples of decoration, period or manufacturing means. The things I have represent a cultural influence on design, but there isn't a common thread that an outsider can see.
Sometimes I worry that I can't seem to settle on a theme for a collection. I want to be one of those who shops for the elusive missing piece to make me feel at least temporarily satisfied that my collection is complete.
Instead I collect objects on a whim, changing what I desire from shopping trip to shopping trip, still looking for my collecting passion. I may collect something a client or someone I've written about has collected, because I thought it was wonderful when writing about it. That enthusiasm doesn't usually last long enough to make a "statement" collection. Maybe some day I'll find my way. In the meantime, I'll enjoy the collections that others put together. I'll help my store customers in their search for the next piece, and celebrate with them when they have victories. I'll even write about your favorite collection. Just let me know what it is and we can talk over a visit to the Water Festival exhibit. Maybe I'll even be inspired to collect with you… at least for a week or two.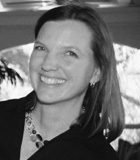 Libby Holloway is a Certified Appraiser of antiques and residential contents. She is a member of the International Society of Appraisers where she is currently serving on the Board of Directors. She is also a partner at Antiques and Such in Beaufort, SC. Libby can be contacted at www.LibbyHollowayAppraisals.com.