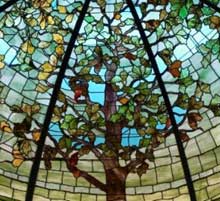 Spring had finally come to Beaufort, South Carolina. After a couple of false starts, with warm days teasing us between the cool, rainy days of a lingering winter, we'd had some sunny days and gentle breezes. The azaleas and their colorful companions had started to bloom. About the time my favorite season had just begun, I boarded an airplane bound for Chicago, where I was spending a week.
I should have known I was saying goodbye to green when we sat in sunny Savannah for three hours, waiting for the rain to clear so we could land at O'Hare. The second clue was that I was leaving 78 degrees for 43. And how could a city full of skyscrapers compare to the city of squares and gardens? I knew there were parks in Chicago, but the bean they boast about isn't a curling vine; it's a giant metal object.
On the first morning of my visit I put on my raincoat and prepared to go on a tour of the Driehaus Museum with a group of decorative arts appraisers. When we arrived, we ran through rain from the bus into the dark marble main hall of the house. Before my pout had time to evaporate, I was lost in the deep blue tile of the reception room, with a mosaic of an Italianate garden over the fireplace. The room was cool and blue and the feeling that I was in a beach grotto was enhanced by a rare Tiffany nautilus lamp and Rookwood potteryn with its muddy, mossy glaze. As we wandered from room to room, each filled with Art Nouveau glass and pottery, I began to feel like I was in a new and exciting kind of garden. The green shrubbery and gentle pink and white blossoms that I was accustomed to gave way to exotic blue, purple and iridescent gold swirls on organic shapes rooted with earthy browns, greens and softly gleaming copper. I was completely taken by a new kind of garden, well adapted to the cool and dark spaces within a city . . . the gardens of glass artists and potters.
The Driehaus mansion was decorated during the peak of creativity of the Tiffany Studios, formed by L. C. Tiffany. He and friends who were potters, glass blowers, artists and furniture makers had embraced the art of nature. His success led other artists to follow his lead. Wealthy bankers and railroad tycoons wholeheartedly supported the new creative movement, so different from the austere functionality of the Arts and Crafts movement. All that glittered and gleamed transformed steal and stone structures into Eastern palaces full of opulence and color. Interiors bloomed with gardens of stained glass windows, gas lit chandeliers, and gleaming vases.
Of course, Tiffany wasn't the only artist creating indoor gardens. Louis Majorelle created furniture with curving branches and vines carved into the wood in such a way that it almost seemed each piece had been planted there where it could grow. Galle drew gardens in marquetry on simply styled tables and stands. Copper and bronze were used to create lily pads and garden nymphs. J & JG Low Art Tile Works created earthy glazes to color foliate designs in clay tiles. Galle and Loetz contributed glass with leafy trees and flowering branches in cameo glass, painted glass or colored glass with sterling silver overlay. Tiffany's dreamy color combinations were set off by the sunny glow of his gold Favrille and Steuben's gold Aurene glass. Every room in a wealthy and fashionable Chicagoan's mansion could become a secret garden lit through panes of stained and leaded glass.
Just as quickly as the Art Nouveau period replaced a taste for Arts and Crafts design, the Art Deco style became the rage. Design taken from gardens, and which appeared rooted to the ground, gave way to ocean waves and lighter-than-air pieces. Maybe later this summer that will appeal to me, but for now, I'm still thinking about Chicago's indoor gardens, guarded by gargoyles on ledges overlooking their entrances.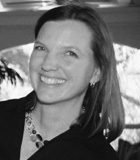 Libby Holloway is a Certified Appraiser of antiques and residential contents. She is a member of the International Society of Appraisers where she is currently serving on the Board of Directors. She is also a partner at Antiques and Such in Beaufort, SC. Libby can be contacted at www.LibbyHollowayAppraisals.com.