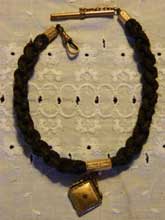 People of this generation are always curious about why Victorians were so fond of wearing jewelry made of human hair. I admit it could seem a little macabre to wear hair that came from someone else's head, especially when that someone is dead. Since this isn't a Halloween story, let me tell you more about the history of hair jewelry and perhaps you'll understand.
In the 17th and 18th centuries it was popular to wear wigs made from human hair. There was quite an industry in growing long hair for money; wig makers would buy it and turn it into elaborate wigs for wealthy clients. After the fashion for these wigs began to wane, there was a push to find other uses for hair so the industry could continue. Hair was still collected to make extensions or pads for buns, but there were crafts people who sought to make their skills even more in demand. The workers who did the elaborate hair work for wigs began creating elaborate ornaments from the hair. Now, even more craftspeople were involved as gold and silver findings were made to hold the hair work and precious stones were sewn into the designs. Not only were these worn as ornaments in hairdos but they also began to be worn as jewelry such as brooches, necklaces and bracelets. Hair is known for being strong and very long lasting. Most of the ornate hair work originated in Sweden and was done by young women. It spread across northern Europe until it finally reached the attention of Queen Victoria of England. Though it was not new to create custom pieces for a client who wanted her own or a loved one's hair used, it was under Victoria's influence that this became a more common practice. It was also during this time that women learned the skill of creating their own pieces.
Sentimental Queen Victoria can be given the credit for establishing the practice of creating memorial
jewelry from hair. Memorial pieces such as memorial needlework samplers were already hugely popular in England and America and the hair jewelry fit into that vogue nicely. Seed pearls, garnets and jet were used to accent pieces made from a departed loved one's hair. Elaborate patterns were created which, much like the language of flowers popularized during this period, had their own meanings. Black enamel in gold plated pieces could be substituted for pieces made by those of more modest means. The hair could be sent to the hair work shops to be made into objects or the loved one could buy the empty piece of jewelry and insert hair they had woven themselves. This practice was popular in America at the close of the Civil War when fallen heroes were being remembered. Americans had already been using hair work as tokens of affection for loved ones. One of the most wonderful pieces I've seen was a watch chain made as an engagement gift from a young woman in New Orleans to her sea captain fiance.
Local hair work collector and expert on all things Victorian, Kim Poovey, showed me her collection over afternoon tea. She shared some great tips on collecting for both beginners and the more experienced alike. Her first tip is one that is true for any collection, do research and become familiar with the type of item you want to collect. There are several books on the subject. The basic book she suggests is Collector's Encyclopedia of Hairwork Jewelry by Jeanenne Bell. Even the book is pricey as it is no longer in print. Kim cautions that the values are outdated but the information and photographs are great learning tools. I would also suggest Ms. Bell's How to be a Jewelry Detective and Warman's Jewelry as they both have great tips for dating pieces based on the mounts and the way the pieces are constructed.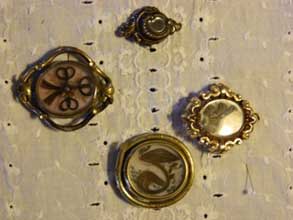 She suggests beginning a hair work collection with small pins and brooches from England or Scotland since they are more plentiful and less expensive. There are pieces mounted in non-precious metals or that have semi-precious stones that are more affordable, though Kim cautions that this is not a cheap hobby. Pinchbeck, a brass alloy, can be as expensive as gold if the design is special. She suggests you buy designs you like and in the best condition you can afford. She owns a couple of pieces that are not in perfect condition but that have a design or form that she lacked. She plans to replace them with better pieces as she finds them. Rings are more rare than other pieces. Intricate designs have more value than simple knots and weaves. Examples are baskets of flowers or scenics. I almost purchased a pin with a squirrel while I was doing my research. If you collect mourning pieces try to find those inscribed with the name of the deceased and the date of death as that increases value. Shopping on Ebay is fine if you have done your research and research the seller as well. Kim cautions that there are reproductions. She and her husband enjoy looking for pieces at estate sales or when they travel. With a new book to promote she does a lot of traveling these days.
Kim's collection is based on having examples of popular designs and in each form. An example would be the "Prince of Wale's Feather" pin to a ring with a simple basket weave design. Though she does have mourning pieces and has not been able to resist a few wreaths, I got the impression that she prefers the romantic love tokens. These pieces are to be worn near your heart as a way of keeping the loved one near. Just like me, she appreciates the culture that wanted the things they surrounded themselves with to be useful and meaningful, something we are losing in our throw-away society.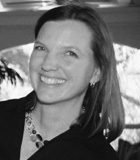 Libby Holloway is a Certified Appraiser of antiques and residential contents. She is a member of the International Society of Appraisers where she is currently serving on the Board of Directors. She is also a partner at Antiques and Such in Beaufort, SC. Libby can be contacted at www.LibbyHollowayAppraisals.com