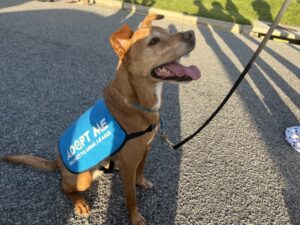 Mingle with some of the Lowcountry's cutest and most eligible dogs at the 2nd Annual Mutt Mixer concert event supporting pet rescue on Thursday, October 19 from 5:30-7:30 p.m. at AutoNation Subaru Hilton Head.
Guests will enjoy complimentary hors d'oeuvres, beverages, door prizes, live music by the bluegrass band "Lowcountry Boil," and new this year professional portraits of your dog with a minimum donation to Palmetto Animal League. As always, the party is "BYOD" (Bring Your Own Dog), as AutoNation Subaru Hilton Head is a dog-friendly dealership. For those hoping to find their next great love at the event, fee-waived pet adoptions will be available, made possible through a generous grant from the ASPCA® (The American Society for the Prevention of Cruelty to Animals®).
"Last year's event was a blast with many people coming out to support animal rescue and others hoping to make a connection with one of our adoptable dogs," said PAL President Amy Campanini. "AutoNation Subaru Hilton Head's Mutt Mixer provides our dogs with a fun night out of the adoption center and the possibility of finding a forever home!"
The first 100 people to arrive at the Mutt Mixer with a donation of pet supplies or cash, valued at $20 or more, for PAL will receive a free event T-shirt.
"The Lowcountry is known for its live music, vibrant happy hours, and love of animals, so inviting the community out to celebrate all
these pastimes while supporting pet rescue just feels right," said AutoNation Subaru Hilton Head Customer Relations Manager & Delivery Specialist, Bill Harper.
Attendees may RSVP to be eligible for door prizes at https://muttmixer2023.eventbrite.com. As another way to support PAL's no kill animal rescue programs, AutoNation Subaru Hilton Head will donate $100 to PAL for every dog or cat adopted in October!
"Our 'Subaru Loves Pets' mission is more than a slogan; it's a way of life for our customers and our staff," said Harper. "AutoNation Subaru Hilton Head wouldn't be the same without the pitter-patter of paws on the showroom floor."
About Palmetto Animal League
Palmetto Animal League is a private, non-profit, no kill animal rescue organization that believes every animal deserves a second chance at life. PAL's Adoption Center, located in Okatie's Riverwalk Business Park, serves as a temporary residence for approximately 200 dogs and cats while they wait to find a loving home. Palmetto Animal League also manages a network of loving foster families to house and care for pets too young or too weak to be adopted as well as those in need of medical or behavioral rehab. Remember to shop at the PAL Thrift Store in Sheridan Park where great buys save lives.
About AutoNation, Inc. 
AutoNation, a provider of personalized transportation services, is driven by innovation and transformation. As one of America's most admired companies, AutoNation delivers a peerless Customer experience recognized by data-driven consumer insight leaders, Reputation and J.D. Power. Through its bold leadership and brand affinity, the AutoNation Brand is synonymous with "DRVPNK" and "What Drives You, Drives Us." AutoNation has a singular focus on personalized transportation services that are easy, transparent, and Customer-centric.
Please visit www.autonation.com, investors.autonation.com, and www.twitter.com/AutoNation, where AutoNation discloses additional information about the Company, its business, and its results of operations. Please also visit www.autonationdrive.com, AutoNation's automotive blog, for information regarding the AutoNation community, the automotive industry, and current automotive news and trends.