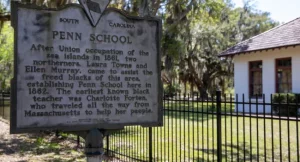 The public is invited to join Penn Center in celebrating its 160th anniversary.  A kick-off event will take place on Friday, September 23rd with members from a number of Beaufort County church choirs offering praise and celebration through a Gospel Explosion.  The main event will take place on Saturday, September 24th starting at 2:30 pm with a low-key but informative panel discussion centering on the book titled: Penn Center: A History Preserved. Author of this stellar publication, Dr. Vernon Burton, will be joined with authors and historians Dr. Emory Campbell and Carolyn Grant for an informative and thought-provoking discussion focusing on the history of Penn Center.  Following this event, there will be a presentation by Mr. Scott Teodorski, Superintendent for the Reconstruction Era National Park and Reconstruction Era National Network. This presentation will highlight recent archelogy finds associated with Ellen Murray's burial site.  The unveiling of Penn Center's 160th Anniversary: Perseverance, Education, Sustainability and Service marker will follow. The afternoon's agenda will conclude with a reception and reading at 5:30 pm in the York W. Bailey Museum by author, performing artist and cultural preservationist, Ron Daise. Daise will be reading from two of his most recent publications: We Wear the Mask: Unraveled Truths in a Pre-Gullah Community and Turtle Dove Done Drooped His Wings: A Gullah Tale of Fight or Flight, a book signing will follow.
Dr. Orville Vernon Burton is a historian, educator and author from Ninety-Six, South Carolina.  He is a professor of history at Clemson University and the Director of the Clemson CyberInstiute.  He formerly served as the Director of the Institute for Computing in Humanities, Arts, and Social Science.  He was also a professor of History and Sociology at the University of Illinois.  A prolific author, his most recent work, Justice Deferred: Race and the Supreme Court, ecamines racial injustice surrounding Supremen Court Cases. Co-authored with Wilbur Cross, Penn Center: A History Preserved captures what the Gullah people of St. Helena Island still relate that their people wanted to "catch the learning" after northern abolitionists founded Penn School in 1862, less than six months after the Union army captured the South Carolina Sea islands. In this broad history Orville Vernon Burton and Wilbur Cross range across the past 150 years to reacquaint us with the far-reaching impact of a place where many daring and innovative social justice endeavors had their beginnings. Burton has authored more than a hundred articles and wrote or edited fourteen books. His books include In My Father's House Are Many Mansions: Family and Community in Edgefield, South Carolina that was the subject of sessions at the Southern Historical Association and the Social Science History Association's annual meetings. It was also submitted for a Pulitzer. He also wrote The Age of Lincoln, winner of the 2007 Chicago Tribune Heartland Prize for non-fiction. With civil rights lawyer Armand Derfner in 2021,
Dr. Emory Shaw Campbell was born on Hilton Head Island.  He studied at the segregated Michael C. Riley High School, graduating in 1960 as class valedictorian. Enrolling at Savannah State College, Campbell he earned his Bachelor of Science degree in biology. Joining the microbiology department at the Harvard School of Public Health, he researched by day and tutored students in the evening. After completing his M.A. at Tufts University in Boston, he returned to South Carolina to work at the Comprehensive Health Agency for Beaufort and Jasper counties. In 1980, Campbell became the executive director of Penn Center on St. Helena Island. Campbell is author of Gullah Cultural Legacies (2008), a synopsis of Gullah traditions, customary beliefs, art forms and speech. He has co-authored Gullah Culture in America and Gullah Days: Hilton Head Islanders Before the Bridge, 1861- 1956.
Carolyn Grant has been a writer and communicator for all her career after graduating from Spelman College with a bachelor's degree in English and Northwestern University with a master's degree in journalism. She has put her career to work serving her community as a journalist, public relations & marketing professional and volunteer on numerous civic boards. She is currently the Communications Director for the Town of Hilton Head Island. Carolyn has written extensively about the Island's Gullah culture and is the co-author of Gullah Days: Hilton Head Islanders Before the Bridge, 1861- 1956.
Scott Teodorski is the first permanent Superintendent at Reconstruction Era National Historical Park in Beaufort County.  Prior to his appointment in Beaufort, Teodorski served as the Chief of Interpretation and Acting Superintendent at Congaree National Park in the midlands of South Carolina. Scott was raised in California and attended Western Kentucky University in Bowling Green, Kentucky. He began his National Park Service career in 1989 as a ranger at Mammoth Cave National Park. He has worked at numerous other National Park Service sites including Fort Union National Monument (NM), Lake Mead National Recreation Area (NV/AZ), Cumberland Gap National Historical Park (KY/TN/VA), and Cumberland Island National Seashore (GA).  While he has worked in various roles throughout his career, Scott has always enjoyed showcasing the stories of America through the National Parks and working closely with community partners.
Ron Daise, a native of St. Helena Island, SC, is an author, performing artist, and educator who has shared stories, music, and lectures about history, culture, and faith across the country. Since 2004, he has served as Vice President for Creative Education at Brookgreen Gardens in Murrells Inlet, SC, and has created and implemented programs, events, and exhibits that showcase the significance of Gullah Geechee heritage. Daise is known by many as "Mr. Ron" from "Gullah Gullah Island," the Nick Jr. TV's award-winning children's program of the 1990s. He also is a past chairman and charter member of the Gullah Geechee Cultural Heritage Corridor Commission and a charter member of the Sea Island Translation Team & Literacy Project, which began translation of the Gullah Bible. The company Ron and Natalie Daise of Georgetown, SC, has released a set of two self-published novellas authored by cultural interpreter Ron Daise. We Wear the Mask, Unraveled Truths in a Pre-Gullah Community and Turtle Dove Done Drooped His Wings, A Gullah Tale of Fight or Flight are the initial launch of Ron's "Geechee Literature Series."

IF YOU GO:
Penn Center's 160th Anniversary: Perseverance, Education, Sustainability and Service
Location: Frissell Community House
Location: Frissell Community House
16 Penn Center Circle-West
*All events are free and open to the public.