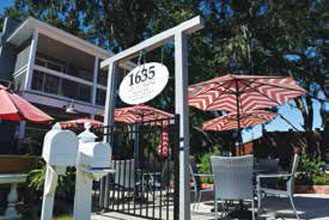 1635 On The Avenue,
Restaurant & Spirits

Story and photos by Mark Shaffer
Lorett Hayes says she ended up in the restaurant business by accident. She met her future husband while working as the director of marketing and sales at a big hotel in St. Louis. The couple ended up settling in his hometown of Central, South Carolina where they opened an old-fashioned ice cream shop. And from there, she says, things just got out of hand.
            "People wanted lunch." She drops the word "lunch" like a brick. "So I began to create lunch. That mushroomed into a full service restaurant that I had for seven years. It just sort of evolved."
            Hayes eventually opened and sold two fine dining establishments in historic Pendleton. After selling the landmark 1826 On The Green a couple of years ago, the couple was bound for the Lowcountry and retirement.
            "So, how's that going for you?" I ask.
            She laughs and looks around the tastefully appointed dining room of her latest endeavor.
            "Well, it didn't work," she deadpans. "My husband's doing really well at it, but I thought, why not? Why not one more time?"
            And just like Michael Corleone, as soon as she thought she was out, she was right back in again – but in a good way. The restaurant and bar business is a social business and the most successful people in it are the ones out on the floor and behind the bar greeting customers and swapping stories with their regulars. They know your name and remember your favorit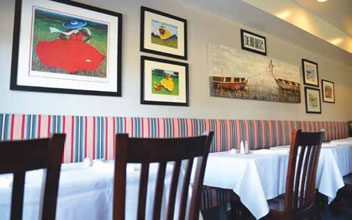 e dish and preferred cocktail. And owning a restaurant is a great way to get to know people.
            "I really missed the community," she says. " I knew no one. Where I came from I knew everyone and everyone knew me. I really missed that small town thing where everyone knows your name, knows what you're made of. So, here I am. "
            Don't let the white linen on the tables fool you. She eschews the term "fine dining."1635 is very much what Hayes calls "a casual dining experience."
"This is who I am," she says. "I like to sit down with a tablecloth. It's a detail and details mean a lot."
            That attention to detail is evident in every aspect of the place from the simple, understated décor to the house made salad dressings and the eclectic selection of wines.
This is an intimate space with a maximum capacity of 40 diners. Weather permitting; another 22 seats are available on the sun-splashed patio facing Port Royal's wonderful Bird Sanctuary and Nature Preserve. Hayes offers a full bar with a classic approach to cocktails. Order your martini or Manhattan with the confidence, says Hayes. "But if it takes a blender and an umbrella, we don't do it." Bravo.
            As for the food, expect flavor – lots and lots of flavor.
            "I love to cook Creole and Cajun," she says. I love to cook Mediterranean. I love all those flavors. No one's ever going to accuse me of serving bland food." Hayes' own interpretation of the ubiquitous Lowcountry classic, Shrimp & Grits, is a perfect example. The shrimp comes swimming in a Cajun cream sauce along with plenty of Andouille sausage served over smoked Gouda grits – Mardi Gras on a plate. Looking for a little comfort on a chilly winter's day? Did "smoked gouda" set off a cowbell in your brain? Perfect. Try the soon-to-be-legendary Smoked Gouda Macaroni with bacon and creamy Parmesan sauce.



Table Talk
The Moveable Feast convenes at 1635 On The Avenue on a bright fall day to sample some of Lorett Hayes' favorite dishes. Today's team includes my wife and culinary beacon, Susan and Lowcountry Weekly Publisher Jeff Evans and Editor Margaret Evans. We're seated at a four top at the front corner with a lovely view of the patio.
           "Let's get started," says Lorett.
   Starters: Escargot in white wine, butter and lemon topped with Parmesan served with
fresh crusty bread.
            "Now I understand why people eat snails," says Margaret, dipping a bit of bread in the sauce.
            "Is this your first escargot?" I ask.
            "It is. I don't know what they usually taste like but I can't imagine it's always this good. The buttery parmesan topping is amazing."
            Jeff and I both agree. They are sinfully rich, but oh so tasty – a perfect indulgence with a bottle of crisp white wine and plenty of bread to sop up the sauce.
            "Not to toot our own horn, but we've had people tell us that they've eaten escargot in France and Portugal and these are better," says Lorett.
            I don't doubt it. I could easily sit here and order plate after plate of these decadent morsels.
            "How are they different?" asks Susan.
            "We probably use a bit more cheese and butter than most do."
            "In the words of Julia Child," says Jeff, "there is no such thing as too much butter,"
            "Absolutely," says Lorett as she motions for the next course. "I can't imagine anything in life having too much cream or butter."
Second Course: Tomato Basil Pie and house salad. Fish Tacos with Cajun style white fish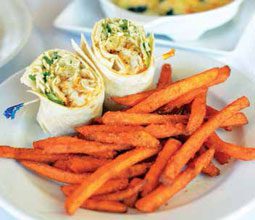 and confetti style slaw served with seasoned sweet potato fries.
            Susan takes a bite of the fish taco – which really isn't a taco at all (more in a moment) – and her face lights up.
            "Is there pineapple in this?" she asks.
            Lorett smiles.
            "Yes there is."
            "I love that. It really brightens up and sets off all of the flavors."
            "I happen to be a big fan of fish tacos," says Margaret. "I mean I eat them everywhere and this may be the best I've ever eaten."
            "There is a lot going on in there," says Jeff. And he knows from fish tacos having misspent much of his youth in California where a fish taco is actually on the state flag, or so I'm told. "I've had fish tacos all over the west coast and I don't know how you pack that much flavor into something like this."
            He's right. Every bite is a like an electric "wow!" The fish is baked, not fried, perfectly moist and tender and nicely spiced with a bit of kick on the back of the palate. But the real flavor (there's that word again) is in the slaw.
            "We make a confetti slaw," says Lorett. "It's cabbage, carrots, cilantro, jalapenos and sweet red peppers with fresh squeezed lemon and lime and a dash of house made poppy seed dressing right at the end."
            As for the lack of an actual taco, Lorett says using the wrap is just more practical.
"It doesn't fall apart like taco shells always do."
            It's also a table consensus that the sweet potato fries are sublime. And none of us –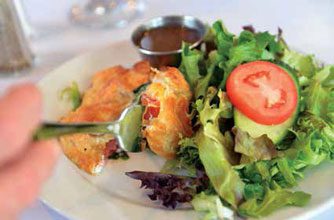 seriously, none of us – even like sweet potato fries. I usually find them too mushy and, well, sweet. Not these. They're the perfect compliment to the un-taco.
            For the tomato basil pie, Lorett's taken an iconic Lowcountry dish and completely re-imagined it. The classic ingredients are wrapped in puff pastry and baked into individual servings.
            "It's one of our most popular lunch items and we offer it as a small plate for dinner," she says.
            "The cream sauce blends so well with the tomato and basil, it's a little explosion of goodness," says Susan. "It just made my day better."
Third Course: Pan Seared Cobia with tomato, garlic, peppers and onion in a light red sauce over a roasted potato medley.
            "This dish is usually made with grouper," says Lorett, "but today we have a real treat
with South Carolina cobia."
            Treat, indeed. In the highly specialized world of sustainable open ocean mariculture there are some who believe this secret fish of the southeast coast may be the Next Big Thing (check out www.openblue.com). I'm way ahead of them.
            "It's firm like swordfish," says Lorett, "but the flavor is very mild, even a little sweet."
            "And the veggies, the veggies!" says Margaret.
            Our absent colleague, Debbi Covington, is fond of reminding us that we eat with our eyes well before we take the first bite. This dish is a prime example. The presentation is beautiful. The colors pop with promise and it all tastes as wonderful as it looks. We are reduced to groans of ecstasy and monosyllabic attempts at praise.
            "Fabulous, just fabulous," moans Jeff. It is enough. We finish off the plate as Lorett chats with a patron.
            "She may not like to call this fine dining," observes Margaret, "but this food is fine, indeed.
            "Absolutely," I agree. "It's a place where you can have a serious meal without breaking the bank or being smothered in pretense."
            "It's very inviting," says Susan. "I'm sure the ambience is completely different in the evening. It's very relaxed."
            As we're wrapping up two women wander into the restaurant to peruse the menu. The taller of the two is striking with close-cropped steel grey hair, perfect posture and an outfit that might best be described as Fifth Avenue meets The Thief of Baghdad. She strikes up a conversation with Lorett in a heavy Eastern European accent. As she hands the menu back she asks if reservations are accepted. Lorett tells her they're a must for dinner service.
            "Excellent!" she says, practically clicking her Aladdin-like slippers together. "Zen tonight here vee shall dine!"

1635 On The Avenue, Restaurant & Spirits
1635-B Paris Ave
Port Royal SC 29935
843-379-0607
Lunch: Tuesday – Friday 11am – 2pm
Dinner: Thursday – Saturday 5pm – until
Reservations are not available for lunch but highly recommended for dinner. Final dinner seating is 8pm.

Get more at www.1635ontheave.com
Mark Shaffer's email is backyardtourist@gmail.com