A canapé is an hors d'oeuvre, a miniature and often decorative food, consisting of a small piece of bread or cracker, topped with some savory food, held in the fingers and often eaten in one bite.
 It's Thanksgiving Day. Hungry guests are arriving. The bar is open. Folks are chatting and socializing. Everyone is ready to eat. But…the turkey isn't quite done. What to do? Satisfy your invitee's munchies without spoiling their appetites with these three delicious make ahead canapés.
Green Bean Casserole Tarts
I'll admit it. I'm actually a Green Bean Casserole fan. So, when I stumbled across the idea of Green Bean Casserole Tarts, I couldn't wait to create them with a spin of my own. I'm so glad that I did! These little bite-sized morsels are delectable. They're sure to convert all of the Green Bean Casserole haters at your Thanksgiving soiree.
2 (15-count) packages frozen filo tart shells, thawed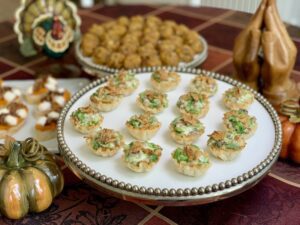 1 (4-ounce) can mushroom stems and pieces, chopped
1 (8-ounce) package fresh green beans, cooked and chopped
1 tablespoon butter
1 tablespoon flour
1 cup heavy cream
¼ cup plus 1 tablespoon grated parmesan cheese
Pinch of onion powder
Salt and pepper, to taste
1/3 cup French fried onions
Melt butter in a skillet over medium heat. Add butter and stir until melted. Sprinkle flour in skillet and cook for a minute or two. Add cream and stir until smooth. Remove from heat and stir in parmesan cheese. Mix well to combine. Add mushrooms and green beans to the skillet. Season with onion powder, salt and pepper. Preheat oven to 350 degrees. Arrange filo tart shells on a lightly greased baking sheet. Spoon a generous spoon full of the green bean mixture into each filo tart. Top with French fried onions. Bake for 15 to 18 minutes or until filo tarts are crispy and golden. Serve warm. Makes 30.
Sausage and Bacon Stuffing Balls
Make these treats several days ahead and keep them stored in an airtight container in the refrigerator. Reheat them at 350 degrees on a lightly greased baking sheet until they're warmed through. Note: For a time-saver, I used ½ heaping cup of packaged real bacon bits.
1 (6-ounce) box herbed stuffing mix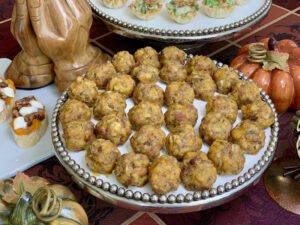 1 pound breakfast sausage
8 slices of bacon, cooked and crumbled
3 cups shredded sharp cheddar cheese
Prepare boxed stuffing mix according to package directions. Spoon cooked stuffing into a large bowl and let cool for 10 minutes. Preheat oven to 350 degrees and spray 2 baking sheets with cooking spray. Add sausage, bacon pieces and cheddar cheese to cooled stuffing. Mix until thoroughly combined. Roll into balls and place on prepared baking sheets. Bake for 25 minutes or until cooked through. Makes 58-60 appetizers.
Sweet Potato Crostini
Warm, slightly sweet, slightly salty and completely satisfying, Sweet Potato Crostinis are sure to be a new Thanksgiving Day appetizer favorite!
18 slices rustic French baguette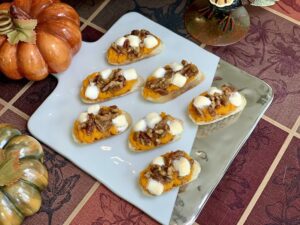 For the sweet potato mixture:
4 medium sweet potatoes (approximately 24 ounces)
1 tablespoon butter
1 tablespoon heavy cream
1 tablespoon brown sugar
¼ teaspoon vanilla extract
Dash salt
For the topping:
2 tablespoons salted butter, at room temperature
2 tablespoons brown sugar
½ cup chopped pecans
¼ teaspoon salt
1/8 teaspoon cayenne pepper, optional
½ cup mini marshmallows
Bake, boil or microwave sweet potatoes until tender. Remove the skins. In a large bowl with an electric hand mixer, combine sweet potatoes with butter, heavy cream, brown sugar, vanilla extract and salt until smooth. In a small bowl, mix softened butter, brown sugar, pecans, salt and cayenne pepper until well combined. Preheat oven to 350 degrees. Spray a large baking sheet with cooking spray. Spread sweet potato mixture on each slice of bread. Add 3 marshmallows on top of each crostini. Add pecan topping to each slice. Bake for 10 to 12 minutes or until marshmallows are beginning to melt and pecan topping is toasted. Makes 18.
The writer owns Catering by Debbi Covington and is the author of three cookbooks, Celebrate Beaufort, Celebrate Everything! and Dining Under the Carolina Moon. For more great recipes and to view her cooking demonstrations, visit and subscribe to Debbi's YouTube channel. Debbi's website address is www.cateringbydebbicovington.com. She may be reached at 843-525-0350 or by email at dbc@cateringbydebbicovington.com.