It's the most wonderful time of the year and everyone is throwing a holiday party, including you. Aren't you tired of serving (and being served) sliced ham and turkey with cocktail rolls? A bowl of shrimp with cocktail sauce has been done to death. Cheese and vegetable platters are totally boring fare. Even traditional crab dip is getting old. You're in luck! Your guests are sure to love these delectable cocktail party recipes. Best of all, they're all simple to prepare and can be made in advance. Happy Holidays! (Photos by Paul Nurnberg)
Prosciutto-Wrapped Scallops with Lowcountry Cocktail Sauce
Vince and I have always been fans of scallops wrapped in bacon. I do believe we like these even better!
½ cup ketchup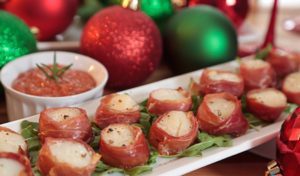 3 tablespoons prepared horseradish
1 teaspoon  Worcestershire sauce
Freshly ground black pepper
Combine ketchup, horseradish and Worcestershire sauce in a small bowl; set aside. Preheat oven to 350 degrees. Slice prosciutto in half lengthwise to make 24 pieces. Wrap each scallop in a piece of prosciutto. Place wrapped scallops on a lightly greased baking sheet. Sprinkle with black pepper; to taste. Bake for 15 minutes or until scallop is cooked through. Serve hot with cocktail sauce on the side.  Serves 4 to 6.
Jalapeno-Pimento Cheese Pinwheels
You can prepare the pinwheels up to one day in advance. Prepare as directed but do not bake. Cover and refrigerate the unbaked pinwheels for up to 24 hours. I keep a jar of diced jalapeno peppers in the refrigerator. They're perfect for this recipe.
1 (17.3-ounce) package frozen puff pastry sheets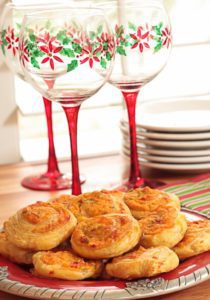 2 cups shredded sharp cheddar cheese
1 (4-ounce) jar diced pimentos, drained
3 to 4 tablespoons diced jalapeno pepper
Thaw puff pastry in the refrigerator. Preheat oven to 375 degrees. In a small bowl, toss cheese with pimento and diced jalapeno until well combined. Unfold 1 pastry sheet on a lightly floured surface.  Sprinkle evenly with half of the cheese mixture. Roll up like a jelly roll. Repeat with remaining pastry sheet and cheese mixture. Using a sharp knife, carefully cut each pastry roll crosswise into 10 slices. Place the slices, cut-side up, onto two lightly greased baking sheets. Brush the slices with beaten egg. Bake for 20 to 23 minutes or until the pastries are golden brown. Makes 20.
Covington Christmas Party Mix
The secret ingredient in my party mix is the lemon juice! Make your own version of party mix with these seasonings and use 12 cups of your favorite snack stuff!
1 stick butter, melted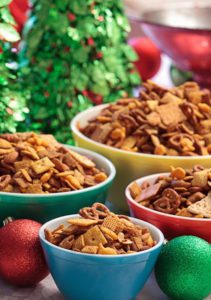 3 tablespoons Worcestershire sauce
3 teaspoons seasoned salt
2 teaspoons garlic powder
2 tablespoons lemon juice
1 cup cheese-flavored mini crackers
Preheat oven to 250 degrees.  In a small bowl, combine butter with seasonings and lemon juice.  Place remaining ingredients in a large bowl. Pour butter mixture over snack mix, toss lightly to coat well. Spread party mix evenly on two baking sheets. Bake until ingredients are completely dry, stirring every 20 minutes.  Serves 12 to 15.
Pancetta and Chive Stuffed Mushrooms
Flavorful pancetta is Italian bacon that is cured with salt and spices.
1 (16-ounce) package whole fresh mushrooms
1 (8-ounce) package cream cheese, softened
3 tablespoons chopped fresh chives
Wash mushrooms and remove stems; drain on paper towels. Dice pancetta into small cubes. Cook pancetta in frying pan until crispy; drain on paper towels. In a small bowl, combine pancetta with cream cheese and chives. Fill mushroom caps with cream cheese mixture. Place on a lightly greased baking sheet; sprinkle with paprika. Bake in a preheated 350 degree oven for 20 minutes. Serves 6.
The writer owns Catering by Debbi Covington and is the author of three cookbooks, Celebrate Beaufort, Celebrate Everything! and Dining Under the Carolina Moon. For more great recipes and to view her cooking demonstrations, visit and subscribe to Debbi's YouTube channel. Debbi's website address is www.cateringbydebbicovington.com. She may be reached at 843-525-0350 or by email at dbc@cateringbydebbicovington.com.