Editor's Note: Though "The Lowcountry Dish" is typically written and edited jointly by the Seldons, this particular Dish was, for reasons soon obvious, written by Lynn and edited (with great love) by Cele.
"A recipe is a story that ends with a good meal." – Pat Conroy
When people ask me about how Cele and I landed in Beaufort after almost three so-called homeless-by-choice years, permanently traveling as "Mid-Fifties Gypsies," I often say it was because of the food at Griffin Market. Well, and because of Pat Conroy, whose favorite correspondence sign-off was, "Great Love."
This March, many of us are thinking with great love about Pat. Friday, March 4th will mark six years since his untimely passing, with the Pat Conroy Literary Center's annual "March Forth" celebration taking place this year Friday to Sunday, March 4-6. This month also brings the exciting ribbon cutting for the new permanent home of the Pat Conroy Literary Center on Saturday, March 19th, at 5pm, followed by an open house for the beautiful new building at 601 Bladen Street.
As we march forth without Pat, but with his powerful legacy in
mind, this month also reminds me of the memorable lunches that Pat once hosted at Griffin Market for several years. I was lucky enough to be present for a number of these lunches, and those meals and afternoons with Pat began our love affair with Beaufort.
Proposed by Pat as a somewhat regular Thursday gathering of writers (with Thursday chosen so Pat had somewhere tasty and convivial to head when the housekeeper came to their house), the core group originally included Pat and a trio of local Beaufort writers and friends: Bernie Schein, John Warley, and Scott Graber. Bernie recently told me that, for the first few lunches, they originally drove to Charleston and went to famed Husk, back when Sean Brock was at the helm. Though the food at Husk was well worth it, the drive evidently got old quickly. And, thus, the lively Griffin Market lunches were launched, with Bernie evidently leading the charge to the unassuming Italian restaurant on Carteret Street.
I met Pat in 2009, right after the release of South of Broad and a
legendary book signing at Blue Bicycle Books where the line ran way up King Street. Over a lingering lunch at Slightly North of Broad, Pat encouraged me to write a novel, which, after several late-night calls from Pat, would eventually become Virginia's Ring, a coming-of-age military school novel that didn't hold a candle to The Lords of Discipline.
As we walked back to his hotel to continue our chat over coffee in the Mills House bar, Pat invited me to Griffin Market with "the boys," if I was ever in Beaufort on a Thursday. So, of course, I drove four hours one-way the next week for a seat at the table. Little did I know that it would begin our love affair with all things Beaufort.
By then, the core group had expanded to include Jonathan Hannah, Bernie Schein's creative future son-in-law. Jonathan's wife, Maggie, is a prolific writer whose book, Los Cantos of the Ourobouros Caves, was published by USC Press's Story River Books (more on that later). Pat wrote the foreword for that excellent book and it was perfectly illustrated by Jonathan. Bernie's brother, Aaron, also joined the growing lunch bunch when he was in town, along with a revolving cast of characters (and stories) too many to list here (oh, the stories I could tell).
From the start, Pat and everyone else raved about Griffin Market chef Laura Bonino's food. The group never ordered from the menu. Laura essentially prepared a traditional multi-course Italian-leaning lunch, recalling how much she enjoyed hearing the constant laughter wafting from the dining room to her kitchen.
To accompany the laughter, Laura's dishes also brought moans of approval and enjoyment from the group, as did the wine pairings from Laura's restaurant (and life) partner, Riccardo Bonino (a native of the Piemonte region of Italy). Of the wines, Riccardo says, "If I like it, it's on my wine list. I don't know the menu until five and that's when I start thinking about perfect pairings."
In 2012, Pat wrote about Griffin Market for Lowcountry Weekly, telling publishers Margaret and Jeff Evans that it was his first restaurant review. Of course, he would eventually to go on to write The Pat Conroy Cookbook: Recipes and Stories of My Life, with Suzanne Williamson Pollak, providing the literary culinary world with a book-full of tasty stories and recipes (we've tried most of them and often give the book as gift to Lowcountry visitors).
Scott Graber recalls the stimulating conversation of the lunches, telling us, "I started thinking about them days in advance and what topics I might introduce at lunch." He also raves about the cuisine, saying Laura served mouthwatering dishes he might never have tried on his own. Scott says the same thing about Riccardo's choices of wines to accompany Laura's dishes that day, saying he particularly enjoyed tasting wines he might not have tried otherwise.
John Warley says one of his enduring memories of the lunches is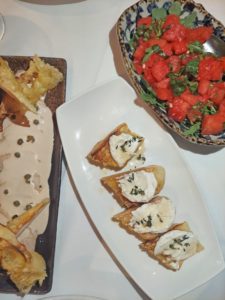 how many people would make 1:00pm reservations on Thursdays, hoping Pat would be there, and when he was, how he'd go around the room introducing himself, as if that were needed. Bernie's favorite memory appears to be that Pat always paid the bill, while his brother Aaron still raves about Laura's seafood salad and Riccardo's wine selections – particularly his Piemonte picks.
Another Beaufort "Jonathan" also has a great Griffin Market story to tell. Jonathan Haupt, Executive Director of the Pat Conroy Literary Center, revealed in the bestselling and award-winning book, Our Prince of Scribes: Writers Remember Pat Conroy, that Pat volunteered to serve as editor of what was soon to become Story River Books at one of the legendary Thursday lunches, with two typical Conroy stipulations: that he wouldn't receive any royalties, wanting all proceeds to support the writers and the imprint, and that Story River open the doors widely to southern writers. And, Story River Books did just that, with Pat serving as editor in chief, head cheerleader, provider of many forewords and blurbs, and appearing at book festivals and special events with Story River authors, providing what John Warley calls "crowd insurance."
Of those lunches, stories, and food, Laura recalls, "Pat loved everything I made. He never wanted a menu, he just ate what I brought out and smiled. He wanted all of it. He always took the time to walk around and greet our other guests, shaking hands and giving autographs. We had known for years that lunch business in Beaufort was too erratic to be profitable, but we kept it going just for Pat's Thursdays."
As our March ode to the Prince of Scribes and those long ago Thursday lunches, we recently returned to Griffin Market with Margaret and Jeff from Lowcountry Weekly for a truly tasty march down memory lane. The prix fixe dinner (a bargain at 52 bucks, by the way) was amazingly similar in so many ways to those long ago lunches.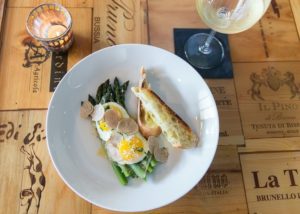 The prix fixe offering had always been Griffin Market's popular Sunday format. "It's our opportunity to get our guests to sit down and eat a meal as they would in Piemonte," Laura says. The courses are presented in moderate portions, in an order that complements each flavor. This format, combined with Riccardo's thoughtful wine pairings, encouraged us to linger over the meal and enjoy conversation with Margaret, Jeff, Riccardo, and even Laura after dessert. Margaret was Pat's assistant for several years, so her stories over dinner that night flowed as smoothly as Riccardo's wine choices.
Laura changes the four-course menu every day (yep, every day), based on what's available, and, as mentioned, Riccardo types it up and prints it out around five, already thinking about the best wines to recommend for that day's fare. Trust me when I say that Cele and I have total faith in Riccardo's pairings. He likes to learn what the table plans to order and then helps choose the wines based on that. If someone just has to have something to drink sooner than that (guilty, as charged), Riccardo recommends a glass of prosecco as an aperitif.
The menu that mid-February evening provides a perfect example of the Griffin Market experience today…and more than a decade ago. If you've read this far and aren't hungry yet, you're about to be, because here's a taste of the menu (which is presented in Italian and English on a single page):
Appetizers (served family-style): thinly sliced pork loin roast with a silky tuna and caper sauce, and a big-time fave of the lunch bunch; a picture-perfect watermelon salad; and crostini with hand packed ricotta, local honey, and Griffin Garden thyme
Primi (choice of): handmade tagliatelle egg pasta in a gorgonzola dolce, mascarpone, fontina and parmigiano sauce; artisanal pasta with a Griffin Garden basil pesto sauce with green beans and potatoes; and artisanal pasta in a wild mushroom and duck ragu.
Secondi (choice of): sweet pork sausage over soft polenta, with roasted white grapes; parmagiano- parsley-crusted rib lamb chops, served over sweet potato puree; and roasted asparagus topped with melted fontina cheese and fried eggs (Happy Eggs from Publix and highly-recommended), served with garlic-rubbed crostini
Dessert (choice of); pear crisp topped with vanilla bean gelato; raspberry sorbet, topped with fresh raspberries; vanilla bean-infused eggless custard, topped with blueberry sauce
Hungry yet? We agreed with Margaret and Jeff that our only
regret of the evening was that we didn't invite another couple, so we could try every single dish coming out of Laura's kitchen that evening. Lesson learned.
And, oh, the wines. After learning of our menu choices, Riccardo recommended a bottle of crisp Tramin Sauvignon Blanc from Alto Adige for the apps and first course, with a Brolo delle Giare Valpolicella Valpantena Superiore from Veneto for the secondi and dessert. They were both perfect…and moderately priced. Grazie Mille e Saluti, Riccardo!
Of the fare she serves, which is Italian-intensive, along with European and Lowcountry touches (like replacing stinging nettle that's popular in Italy with local kale), Laura says, "Our travels to Europe each year are so inspiring, I always return with new dishes for our menu. The climate and soil in Sicily are quite similar to St. Helena, so I can recreate a lot of classic eggplant dishes, like Caponata. This year we had something totally new, which was a pesto made from the young, tender tips of zucchini. That dish made it to our Christmas Eve Seven Fishes meal this year. I'm starting a few dozen zucchini plants in our Griffin Garden this year, just to get enough zucchini tips." Laura reports that their large garden at home is providing more ingredients than ever to her menus (see Sean Brock's veggie quote at the end of this feature).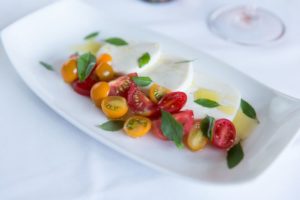 At my first Griffin Market lunch, I remember Laura telling me she used induction burners for almost all of her cooking (there are no stoves in her kitchen). When we asked her about it after dinner recently, she responded by email, saying, "From my very earliest years in restaurant kitchens, the hood system concept appeared to be a shocking waste of energy. Very hot air, usually pulled from the restaurant roof, is sucked into the restaurant to provide "make up air" for the hoods. This air is cooled by the air conditioning system, then sucked back outside by the hood system. The induction burners, which do not require a hood, combined with some thoughtful cooking techniques, completely eliminate that energy waste. It's our main contribution to reducing our energy footprint. Our restaurant energy bill is the same as our smaller home. We have six induction burners, so [it's] the same number as a traditional stove. We can spread the burners around the kitchen or put them away if we don't need all six. It's a very flexible system."
Well, thanks to Laura's recommendation, we have an induction burner, but what we prepare on it will never rival any of the dishes we enjoyed last month. I wonder if Sean Brock ever used induction burners at any of his Husk hotspots or if he's using them at his hot new East Nashville flagship restaurant, Audrey. We're thinking not. We're betting he's a "cooking with gas" kind of guy.
Pat Conroy closed his 2012 Lowcountry Weekly review of Griffin Market by saying, "I'm going to tell Sean Brock about Laura Bonino at Griffin Market." We'll have to ask, Sean, our long-time friend and fellow Virginian, if Pat ever told him about Laura and Griffin Market… and, if he uses induction burners.
"Let vegetables tell you what to do." Sean Brock, "My Manifesto," Heritage (Artisan)
Griffin Market
403 Carteret Street
Beaufort, SC 29902
(843) 524-0240
www.griffinmarket.com
Dinner served Wednesday-Sunday 6:00p.m.-9:00p.m.
Pat Conroy called Lynn's first novel, Virginia's Ring, "A triumph and a tour de force." Lynn also provided an essay for the award winning book, Our Prince of Scribes: Writers Remember Pat Conroy (University of Georgia Press). Beaufort-based travel journalists Lynn and Cele Seldon (www.seldonink.com) often cover culinary travel around the world, and Lowcountry Weekly recently lured them to write a monthly feature covering the local food scene. This will include articles about restaurants, chefs, food-focused stores, farms, farmers, farmers markets, and more. They welcome suggestions for topics.