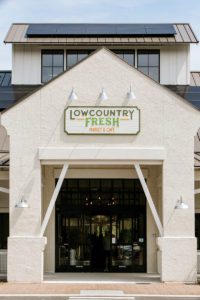 As new-ish residents to Beaufort and the Lowcountry, we're loving our tasty new base of operations. We've also enjoyed getting involved and giving back to this community that has embraced us. Like our dishy new column for Lowcountry Weekly, for example.
So, naturally, we love meeting other folks that have a similar story and passion for the area. Like Andy and Cindy Rolfe, who found their way to the Lowcountry and opened Lowcountry Fresh Market & Café earlier this year with the hopes of making a difference.
Having lived in Chicago for years, the Rolfes often vacationed in Bluffton. They built a second home in the 90s and moved to the area full-time in 2017. Looking for something to do in their next chapter that would benefit others, they wanted to help provide economic opportunity to those who, for whatever reason, were not as fortunate as they were. "We knew we could not change the inequality that exists in our society altogether. But we thought we could try and do our part," recalls Andy.
As the daughter of dairy farmers, Cindy knew a thing or two about the importance of farming. And with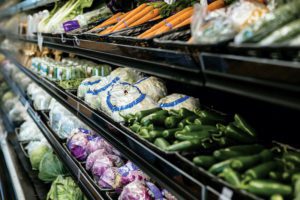 the fertile bounty surrounding Beaufort County—both on the land and in the water—she and Andy had a lightbulb moment. Why not tap into that commodity by shining a spotlight on the area's natural resources, while simultaneously helping the farmers of the region sell their products on a larger scale than just the varied area farmers markets? "Our hope was that Lowcountry Fresh would expand markets and profits for the next generation of South Carolina growers and makers so that they can continue the long tradition of connection to the land and cuisine of the state," reflects Cindy.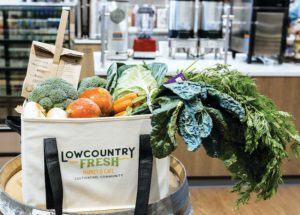 As the Rolfes began rooting around the farms of St. Helena, Ridgeland and Hampton, they met the family-owned farmers, fisherman, shrimpers, and producers—many of them third-and fourth generation— that would become the stars of the show at Lowcountry Fresh Market & Café.
Opened in May 2021 in Bluffton's Washington Square along bustling Buckwalter Parkway, the purpose-built market features   Lowcountry architecture, with its large windows, screened in porch (for oh-so-Southern alfresco dining, natch), metal roof, and, once inside, high ceilings and a welcoming open-floor concept.
The market is a love letter to the county, region and state, with seasonal local produce from arugula to zucchini—and everything in between—filling the shelves. According to Andy, approximately 80 to 90 percent of the fresh veggies and fruits are grown by our neighbors. This includes many edibles from the farmers on South Carolina's Sea Islands like Barefoot Farm and Joseph Fields Farm, as well as other regional farms like Dragonfly Farms, Brant Family Farm, Crosby Gardens and others.
But the Rolfes didn't stop at produce. Lowcountry Fresh Market & Café is also filled with local dry goods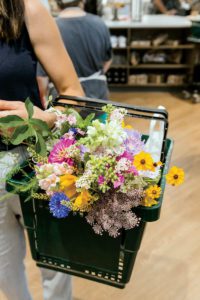 that would make many Southerners proud, bless their hearts. We're talking grains like flour, rice and grits, herbs and spices, sauces and preserves, candies and chocolates, and even cookbooks that tip their hat and pay homage to regional makers, artisans, producers, and chefs.
Then there are the mouth-watering meat, seafood and dairy counters. Loaded with local pork, chicken and beef in all kinds of cuts, a cornucopia of briny fish and shellfish from our local waters, and milk and eggs from nearby dairy farms, approximately 90% of the protein selection is from within 250 miles. The other 10% comes from further afield because, if you're like us, we can't go very long without a salmon or lobster tail fix.
Which leads us to the drool-worthy bakery. The baked goods come from the on-site bakery, where all the crusty breads, moist muffins, and sinful desserts are baked daily. The bakery even has a showcase window off the screened-in porch so you can watch the baking and pastry masters performing their magic.
As you might expect, the cheese and adult beverage departments are stocked with delectable fromage, vintages, lagers and bitters from a bit further afield. However, don't be surprised to find a local craft brew, goat cheese, or cocktail shrub from around the coast, from the South Carolina Midlands or Upcountry or down in Georgia.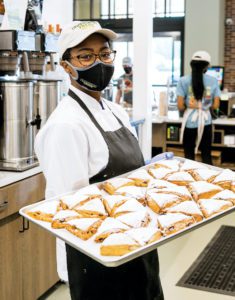 We could go on about the market, but let's turn our hungry attention to the café side of Lowcountry Fresh Market & Café. It's as much of an ode to the region as the market and, perhaps even more so, in that it is serving up some of the best Lowcountry grub we've come across (and that's saying something). That's no surprise in that the Rolfes tapped one of the state's top experts on Gullah and Lowcountry cuisine, B.J. Dennis, as their culinary director long before the store opened. B.J. brought his vast knowledge and experience of all things Lowcountry culinary traditions not only to the front of the store, but to the back of the house in the kitchen.
With direct access to legions of farmers and makers, B.J. not only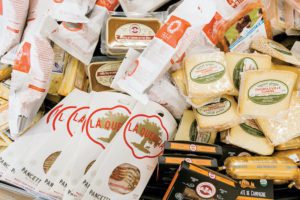 lent his expertise and advice on the cultural legacy of the land—he knows a thing or two about how to cultivate the best tasting okra—but he also watched his mother use and combine those same ingredients into traditional (and delicious!) dishes that she served up in their home rooted firmly in the Gullah Geechee Cultural Heritage Corridor. And he's brought those same techniques and dishes to the table at Lowcountry Fresh Market & Café.
We're talking fried fish fritters, heirloom tomato salad with peach vinaigrette and benne seeds, traditional chicken purloo with Carolina Gold rice, legit BBQ hash that Blacksheep cook/owner Matt Wallace said was the best he'd ever had, smoked tomato-braised string beans (which were amazing and had us still talking about them weeks later), peas and butter beans with pickled peppers. Oh, and did we mention okra soup? Oh, yeah.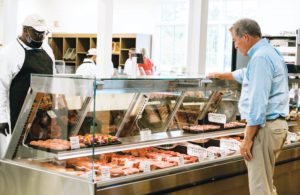 Now, don't get us wrong, there are plenty of other options on the menu to please every palate. From
salads and soups (Nani's Chicken Soup, named after Andy's mother, matched my Jewish mother's chicken soup tasty bite for bite) to small plates and entrees (including house-brined fried chicken and a shrimp burger), the menu is the south—and especially the Lowcountry—on a plate. They also serve breakfast every morning, with classics like breakfast sandwiches and plates, whole wheat pancakes, yogurt parfait, and scratch-made bagels, muffins, scones and cinnamon rolls.
You order at the counter, and they bring it to you in the small dining area, or out on the porch. Of course,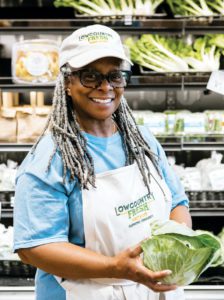 we've paired the great food with everything from a glass of sweet tea to a beer on tap or glass of wine poured from their extensive wine section. And while you are waiting, there is time to peruse the prepared foods counter, filled with savory salads, decadent deviled eggs, and elegant entrees to take home. And don't forget that sweet-smelling bakery counter for dessert.
The dining room even sports a demo kitchen where they will be hosting visiting farmers, chefs and makers to share their knowledge and cooking chops with mere mortals like us, including sixth-generation farmer, chef and cookbook author Matthrew Raiford August 6 and 7 (you can pick up his new book Bress 'n' Nyam, Gullah Geechee Recipes from a Sixth-Generation Farmer in the store), Hilton Head restaurateur Andrew Carmines of Hudson's Seafood House on the Docks on August 19, and more to come. We hope to see y'all there. We'll be the ones with a bowl of Nani's chicken soup between us.
[Editor's Note: B.J. Dennis recently stepped down as culinary director now that the Lowcountry Fresh Market & Café team is in place but will continue to serve as a consultant.]
Beaufort-based travel journalists Lynn and Cele Seldon (www.seldonink.com) often cover culinary travel around the world, and Lowcountry Weekly recently lured them to write a monthly feature covering the local food scene. This will include articles about restaurants, chefs, food-focused stores, farms, farmers, farmers markets, and more. They welcome suggestions for topics.