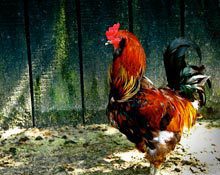 As the USCB Historic Beaufort Campus becomes increasingly Arts focused, the first group of graduating seniors from the Studio Art program are showcasing their works at the first ever Senior Art Exhibition featured at USCB. According to Professor Jon Goebel, "This show is a chance for the community to see the high caliber of work our Studio Art program is producing as a result of our talented students and faculty." The students are equally excited about the prospect of this exhibition, as evidenced by senior Amanda Marlowe, "This exhibition is my gateway to being a professional artist."
Marcus Young, Cordes Marshall, Calle Schrader, Sarah Kennedy, Vanessa Burchfield, Ashleigh Williams,
Amanda Marlowe, and Sanders Black will have works on display through April 22nd.  This event is open to the general public and free of charge. For more information please contact Jon Goebel at goebelj@uscb.edu.
STUDENT ARTWORK SEEN HERE (FROM TOP)
El Pollo by Calle Schrader
Catch of the Day by Sarah Kennedy  
Down to the Marsh by Vanessa Burchfield  
Jellyfish (purple) by Sanders Black
ABOUT USCB'S STUDIO ART PROGRAM
USCB's Studio Art degree program provides students with a focus in visual arts  and in the history of art, within the context of the liberal arts. The program prepares graduates both for professional careers and graduate programs in fine arts. The combination of an intensive liberal arts background with studio arts proficiency skills and practical experience helps students investigate and integrate their knowledge and perspectives in today's technologically changing world and gives them the background needed for a career in the arts. For more information see http://www.uscb.edu/art/index.html.