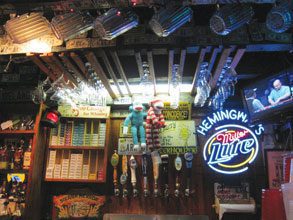 Beat the heat in downtown Beaufort with beverages and bar snacks

Story and photos by Mark Shaffer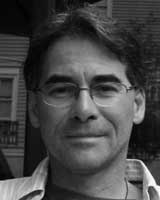 It's the time of year in the Lowcountry when all you have to do to break a sweat is walk outside; when the slightest bit of exertion raises a serious risk of spontaneous combustion. Our favorite way to avoid bursting into flames involves the combination of "conditioned air" (God bless you, Mr. Carrier) and alcohol (thank you, God). What follows is a breakdown of our favorite watering holes in the historic district. The research was exhaustive.
ON THE WATERFRONT
Hemingway's

(above)

920 Bay St.
(843) 521-4480
Open daily at 11:00am.
The joint was named after him on a whim, but Papa would feel right at home here. The bar's practically painted with character. Located in the bottom of the magnificent Thomas Law Building, Hemingway's is a first class dive bar and a one-of-a-kind on the waterfront. This is where Beaufort's service industry professionals go to drink. On an average night you might need a shoehorn and a can of Crisco to squeeze into the joint. It's also the perfect spot for a pre-lunch eye-opener or a post work shot and beer. Sundays are made for the bar's famous – and inventive – Bloody Marys under the pergola on the breezy dog-friendly patio. Tell Zoë we sent you.
The actual heart pine bar seats half a dozen patrons with a few tables along the whitewashed brick wall. The place is festooned with autographed currency – an old sailor's tradition. Back in Beaufort's movie-making days this was a hangout for stars and crew alike. The "Wall St." subway sign from "Die Hard III" hangs on the wall. Happy hour runs from 5-7 daily with 50 cents off beer and $1.50 off liquor and the usual cheap shots, so to speak.
Luther's Rare and Well Done
910 Bay St.
(843) 521-1888
Open 11 am daily
Each time I walk into Luther's I expect to find Norm Peterson and Cliff Claven arguing over "Final Jeopardy." Luther's has a serious Cheers vibe (no accident) but with a terrific view of the river. The Marine Corps flag flies over the shady pet-friendly deck and families pack the place during graduation weekends at Parris Island. The Corps motto "semper fidelis" ("always faithful") certainly applies to Luther's crack team of regulars whom you'll find polishing the same bar stools on any given day swapping stories and telling lies.
Portraits former owners Charles and Julie Luther hang on the east wall with a sign bellow that reads, "You can't drink all day unless you start in the morning." The faithful have taken this to heart. There's something happening most nights with live music Thursday through Saturday. Daily happy hour runs 4-7 with booze & beer discounts. Damn good burgers.
Plums
904 Bay St. (843) 525-1946
Open daily at 11 am
The year Plums opened "Top Gun" was flying high at the box office. The bar's aged a lot better than Val Kilmer. Both Plums and its fine dining sister establishment, Saltus, pack in locals and visitors alike. I once had a conversation with a couple from Chicago who'd been coming to Beaufort every spring for nearly two decades. They looked forward to sitting in the window seats at the bar all year long. "Why here?" I asked. The woman grins. Her husband points to the view. "Because we don't have that in Chicago," he says. "And here it comes with cold beer and fried oysters." That's Plums in a nutshell.
Like most waterfront establishments, Plums leads something of a double life – a Jekyll and Hyde life. Thursday through Saturday, after the dinner crowd clears out around 10 o'clock, tables and chairs disappear, amps and speakers materialize and shortly thereafter the musicians to which they are attached. Dancing generally follows.
Q On Bay
822 Bay Street
(843) 524.7771
Open daily at 11:00 am
Four things matter most at Q: barbecue, beer, sports and music. What Q does better than anyone else downtown – or north of the Broad, for that matter – is craft draft. You'll find 32 rotating taps of seasonal brews at Q like the Holy City Farmhouse Ale from just up highway 17 and the Fat Pig Bearded Ronin from some other place farther away. (Hey, is that PBR hiding between the Stone IPA and Abita Blueberry Wheat?) Order up a beer flight to taste your way through the high gravity stuff while avoiding the usual consequences.
Q features happy hour from 4-7 with discounts on beer and well liquor and there's live music from Wednesday through Saturday. Thursday nights bear witness to the growing local legend of the Bull Grapes. There are few spots better to catch a game on the giant flat screens or just sit and soak up the river view. Oh, and there's barbecue – all manner of barbecue. And the sliders and tacos come in a variety of flavors including brisket, pulled pork & chicken, shrimp & fish. The slow smoked wings, however, rule.



Saltus River Grill
802 Bay St.
(843) 379-3474
Open daily 4pm
If it weren't for the perfect view of the Woods Memorial Bridge the Sonoma style patio might fool you into thinking you were in California wine country. Inside the sleek, stone topped bar whispers sophisticated metropolitan chic. Here we begin the search for Beaufort's best craft cocktails – specialty drinks made from fresh ingredients that are either invented in-house or riffs on classics. Saltus also boasts a world-class wine list and a good selection of draft and bottle beers, including seasonals and micro brews.
But for us the major draw is the sushi and Tuesday it's half price. Saltus also has a raw bar with select oysters and seasonal specials and Chef Brian Waters' small plates are locally sourced and seasonal.



OFF THE WATER
Emily's Restaurant and Tapas Bar
906 Port Republic St.
(843) 522-1866
Open 4:00pm daily
Owner Tommy Winburn bought the massive antique bar on eBay and flew to Wisconsin to find it "in a barn in about a hundred pieces." A photo of the original location in Little Chute hangs on the wall. The former owners wandered in recently and shared some bar lore. The story goes that before he became the target of Elliott Ness' Untouchables, Al Capone would hang out there conducting mob business between Milwaukee and Chicago. During the glory days of Lombardi's Packers, the bar in Little Chute was a favorite spot for players far from curfews and restrictions. So, belly up to that sprawling piece of well-worn American oak and imagine sharing it with the original Scarface and NFL Hall of Famer, Paul Hornung. My guess is that Hornung would be more fun.
There's no happy hour but the price of cocktails drops on Port Republic Street and the wines are fabulous values by glass or bottle. A good selection of bottled beer makes up for a lack of draft. The tapas menu is huge and you can't go wrong with Chef Long's award winning fried oysters. In the fall local Gamecock faithful gather here and on the first Saturday in May hats are worn and whiskey is spilled on Derby day.
The Old Bull Tavern
205 West Street
(843) 379.2855
5:00 pm – till, Tues – Sat
Five nights a week you'll find one of Beaufort's most vibrant social and culinary scenes beneath los cuernos del Toro, the horns of the bull. Some bars pour booze. The Old Bull makes cocktails. Chef John Marshall's throwback sensibility is evident on the cocktail menu with a short list of classics like The Corpse Reviver #2 (gin, Lillet Blanc, Cointreau, lime juice and Pernod) from Harry Craddock's classic 1930 "Savoy Cocktail Handbook."
House Cocktails change with the seasons and the available local ingredients (the Bull's all about local). At this writing the LBG is a cool summer mix of lemon, basil, canton ginger and vodka. My personal favorite is the Purgatory, a sassy blend of silver tequila, fresh grapefruit juice, honey and a kiss of habanero. Favorite bar snacks include the Green Eggs & Ham (wasabi deviled eggs & prosciutto) and the artisanal wood fired pizzas. Hint: if you want a seat at the bar, get there early.
Breakwater Restaurant and Bar
203 Carteret St.
(843) 379-0052
Open Monday – Saturday 5pm
Luxuriously appointed with plush leather banquettes and George Nelson bubble lamps the bar & lounge at Breakwater echo a bygone era of style and grace. Call it casual sophistication. When we started this column back in '09 I wrote that "Maybe this is a little like the vibe in Sherman Billingsley's famous Stork Club back in the day. It's not hard to imagine Frank and Marilyn canoodling in a corner or Rocky Marciano knocking back a shot and a beer at the bar, his knuckles still swollen from knocking out Archie Moore." Much of the impressive "wall of wine" is available by the glass, and this is the only happy hour off the waterfront with discounts on beer, wells, wine and bubbles. Expect stellar service here. Breakwater's crack staff of mixologists whips up seasonal craft cocktails and classics to pair with the daily food specials. Get more mileage out of your martini with small plates like the Waygu Beef Sliders and Crispy Seared Pork Belly. Chef Shaw's fried chicken is pure love on a plate.
COMING UP
Our Insider's Guide to the Best Bars outside of the Historic District
Click on LowcountryWeekly.com for links to Chef & Bartender video recipes