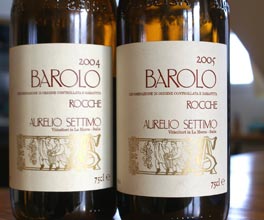 Griffin Market's Riccardo and Laura Bonino take wining and dining to a whole new level.

By Terry Connor
It was a bitter cold, rainy day in Beaufort when I met with Riccardo and Laura Bonino, the owners of Griffin Market. I had been looking forward to this meeting, and a little bad weather wasn't going to ruin my mood. Dodging the raindrops from the restaurant parking lot, I went inside and was introduced to a very warm couple – surrounded by an equally warm and inviting dining room – and I soon forgot the lousy weather outside.
  Laura and Riccardo came to Beaufort by way of Washington, D.C. An accountant by trade, Riccardo grew up in the Piedmont region of Italy and first came to the US planning to start a wine importing business. Riccardo had developed a superior knowledge of wine thanks to his father, who was a serious wine collector. He discovered that he was drawn to the wines his father had enjoyed so much and decided to investigate. He invested countless hours, spread out over many years, just visiting the wineries represented in his Father's collection and others. He learned first-hand about the wines and the people who owned the wineries. This was an effort that paid handsome dividends as Riccardo developed a complete knowledge of Piedmont and the Piedmont Winemakers. He nourished relationships with winemakers and winery owners that still exist today. These relationships have enabled him to obtain those "hard-to-find" wines that were exceptional in quality and competitive in price.
  Being an accountant and a wine importer was not in the cards for Riccardo. But good things were on the horizon. Once in D.C., Riccardo and Laura started a take-out meal business in the Georgetown district. The take-out meals were gourmet and the wine was upscale. Business boomed. The reason was simple: it was hard work and a labor of love. In June of 2008, Walter Nicholis, just about to retire from the Washington Post, wrote a wonderful review on the Washington D.C. Griffin Market. He tells of Laura and Riccardo taking over the operation of a dwindling market, getting rid of all the old equipment, updating the superstructure, and turning the Griffin Market into a special place for people who appreciated fine Italian wine and foods. The concept was unique. After the business had grown to a certain level, Riccardo formulated the following plan: Each day at around 2 pm, approximately 400 e-mails would go out to the customer list announcing the menu for the day. Customers would screen the menu, make a selection, and actually make a RESERVATION for the pick-up time for their order. The promise made to the customer was that the order would be ready. It worked like a well-oiled machine and the concept was turned into reality. On most days reservation times were sold out by 5 pm.
  Staying in the Washington area was their plan. But the lease on their building was up and the rent with the new lease was cost prohibitive. Washington's loss was our gain. The Beaufort area was a good place to relocate – it enabled Laura and Riccardo to reestablish a restaurant business and allowed Laura to be near her father. The new Griffin Market opened in 2011 on Carteret Street.
The operating philosophy of the new Griffin Market has its roots in a magic formula that seems to work quite well. Two very talented people combine their exceptional skills – food preparation and matching wine with food. The food is prepared by Chef Laura, who has many years of experience, and the Service and Wine is provided by Riccardo. There are standards. One might use the phrase "uncompromising standards." The food ingredients must be fresh at all times and the wine must be in accordance with Riccardo's standards. Riccardo is oftentimes quoted as saying, "We make what we like and offer it to our guests." What they like are recipes with roots in the Piedmont region of Italy and wines from a superb group of vintners found in the same region.
  Piedmont is famous for many wines; among them are Barolo and Barbaresco wines produced from the Nebbiolo grape. During my interview with Riccardo we took an imaginary side trip to Piedmont and got down to the basics of Barolo and Barbaresco. Barolo wines are referred to as "The King of Wines." They are made from 100% Nebbiolo. The grape in the Barolo area is a late-ripening, thin-skinned grape that is best grown in rich limestone soils found in the Lange Hills. Barolo is aged for a minimum of three years (two years in wood) and Riserva is aged for five years. This means that the wines are not released for at least four years after harvest. Barolo comes from 11 villages, making up one DOCG Zone. The soils in the western part of the DOCG zone are more fertile and tend to produce softer and more delicate wines. The eastern portion of the DOCG has slightly poorer soil and tends to produce wines that are muscular and heavier. Barolo's is most famous for its aging. Availability in the US is very good.
  Just a short 10 miles away from its illustrious neighbor, Barolo, the Nebbiolo grape ripens slightly earlier for the Barbaresco Wines. The end result is a wine with softer tannins that requires less aging under the DOCG rules, i.e. only two years in wood. The area could easily be called a "maritime micro climate" because of its proximity to the river Tanaro. Annual production is less than Barolo, but availability in the US is pretty good.
  Riccardo knows exactly what wines and how much of each to bring in to the restaurant. The mix of wines brought in will reflect his knowledge of Laura's food preparation, what wine will match what dish, and that he is comfortable recommending these wines to his guests. Griffin Market has many repeat customers and they can be confident that their favorite wine selections will be available. And all of the guests can be assured that the wine is stored properly in a temperature-controlled environment.
  One stop Riccardo and Laura made during their careers was Aspen, Colorado. Riccardo was working in a restaurant there, and it so happened that one evening he served a party of three or four guests. Fast forward and across the country to what is now Griffin Market, and lo and behold, that same group from Aspen walks into the Beaufort restaurant. As fate would have it, one member of the party was Betsy Chaffin, a well-known artist from Spring Island. Someone in her party recognized Riccardo from the Aspen restaurant, and the rest is history. Betsy, Laura and Riccardo met several times after that to view Betsy's paintings. A selection of those paintings now appears in the dining room at Griffin Market. Next time you are enjoying a meal at Griffin Market, check them out. They are truly remarkable . . . the gift of art to enhance your dining pleasure.
Winespeak
. . . or should I say, in this case, Catspeak. Laura and Riccardo had two cats. The cats were named Spess and Contessa, after the Barolo Wines produced by Anthony Gaia. The word Spess means "Lost" and the word Contessa means "Dispute." The two cats got along very well together and enjoyed a long friendship. One day Spess was lost and was struck by a white truck. Contessa was distraught, and to this day she refuses to approach a white vehicle. I tell this story to demonstrate that these two cats were part of a caring family. That caring family runs a restaurant… with great care. Dinner at Griffin Market is not just dinner. It is a very special dining experience.
Griffin Market has one of the Top 100 Wine Lists in the US, according to the OpenTable Diners' Choice Awards. The restaurant is located at 403 Carteret Street in downtown Beaufort. Contact them at 524-0240 or www.griffinmarket.com