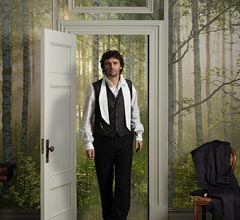 Jonas Kaufmann, the most versatile and exciting tenor in opera today, stars in the title role of French composer Jules Massenet's "Werther," presented by The Met:Live in HD at USCB Center for the Arts on Saturday, March 15 at 12:55 p.m.
What's not to like? The handsome, 44-year-old, German-born singer takes on the exceptionally challenging lead role that only a few tenors can tackle. So difficult was the role that Massenet re-wrote the part so that it could be sung by a lower voice if necessary, but no need for Kaufmann. "Mr. Kaufmann is ideal in the role. He sings with dark colorings, melting warmth, virile intensity and powerful top notes," wrote NY Times opera critic, Anthony Tommasini. John Allison of the Telegraph observed that Kaufmann "… seizes the role both musically and dramatically, using his dark yet ringing tone to give a performance of crazed, passionate intensity . . ."
Based on a novel by Goethe, the 1887 opera is about a melancholy, self-absorbed young poet who falls in love with a woman betrothed to another man. From the beginning it is clear that things will end badly as Werther spirals downward into desperation and thoughts of suicide should Charlotte reject him. And, of course she does until she has a change of heart after re-reading his love letters. Too bad – by then it is too late because Werther has shot himself and she arrives at his bedside just in time for him to die in her arms.
Singing the role of Charlotte is French mezzo-soprano Sophie Koch in her Met debut. The new and exciting production is directed and designed by Richard Eyre and Rob Howell, the same team that created the Met's recent hit staging of "Carmen." "Werther" is a production that is even more compelling on the Met's big screen because cast members visually fit their roles so well, and the subtle acting benefits from the great close-ups. Conducting is one of opera's rising young maestros, Alain Altinoglu.
Go to www.uscbcenterforthearts.com or contact the box office at 843-521-4145 for tickets: Adults $22, Olli members $18, all seats reserved. Also available at the door one hour prior to 12:55 p.m. curtain. USCB Center for the Arts, 801 Carteret St., Beaufort, SC.