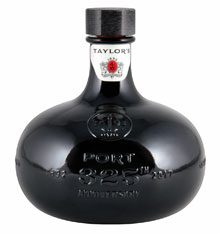 I was at my desk, minding my own business, when off goes the ding telling me that I have an incoming email. To my delight it was my daughter in Paris telling me that she and her husband had just purchased a bottle of Taylor Fladgate Port Wine; not just any Taylor Fladgate, but the special release, both wine and package, that celebrates the 325th anniversary of Taylor Fladgate being in business.
Not to be outdone by my number four child, I went out and purchased a bottle, called her back and asked if she would like to participate in a long distance tasting. She replied in the affirmative, so we broke out the tasting glasses. I had no intention of having an international wine competition – just a tasting to determine if we both enjoyed the Port. We did, but please allow me to explain why the wine was so special. For the 325th celebration, the winemakers decided to produce a limited edition reserve Port. The feeling was that, in addition to the celebration, a tribute should be paid to all who contributed knowledge and skill down through the ages in the making of the wine. Their contribution was spread over many generations and assured the company'€™s status as the benchmark for quality Port.
To produce this limited edition blend, the winemakers drew from Taylor Fladgates extensive reserves of old cask-aged Ports and selected individual component wines originally set aside for the company'€™s 10, 20, 30, and 40 year old tawnies. The blend was filled with rich fruit, has spicy richness although it is impressively fresh. Dried fruits and red plums are lifted with a hint of smoky wood and good acidity. Like any Tawny Port this Port is ready to drink. A rich figgy nose with a hint of toffee and mocha, hints of plum and apricot, and spicy hints of black pepper. The Grapes found in this blend are Touriga Nacional, Touriga Francesa, Tinta Barroca, Tinta Roriz, Tina Cao, and Tinta Amarela.
The presentation of the 325th anniversary port did not stop with the wine. The Powers that be at Taylor designed a bottle that closely resembled a unique 17th century sealed bottle, made at around the time of the founding of the winery in 1692. The bottle bears the merchant'€™s mark, in this case, the 4 and XX symbol still used as Taylor Fladgate'€™s trademark to this day.
The package that Taylor Fladgate presented for the 325th anniversary was very expensive. Having spent a significant amount of time in glass packaging, I feel somewhat qualified to make a few comments. Bringing this package to market was a symbol off pride and it took considerable effort. The bottle had to be designed. This was followed up by cutting steel to make the molds. The walls of the mold had to be engraved so that each container made would carry the desired message of Company Logo and any other information that was desired. Embossed bottles really dress up a container and, in my opinion, they did a terrific job.
After you purchase this particular Port, you may want to "€œlay it down."€ The bottle, as it was produced, is not conducive to doing so, but not to worry. Taylor Fladgate sent each bottle to market with a reinforced cardboard wrap that enables the customer to store the bottle in the lay down position. The wine will rest easy, the sediment will filter out, and the cork will stay moist.
WINESPEAK
When Taylor Fladgate produced this wine, it was officially titled Taylor Fladgate 325th Anniversary Reserve Tawny Port. It was a Non Vintage Port that scored 97 on the Wine Enthusiast Chart. This translates to "€œSuperb; A Great Achievement."€ It was also rated as the Number Nine wine in the Wine Enthusiast Top 100 Wines of 2017. I could not agree more with these accolades.
If the wine is not opened it will continue to bottle age. However, having tasted the wine, bottle aging is not in the future, at least not in my house. Availability of the wine is excellent here in the Lowcountry and all throughout the US. I paid $33.00 at Costco in Charleston. My daughter paid almost $50 in Paris. I would say go for it. It will only happen once every 325 years.