Every spring, many of the local nonprofit agencies host annual meetings. When I first started catering, almost all of the meetings were luncheon meetings. I made vats of chicken salad, wild rice salad, cheddar cocktail muffins, gourmet cookies and iced tea over and over and over again from March through May almost to the point where I couldn't eat my own cooking anymore. With busier schedules and more venues for hosting, annual meetings now include cocktail buffets, oyster roasts and barbeques as well as luncheons. Nonprofits like the Historic Beaufort Foundation, Beaufort County Open Land Trust, United Way, Beaufort County Historical Society, Alzheimer's Family Services, Boys and Girls Clubs of the Lowcountry, CAPA, CODA, Coastal Conservation League, HELP of Beaufort, Hope Haven, Habitat for Humanity, Meals on Wheels, Penn Center, Port Royal Sound Foundation, Santa Elena Foundation, YMCA, The Tabby House, OneBlood and the Pat Conroy Literary Center, to name only a handful, are well represented in the Lowcountry. Generous Beaufortonians are more than happy to support our local charities. (Reprinted from Celebrate Beaufort by Debbi Covington. Photography by Susan DeLoach Photography.)
Curried Caribbean Chicken Salad
Canned pineapple tends to add a lot of extra moisture to this sweet and savory chicken salad. Be sure to drain it very well.

6 cups cooked diced chicken breasts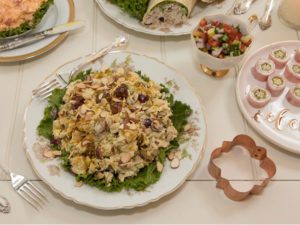 1 cup chopped celery
2 green onions, chopped
1 cup mayonnaise
1 teaspoon curry powder
1 tablespoon soy sauce
2 cups seedless red grapes, halved
1 (20-ounce) can pineapple chunks, drained
Salt and pepper, to taste
1 cup toasted sliced almonds
Dash curry, to garnish
Place chicken in a large mixing bowl. Add celery, green onions, mayonnaise, curry powder and soy sauce; mix well to combine. Gently fold in grape halves and pineapple chunks. Season with salt and pepper. Cover and refrigerate for at least 8 hours for flavors to combine. Before serving, stir in toasted almonds. Garnish with a dash of curry powder, if desired. Serves 10.
OLT Hot Chicken Salad
This recipe is my version of the hot chicken salad recipe that's featured in Sea Island Seasons, the Beaufort County Open Land Trust cookbook. The popular cookbook has been in print since 1980 and is now in its 10thprinting. I realize that the OLT recipe calls for mayonnaise but I prefer Miracle Whip. It's your choice.
3½ cups cooked diced chicken breasts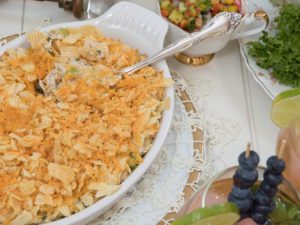 1 cup mayonnaise or Miracle Whip
1 cup diced celery
2 tablespoons finely chopped onion
1 tablespoon lemon juice
½ teaspoon dried tarragon
½ cup toasted slivered almonds
Salt, to taste
½ cup shredded cheddar cheese
1 cup crushed potato chips
Mix chicken with mayonnaise, celery, chopped onion, lemon juice, tarragon and toasted almonds. Season with salt, if desired. Spread into a lightly greased 8×8-inch casserole dish. In a small bowl, mix shredded cheese with crushed potato chips. Top chicken salad with potato chip mixture. Bake, uncovered, in a preheated 350 degree oven for 20 to 30 minutes or until cheese is melted and chicken salad is warmed through. Serves 6.
Bay Street Cranberry and Pecan Chicken Salad
Chicken salad loaded with dried cranberries and toasted pecans makes a delicious entree or wrap.
3 cups cooked diced chicken breasts
½ cup dried sweetened cranberries
½ cup chopped pecans, toasted
½ cup chopped celery
2 tablespoons chopped green onion
½ to ¾ cup mayonnaise
1 teaspoon dijon mustard
Dash garlic powder
Salt and pepper, to taste
Place chicken, cranberries, pecans, celery and green onion in a large bowl. Add mayonnaise, dijon mustard, garlic powder, salt and pepper and mix well. Serves 6.
The writer owns Catering by Debbi Covington and is the author of three cookbooks, Celebrate Beaufort, Celebrate Everything! and Dining Under the Carolina Moon. For more great recipes and to view her cooking demonstrations, visit and subscribe to Debbi's YouTube channel. Debbi's website address is www.cateringbydebbicovington.com. She may be reached at 843-525-0350 or by email at dbc@cateringbydebbicovington.com.