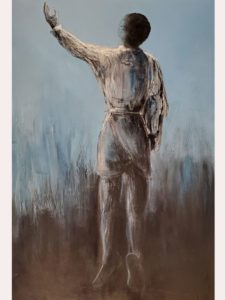 Art League member Joan Moreau McKeever will showcase her artwork in Taking a Leap; The Art of Discovery, this April at Art League Gallery. McKeever is a well-rounded local artist whose work is sure to appeal to a wide audience. Loose or precise brushstrokes, vivid or muted colors; serene Lowcountry landscapes in oil, acrylic or pastel or brash, whimsical collages made of washi tape—McKeever does it all. "I experiment. I take risks. I am constantly trying new media and techniques," she says. "I am still searching for 'Me.'"
A Connecticut native, McKeever was first introduced to art by Ted Davies, a renowned woodcut artist, and has been creating art ever since, whether in the form of paintings and collages or commercial advertising and graphic design. She ran two advertising agencies before moving to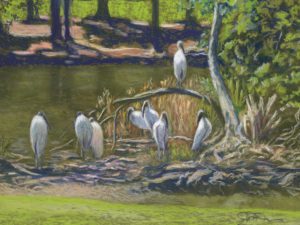 the Lowcountry and returning to fine art. McKeever was recently inducted into the National Association of Women Artists.
Taking a Leap; The Art of Discovery runs April 6 to May 1, 2021. An opening reception will be held Wednesday, April 7, 5-7pm. McKeever is holding two artist talks on Monday, April 12 and Monday, April 19 at 1pm on both days. Art League is asking reception and artist talk attendees to please RSVP at gallery@artleaguehhi.org to prevent overcrowding.
COVID safety: Art League is following all CDC and Town of Hilton Head guidelines, including mandatory masks for employees and patrons, frequent sanitization, and a limit of 10 visitors at any one time.
Art League Gallery is located mid-island inside Arts Center of Coastal Carolina, c Hilton Head Island, 843-681-5060.