An aspiring young chef finds his passion with the help of family and fellow chefs
When Steve Adam Hallinan recently made it to the semi-finals of a national cooking competition, no one in his family was all that surprised.
After all, the 18-year-old has been working for a few years now alongside his father, Brent Hallinan, co-owner of Madison's in Port Royal, where the family has watched as the aspiring young chef has come into his own.
Hallinan, who also happens to be an honors student at Lowcountry Montessori in Beaufort, has been accepted to The Culinary Institute of America, in Hyde Park, New York.
The teen entered Feeding America's Favorite Chef Challenge earlier this year, thinking the competition's grand prize of $50,000 would go a long way toward the prestigious school's tuition.
"It's not easy for the family to run two restaurants during a tough time and then also send a kid to college," he said, with a self-awareness that belies his years.
Hallinan, who is a senior now, began working at the family's restaurant at age 15, where he started front of house as a host.
He then moved to expeditor, making sure dishes went out as they should and everything was functioning properly at the pickup window. It wasn't long before the hard working young man made his way into the kitchen and on the line where he's been working ever since.
Still, his recent success in the competition came as a bit of a surprise.
"…To make it as far, or even be in the competition in general, was a blessing within itself," he said recently.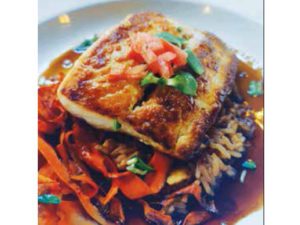 Each contestant had to submit a portfolio of their work, including photos of dishes along with their descriptions. Their work was then reviewed by a panel of judges and the public weighed in as well by voting for their favorites as the contestants advanced week by week in multiple rounds of the contest.
Hallinan says he was surprised by the reaction he received from his "fan base" consisting of both online strangers from across the country and, ofcourse, those from in and around Beaufort and Port Royal who were following the contest on social media.
"It was a huge support group, which just shows for a small town, how really connected we all are," he said.
It also reinforced he was on the right track in terms of his recent career choice, he said.
Having grown up in a tight-knit restaurant family, cooking and working in a kitchen came natural to Hallinan who was used to setting the table or prepping food for the extended family's Sunday mealtime together. But it wasn't until Hallinan was a little older and working at Madison's that he thought this might really be something he could do.
"It's only been a year of discovering the true passion, but it's always been in my blood," he said.
Those Sunday meals didn't hurt either.
"That's another spot where he gets to learn a lot," said Hallinan's father, Brent. "We'll spend Sundays together as a family and we may barbecue or do some crazy, creative dishes in the kitchen, but he gets to spend a lot of time with his uncle who has been a chef for a lot longer."
That uncle would be Evan Hallinan, the original chef at Madison's and now owner and chef at Morgan River Grill on Dataw Island.
In addition, Brent Hallinan said his son has been getting real-world experience and valuable skills from working alongside Madison's chef Carl "CJ" Shuman, who also entered this year's Favorite Chef contest.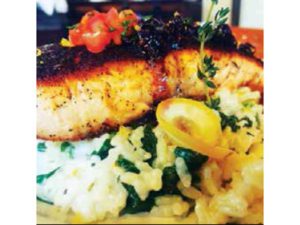 "CJ has really kind of taken Steve under his wing as far as flavor profiles and plating and all the cool intricacies, but we all work together on that," he said, adding that often they'll pick a protein to use for that day's menu and then everyone gets together to brainstorm for a special that showcases that ingredient.
"So Steve has been really integrated into that, which has helped him build the creativity portion and to just say, 'Hey what would you put with this,'" he said.
Watching his son grow and learn during these formative years has been special for Brent as well.
"To see him take over a passion that I've always had inmy life is just really awesome," he said. "It makes me really proud. . . .  and, well I'm just a proud dad."
While ultimately Hallinan did not take top prize in the competition, he still did well placing third, especially given his age. And the experience, both he and his father said, has been good for business.
"We get to have conversations with our customers and locals at the end of every shift, and it's great to see the same faces and catch up," Steve Hallinan said, now that people have begun returning to eating out. "But they support us and we support them. It's a great big family in Port Royal and Beaufort."
In May, Hallinan will graduate from high school and is already thinking about that time when he'll leave home to continue his education in the culinary world– a prospect he says is both exciting and a little scary.
"But I have a huge support system here," he said. "Although I know they'll be cheering me on, it's tough to leave. But I know it will be good and maybe someday I'll be able to bring back what I learned."