In honor of National Poetry Month, the Moon and Sun Poets will host an Open Mic Reading in collaboration with the nonprofit Pat Conroy Literary Center on Sunday, April 18, at 2:00 p.m. This free virtual event will be live-streamed on the Conroy Center's Facebook page (www.facebook.com/patconroyliterarycenter) and available to view afterwards on Facebook and the Conroy Center's YouTube channel as well. Poets interested in reading as part of this special event can contact host Emily Davis-Fletcher at emilydfj@gmail.com by April 16.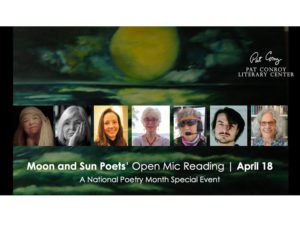 Inclusive of writers in and beyond the Lowcountry, Moon and Sun Poets is a weekly virtual poetry workshop for writers eager to generate new poems, give thoughtful critiques in support of their fellow poets, and discuss elements of poetry and craft. Since its founding in May 2020, Moon and Sun has created a supportive community for poets to grow and develop inspiration, passion, and craft.
Poets participating in the April 18 National Poetry Month reading include Andrew Bellacomo, Robin Dare, Emily Davis-Fletcher, Jane Forsythe, Heather Rose Johnson, June Labyzon, Susan Madison, Jacquelyn Markham, Susanna Trifiletti, and Doris Wright.
The Pat Conroy Literary Center is located at 601 Bladen Street in Beaufort and open to the public for tours on Thursdays through Sundays, noon to 4:00 p.m. Admission is free; donations are welcome. Learn more at www.patconroyliterarycenter.org