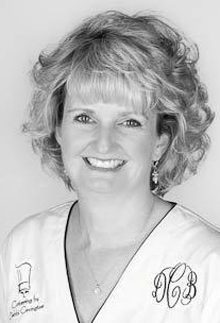 A gentleman from California once asked a group of us Southerners gathered at a cocktail party why we were so much fun to be with. "There must be something in the water," he figured. "Yes," I said. "Bourbon."
Mind you, we're not reared to be alcoholics, but we are taught how to be hospitable and have a good time at a very young age. Cocktail hour has been a welcome end to a stressful day for as long as I can remember. I discovered this as a teenager growing up in Wilson, NC. In my home and in the homes of my friends we heard, "Is it five o'clock yet?" almost every afternoon. I remember cocktail hour as a happy time with tales of the events of the day and lots of laughter. Years later, I appreciate this cherished tradition, a relaxing way to wind down and enjoy the conversation of friends and family. I can still hear my father's best friend saying, "It must be five o'clock somewhere!" Cheers!
Bloody Marys
1 (46-ounce) bottle vegetable juice
1 tablespoon Worcestershire sauce
1 tablespoon fresh lemon juice
1 cup vodka
½ teaspoon celery seed
½ teaspoon freshly ground black pepper
½ teaspoon sea salt
Hot sauce
Celery sticks, to garnish
Combine vegetable juice, Worcestershire sauce, lemon juice, vodka, celery seed, pepper and salt in a large pitcher. Season, to taste, with hot sauce. Stir well. Serve over ice with celery sticks. Serves 8.
Pink Lemonade Cocktail
1 (12-ounce) can frozen pink lemonade concentrate, thawed
3 (12-ounce) bottles beer, chilled
¾ cup vodka, chilled
1 lemon, sliced
Fresh mint
Stir together lemonade concentrate, beer and vodka.  Serve over ice. Garnish with lemon slice and sprig of fresh mint.  Serve 6 to 8.
Hurricane Punch
1 (64-ounce) bottle red fruit punch
1 (12-ounce) can frozen limeade juice concentrate, thawed
2 (16-ounce) cans frozen orange juice concentrate, thawed
3½  cups light rum
3½  cups dark rum
Stir together all ingredients.  Serve over ice.  Serves 12 people.
Pineapple Limeade with Tequila
4 cups pineapple juice
2/3 cup fresh lime juice (about 4 limes)
¾ cup sugar
½ cup tequila
1 (32-ounce) bottle lime-flavored sparkling water
Stir together pineapple juice, lime juice, sugar and tequila. Cover and freeze for 8 hours.  Stir in sparkling water just before serving. Serves 8 to 10.
Flirtini
4 ounces vodka
8 ounces champagne
8 ounces pineapple juice
Combine vodka, champagne and pineapple juice in a pitcher filled with ice. Strain and serve in martini glasses. Serves 4.
Banana Slush
2 ripe bananas, peeled and cut up
1 (12-ounce) can frozen limeade concentrate, thawed
1½ cups light rum
4 cups lemon-lime carbonated beverage, chilled and divided
Place bananas and limeade concentrate in a blender. Cover and blend until smooth. Combine banana mixture, rum and 2 cups lemon-lime carbonated beverage in a 3-quart freezer container. Cover and freeze for at least 5 hours or until frozen. Remove mixture from freezer 20 to 30 minutes before serving. To serve, add remaining 2 cups carbonated beverage mixture; stir until slushy. Spoon into glasses. Serves 8.
Bourbon Cappuccino
2 cups hot brewed coffee
2 tablespoons brown sugar
2 cups chocolate milk
2 tablespoons bourbon
Combine coffee and brown sugar, stirring until sugar dissolves. Stir in chocolate milk and bourbon; cover and chill. Serves 4.
The writer owns Catering by Debbi Covington and is the author of two cookbooks, Celebrate Everything! and Dining Under the Carolina Moon.  Debbi's website address is www.cateringbydebbicovington.com. She may be reached at 525-0350 or by email at dbc@cateringbydebbicovington.com.