It's hot and thunderstorms pop up almost every afternoon and I'm homesick. I'm homesick for baseball. It's baseball season in my hometown of Wilson, NC. This is the time of year that many of my high school peeps gather at Fleming Stadium a couple of times a week to watch our home team, the Wilson Tobs (short for tobacconists; because most of the money in Wilson came from big tobacco back in the day, however I digress…) crack the bat on small, hard white balls, run circles around the bases, and often play until late in the night (they're called extra innings if you're not a baseball fan). Funny thing is, I never cared about baseball when I lived in Wilson. If you were a girl, growing up in Wilson, at some point or another you'd probably end up dating a baseball player. I'm pretty much an indoor girl and the whole idea of a sweaty boy yelling "batter, batter, swing batter" while spitting out a chaw of tobacco was not attractive to me. I didn't visit the stands very often. As it turns out, I preferred musicians, however, I digress yet again. Where was I? Oh yes, baseball. There's something about this time of year that drags my heart across the SC-NC border and straight out to Fleming Stadium. My childhood friends are there, hanging out in the beer garden, eating BBQ sandwiches from Parker's, nachos slathered in orange cheese something or other, popcorn, pretzels and hot dogs. I really miss hot dogs from home. The hot dogs that I grew up with were called "red hots" and Mama and Daddy would only let my brother and me eat them at baseball games and stock car races. (Yes, I said stock car races. We had a Wilson County Speedway, too. But that's a whole 'nother story.) Red hots are an Eastern North Carolina delicacy. They're made with beef and pork and then dyed bright red. (I've been told that the dye is similar to the food coloring in red velvet cake but I wouldn't swear to it.) They're like no other hot dog. A real Wilson-style hot dog is topped with the yummiest and greasiest hot dog chili, a squeeze of yellow mustard and some chopped raw onions. NC cole slaw is often daubed across the top. NC cole slaw is also a must have on vinegar and pepper-style barbeque sandwiches. Yum! Yum! There's no place like home.
Wilson NC Hot Dog Chili
I used one pound of ground chuck and ¼ pound of ground beef. Make a batch and freeze it in small containers to thaw when you want a straight-up NC chili dog.
2 cups water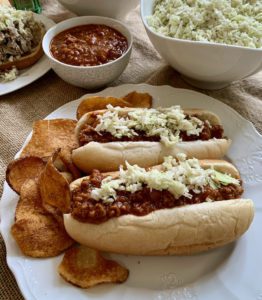 1¼ pounds ground beef (or ground chuck)
1 large onion, finely chopped
1 (6-ounce) can tomato paste
½ cup ketchup
2 teaspoons Worcestershire sauce
1 teaspoon cider vinegar
1 tablespoon chili powder
1 teaspoon salt
¼ teaspoon black pepper
Place water, beef and onion in a Dutch oven over high heat. Bring the water to a boil. Reduce heat to medium and stir to break up meat. Add the tomato paste, ketchup, Worcestershire sauce, cider vinegar, chili powder, salt and pepper. Stir well until the tomato paste and ketchup are dissolved and the meat is broken up. Cook, stirring often, for 45 minutes or until the sauce reduces and the chili begins to thicken. Makes about 1 quart.
Eastern NC Cole Slaw
Back in the day, my Mama used a box grater. I tried that. Once. It takes too much elbow grease — use the shredding blade of a food processor. If the slaw seems dry, keep in mind that the cabbage will release moisture while it sits in the fridge. This classic vinegar/mayonnaise sweet cole slaw is great with hot dogs, bbq, seafood, etc.
1 (2-pound) head green cabbage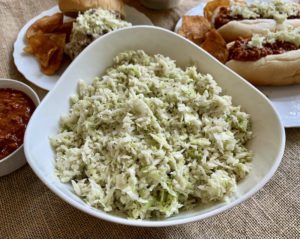 ¼ cup sugar
¼ cup white vinegar
¼ cup mayonnaise
1 teaspoon yellow mustard
2 teaspoons celery seed
½ teaspoon black pepper
Pinch of salt
Use the shredding blade of a food processor to grate the entire head of cabbage. Place cabbage in a large bowl. Add sugar, vinegar, mayonnaise, yellow mustard, celery seed, black pepper and salt. Toss well to combine. Cover and refrigerate for at least 3 hours before serving. Serves 6 to 8.
Eastern North Carolina Barbequed Pork (July 2022)
I'm always revamping and revising my oven-baked Boston butt pulled pork BBQ recipe. This version features Spice Islands Old Hickory Smoked Salt (available at Amazon.com) and Scott's Barbecue Sauce from Goldsboro, NC. (www.scottsbarbecuesauce.com, 1-800-734-sauce)
1 large oven cooking bag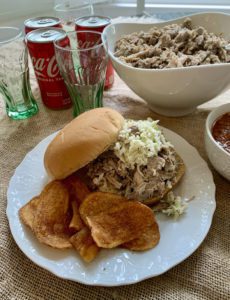 1 (7 to 8-pound) pork Boston butt pork roast
Salt
Freshly ground black pepper
Hickory smoked salt (optional)
1 cup vinegar and pepper-style barbeque sauce, plus additional for serving
Preheat oven to 250 degrees. Place an oven cooking bag on a baking sheet. Season pork with salt, pepper and hickory smoked salt. Place pork in oven cooking bag; pour barbeque sauce over the meat. Seal bag with tie. Place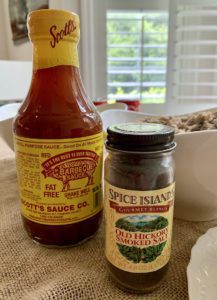 pan in oven, allowing room for the bag to expand during cooking without touching the heating elements, walls or racks. The bag should not hang over the pan. Bake for 8 hours. Remove from oven and let meat rest in the cooking bag for 45 minutes. Remove pork from cooking bag and shred; discard fat, skin and bone. Serve with additional vinegar and pepper-style barbeque sauce. Serves 8 to 10.
The writer owns Catering by Debbi Covington and is the author of three cookbooks, Celebrate Beaufort, Celebrate Everything! and Dining Under the Carolina Moon. For more great recipes and to view her cooking demonstrations, visit and subscribe to Debbi's YouTube channel. Debbi's website address is www.cateringbydebbicovington.com. She may be reached at 843-525-0350 or by email at dbc@cateringbydebbicovington.com.