Strawberries are the first fruit to come into season in the Lowcountry. When the strawberry farms open, we flock out to the fields to get our first taste of spring.
Strawberries can be traced back to the Greeks and the Romans. Medieval stonemasons carved strawberry designs on altars and around the tops of pillars in churches and cathedrals, symbolizing perfection and righteousness. During the same time period strawberries were served at important state occasions and festivals to ensure peace and prosperity. Generations of romantics have recognized the heart-shaped berry as a symbol of love. In art and literature the innocent strawberry has been construed as a symbol of sensuality and earthly desire. The strawberry is considered one of the most important small fruits grown in the western hemisphere. Today, every state in the United States grows the strawberry plant. Enjoy the bounty of our sea island strawberries and support our local South Carolina farmers!

Strawberry Rum Cocktail
2 cups strawberries, hulled
½ cup confectioners sugar
1/3 cup dark rum
¼ cup freshly-squeezed lime juice
Lime zest, for garnish
Process strawberries, sugar, rum and lime juice in a blender until smooth. Pour, in individual servings, into a martini shaker. Add ice and shake for 15 seconds and pour into glass. Garnish with fresh lime zest. Serves 6.

Chilled Strawberry-Mint Soup
3 cups sliced fresh strawberries
1½ cups sour cream
1½ cups heavy cream
4 tablespoons fresh-squeezed orange juice
4 tablespoons honey
3 teaspoons finely chopped fresh mint leaves
Fresh strawberry slices
Fresh mint sprigs
Place the strawberries, sour cream, heavy cream, orange juice and honey in a blender or food processor. Process until smooth. Stir in mint. Taste for sweetness; if necessary, add more honey. Refrigerate until well chilled. To serve, pour into chilled soup bowls and top with fresh strawberry slices and mint sprigs. Serves 4.

Mesclun Salad and Strawberries with Lemon-Mustard Vinaigrette
4 tablespoons lemon juice
¼ cup red wine vinegar
½ teaspoon soy sauce
1 tablespoon hot Chinese mustard
2 tablespoons sugar
½ teaspoon cayenne pepper
1 cup vegetable oil
7 cups mesclun salad or spring mix
½ cup pine nuts, toasted
3 cups fresh strawberries, sliced
1 bunch green onions, sliced
1/3 cup Romano cheese, freshly grated
Black pepper, freshly ground
Combine first 7 ingredients in blender. Mix well. Toss salad greens with pine nuts, strawberries, and green onions. Toss with Lemon-Mustard Vinaigrette and Romano cheese. Top with freshly ground pepper. Serves 6.

Strawberry Muffins
½ cup butter, softened
1½ cups sugar
4 eggs
1 teaspoon vanilla extract
3 cups all-purpose flour
1 teaspoon baking powder
½ teaspoon baking soda
½ teaspoon salt
½ teaspoon finely grated lemon peel
1 cup buttermilk
1 cup fresh strawberries, hulled and sliced
Sugar, for topping
Grease 12 muffin cups or line with paper muffin liners. In a large mixing bowl with an electric mixer, cream butter and sugar; beat in eggs, one at a time, beating after each addition. Blend in vanilla extract. In a separate bowl, stir together the flour, baking powder, baking soda and salt. With a wooden spoon, stir flour mixture into creamed mixture. Gradually stir in lemon peel and buttermilk until dry ingredients are just moistened. Do not over-mix. Gently fold in strawberries. Spoon batter into prepared pans, filling each muffin cup about 2/3 full. Sprinkle each with sugar. Bake in a preheated 350 degree oven for 18 to 20 minutes. Cool in pan on rack for 5 minutes. Serve warm. Serves 12.

Strawberry and Chicken Pizza
1 (12-ounce) prebaked pizza crust
4 ounces crumbled goat cheese
1 grilled chicken breast, chopped
1 cup arugula
½ teaspoon extra-virgin olive oil
½ teaspoon fresh lemon juice
Dash of salt
Dash of freshly ground black pepper
1 cup sliced strawberries
¼ cup fresh Parmigiano-Reggiano cheese
3 tablespoons shelled dry-roasted pistachios, chopped
Place crust on a baking sheet. Bake crust in preheated 425 degree oven for 8 minutes. Arrange crumbled goat cheese and chicken evenly over crust. Toss arugula with olive oil and lemon juice. Season with salt and pepper. Arrange evenly over goat cheese and chicken. Top with sliced strawberries. Sprinkle with Parmigiano-Reggiano cheese and pistachios. Cut into wedges and serve immediately. Serves 4 to 6.

Strawberries Romanoff
2 pints ripe strawberries, washed and hulled
Juice of 1 orange (about ½ cup)
¼ cup Curacao liqueur
1 cup heavy cream, chilled
4 tablespoons confectioners sugar
½ teaspoon vanilla extract
Soak the strawberries in the orange juice and liqueur in the refrigerator for an hour or more. Whip the cream until stiff, gradually adding the sugar and vanilla. Spoon the berries into chilled dishes and top with the sweetened whipped cream. Serves 6 to 8.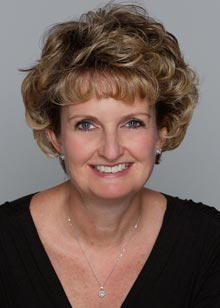 The writer owns Catering by Debbi Covington and is the author of two cookbooks, Gold Medal Winner of the Benjamin Franklin Award, Celebrate Everything! and Dining Under the Carolina Moon. Debbi's website address is www.cateringbydebbicovington.com. She may be reached at 525-0350 or by email at dbc@cateringbydebbicovington.com.