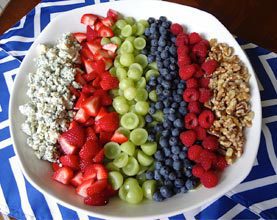 I always gain weight in the summer. It has happened every single summer for as long as I can remember. It's so hard to be active in 95 degree weather when you're a non-athlete, like me.
Besides, catering slows down a good bit during the hot summer months. So, Vince and I tend to eat out more often and take afternoon naps and stay in the air conditioning – and the next thing I know, my jeans are beginning to feel a bit snug. Thankfully, it's not so hard to reverse the damage with just a small change in diet. I eat soup to shed a few extra pounds in the winter and salads to shed a few extra pounds in the summer. The recipes this week are simple and delicious. Eaten as a side dish or entree, each one is satisfying and will help keep unwanted weight gain at bay. p.s. This certainly doesn't mean I've given up sweets. I have a dessert column coming up in the next few weeks. Bon Appetit!
Arugula and Berry Salad with Raspberry Vinaigrette (above)
For the vinaigrette:
5 tablespoons seedless red raspberry jam
¼ cup red wine vinegar
1 clove garlic, minced
½ teaspoon salt
¼ teaspoon pepper
1/3 cup vegetable oil
For the salad:
Arugula
Fresh strawberries, hulled and quartered
Fresh blueberries
Fresh raspberries
Green seedless grapes, halved
Blue cheese, crumbled
Chopped walnuts, toasted
Place jam, vinegar, garlic, salt and pepper in a blender.  Pulse until blended. With blender running, pour vegetable oil through lid in a slow, steady stream; process until smooth. Place arugula in a large bowl; toss with vinaigrette. Top with berries and grapes. Sprinkle with crumbled blue cheese and chopped walnuts. Refrigerate any unused vinaigrette.
Chickpea Salad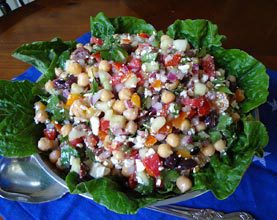 2 (16-ounce) cans chickpeas, drained and rinsed
2 cucumbers, peeled, seeded and diced
1 large ripe tomato, seeded and diced
1 small red onion, finely diced
1 bunch fresh Italian parsley, leaves only
1 (7-ounce) jar kalamata olives, drained and roughly chopped
1 (3.5-ounce) jar capers, drained
1 cup crumbled feta cheese
5 tablespoons red wine vinegar
2 tablespoons extra-virgin olive oil
Splash of fresh lemon juice
Sea salt
Freshly ground black pepper
Place chickpeas, tomato, red onion, parsley, olives, capers and feta cheese in a large bowl. Drizzle with red wine vinegar, extra-virgin olive oil and fresh lemon juice. Toss to combine. Season with sea salt and freshly ground black pepper.
Oriental Chicken Salad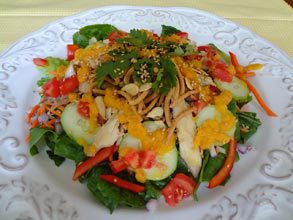 For the dressing:
½ cup diced carrots (about 1 medium, peeled)
1 tablespoon finely grated fresh ginger
3 tablespoons rice vinegar
1 tablespoon soy sauce
1 tablespoon water
3 tablespoons vegetable oil
For the salad:
Salad greens
Red onion, diced
Cucumber, sliced
Tomato, diced
Red bell pepper, cut into slivers
Carrot, shredded
Deli chicken, shredded
Fresh cilantro leaves
Chinese noodles
Roasted peanuts
Sesame seeds, toasted
Place the diced carrots, ginger, vinegar, soy sauce and water in a blender. Blend on high until carrot is pureed. With blender running, pour vegetable oil through lid in a slow, steady stream; process until smooth. Place salad greens, vegetables and shredded chicken in a large bowl. Toss to combine. Drizzle dressing over salad. Garnish with cilantro, Chinese noodles, peanuts and sesame seeds. Refrigerate any unused dressing.
The writer owns Catering by Debbi Covington and is the author of two cookbooks, Gold Medal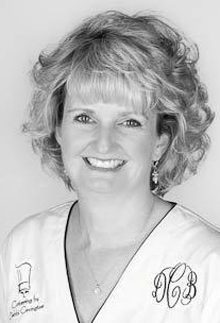 Winner of the Benjamin Franklin Award, Celebrate Everything! and Dining Under the Carolina Moon.  Debbi's website address is www.cateringbydebbicovington.com. She may be reached at 525-0350 or by email at dbc@cateringbydebbicovington.com